Mexico On My Plate: Chorizo Stuffed Chiles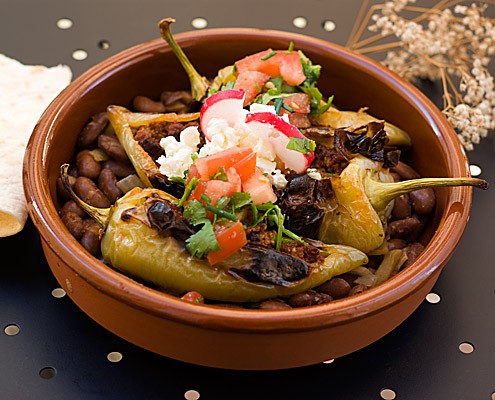 These stuffed peppers or chiles rellenos are not the same thing as the cheese stuffed poblano peppers many think of when they hear chiles rellenos.
By Nancy Lopez-McHugh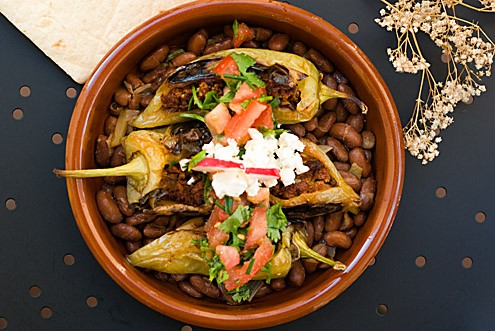 As a child my family moved to America. My immigrant Mexican family adopted many American traditions, we celebrated all the American holidays along with a few Mexican holidays. We have the same values, worries, hopes and aspirations for our loved ones. You could say that besides being bilingual, and eating Mexican food my family was your typical suburban family living in America.
One of the biggest American holidays my family celebrates is Independence Day or the 4th of July. That means family gatherings, fireworks and cookouts. When I lived in the states I loved celebrating the 4th for those very reasons. Summertime also meant that there would be many outdoor fiestas to celebrate something or other. The warm weather fiestas were often celebrated at a local park, or someone's back yard. My huge extended family and family friends would all gather to celebrate with a cookout or barbeque. The day started early and in true Mexican fashion it was an all day party with food, music, sometimes dancing, food, laughter and did I mention all the food ?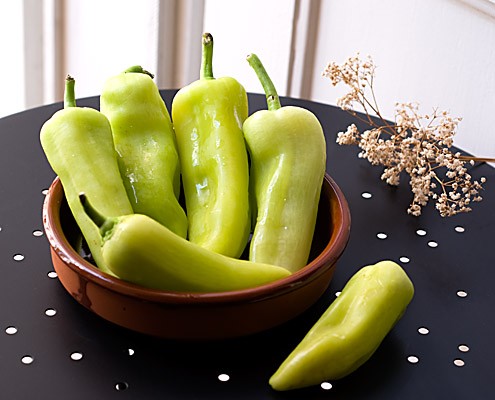 There was always great food, both Mexican and some American. The list of foods and desserts were always extensive, since everyone brought a dish or several. But one of the foods served at our family cookouts always sticks in my head. Grilled chiles stuffed with chorizo and cheese. It was my eldest sister V. that prepared them and believe me when I tell you these are the best stuffed peppers ever tasted or cooked by anyone! Grand statement but that girl can cook and turn the most ordinary thing into a 5 star worthy dish. I've never prepared these stuffed peppers with my sister V. but I began recreating them from memory and I hope she approves. Sadly I do not have a charcoal grill so I will also be teaching you and indoors method.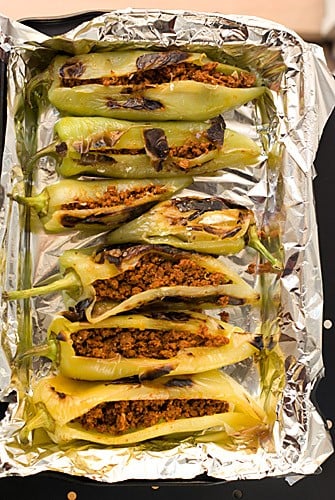 These stuffed peppers or chiles rellenos are not the same thing as the cheese stuffed poblano peppers many think of when they hear chiles rellenos. The words chile relleno just means stuffed peppers, not specifying what kind of pepper. The peppers that can be used in this recipe are chiles guerros or yellow chiles. You could also use cubanelle, wax peppers, Anaheim, banana, or New Mexico peppers. One day I would also like to use fresh poblanos or jalapenos and can imagine how great they would taste.
Mexico On My Plate: Chiles
Not your typical Mexican stuffed chiles. Get out that grill to treat your family and friends.
Author:
Nancy Lopez-McHugh
Recipe Type:
Appetizer, Main Course, Side Dish
Ingredients
Any fresh chile from the suggested list
Mexican chorizo (I use my homemade chorizo)
Mexican Chihuahua cheese or queso fresco, as a substitute you can use Eidam for the Chihuahua or feta cheese for the queso fresco.
toothpicks if necessary
charcoal grill, flat griddle or indoor grill pan
Instructions
Cook the chorizo and drain off all extra fat from the pan. Thoroughly rinse the chiles. Lay them flat on a baking sheet or cutting board.
Grilling Method: Slice a vertical slit large enough to stuff. If grilling outdoors I do not remove the seeds. Stuff with either chorizo or cheese, or try a mix of both. Do not over stuff as the contents will flow out. If need be use toothpicks to close the slit. Place on the grill and cook until they are soft and have charred skins. Allow to cool a few minutes before serving and remove toothpicks if used. To keep them warm when grilling outdoors just cover with aluminum foil.
Indoor Method: Heat the indoor grill pan or griddle over high heat. Place the clean chiles and allow to char. Turn now and then allow the skin to become evenly charred and softened. Once chiles have softened place on a cutting board to cool. Once cooled enough to handle slice a vertical slit large enough to stuff. Stuff with either chorizo or cheese, or try a mix of both. Do not over stuff as the contents will flow out. If need be use toothpicks to close the slit. Place back on the indoor grill pan or griddle and cook for another 10 minute to allow the cheese to melt. Allow to cool before serving.
Serve as an appetizer, side dish or for a complete meal alongside refried beans or frijoles de olla and corn tortillas. Don't forget some fresh salsa too.
Notes
Tip: Select chiles that have smooth skin or if ones with grooves and wrinkles that can lay flat on one side. This makes it easier for the contents to stay inside. If you have neither an outdoors or indoor grill you could also use the oven to cook the chiles.
Nancy Lopez-McHugh
Nancy Lopez-McHugh is a food blogger, photographer and published author. Most recently she has published "Yummy Pics: A Food Blogger's Guide To Better Photos".