Tamara Novacoviç with a light and creamy cake, perfect for those sunny afternoons in Havana, Cuba.
By Tamara Novacoviç
I hope summer's treating you well. I hope you don't stress about everyday problems, wear your sunscreen and a hat, think positive and soak summer sunshine. I hope you enjoy summer festivals, barbecues, long walks on the beach, light and healthy summer salads, refreshing ice creams and desserts like this cake. I hope you celebrate life.
While searching the all-mighty Internet, I didn't find that this cake is somehow connected to the beautiful Havana, Cuba. However, its name is probably due to the fact that it's light, creamy and perfect for warm, sunny, hot days (especially if you add fruit to it), which is one of the things that come to your mind when you think of Cuba.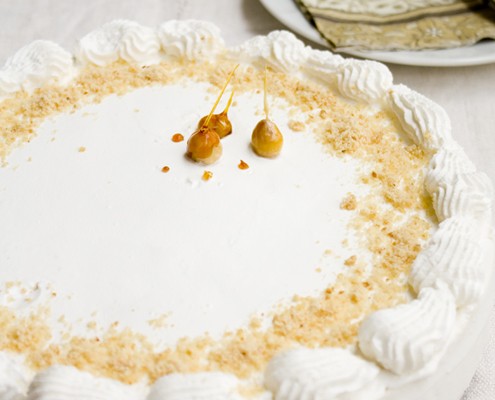 Basically this cake consists
of (a lot of) milk and hazelnuts, but there are many variations: sponge cake for the bottom layer, addition of cinnamon and fruit, marmalade between layers, crushed biscuits instead of hazelnuts etc. I believe whichever version you decide to try, you cannot go wrong.
I've made this cake a couple of times, I remember the first time being last summer for my friends. We all shared equal excitement about it. You can freeze it and then cut into pieces, so it's perfect for transport too.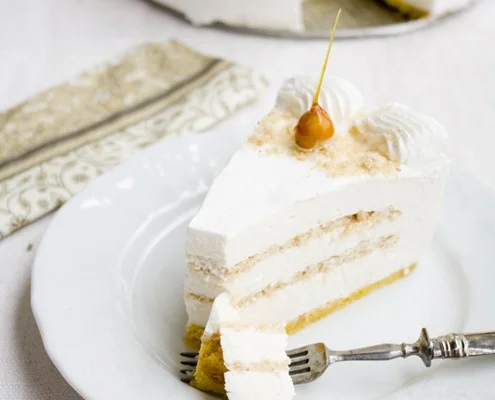 Print
Havana cake
A light and creamy summer cake.
Bottom layer
2

egg yolks

0.4 cups

(

100 g

) butter, room temperature

3 tbsp

all purpose flour

8 tbsp

ground caramel hazelnuts
Filling
4 cups

(

1

l) milk

2 cups

(

500

ml) heavy cream

3 tbsp

sugar

3 tbsp

vanilla extract

3

packets (each 10 g) vanilla flavored sugar

3

packets (each 10 g) powdered gelatin
Middle layers
4

egg whites

8 tbsp

ground caramel hazelnuts
Decoration
0.8 cups

(

200

ml) whipping cream
Caramel hazelnuts
1 cup

(

250 g

) hazelnuts

4 tbsp

sugar
Instructions
First make caramel hazelnuts: on low heat dissolve sugar, let it caramelize. Roughly crush hazelnuts and add to caramelized sugar, stir to coat, remove from heat. Spread on an oiled pan or parchment paper, let cool and then roughly grind.
For the filling, prepare gelatin according to package instructions. Cook milk with vanilla essence and sugar until it boils. Remove from heat and add dissolved gelatin, stir and let cool at room temperature. Then put in fridge and let cool completely. You should get the consistency of pudding or panna cotta.
For the bottom layer, mix egg yolks with butter. Add caramel hazelnuts and sifted. Spread over the bottom of springform pan (26 cm) lined with parchment paper and bake for 10-15 min. at 180 Celsius.
For middle layers, whip egg whites until stiff peaks form. Gently add caramel hazelnuts and divide the batter in two. Spread each part of over the bottom of springform pan (again 26 cm) lined with parchment paper and bake for 30 min. at 120 Celsius.
When the filling is completely chilled, beat it with electric mixer. In a separate bowl beat whipping cream and then add to the milk mixture, mix the two .
Assemble: Put bottom layer on a serving plate. Put the ring of the springform pan around it (before you do that, cover the ring with plastic wrap). Put 1/3 of the filling over the bottom layer, cover with 1 inner layer. Pour another part of the filling over that layer and cover it with the second inner layer. Pour the rest of the cream over it and put in the fridge overnight. Remove the ring of the pan the next day. Whip cream and decorate cake with it. Sprinkle with some hazelnuts.
See Also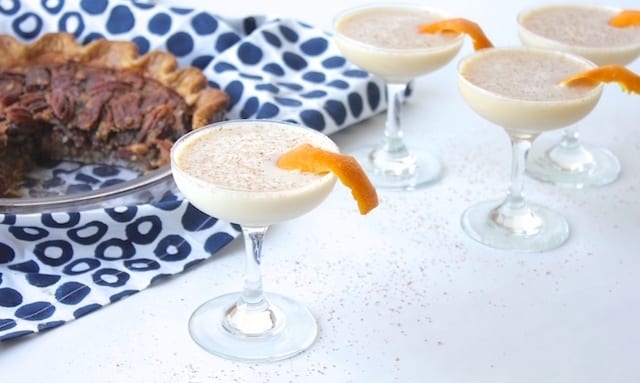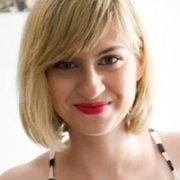 Tamara Novakoviç
Tamara Novakovic is a passionate self-taught cook, food blogger, freelance food writer and photographer behind bite-my-cake.blogspot.com. Her life journey has led her through Faculty of Humanities in Zagreb, Croatia to discovering passion for making cakes. She is currently a weekly food columnist for Croatian newspaper V magazine and food magazine Repete.