Menthya Matvadi Palya – Fenugreek and Lentil Stir Fry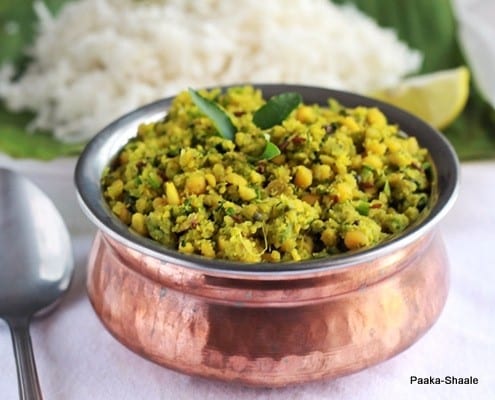 Menthya matvadi palya is a heartwarming, vegan, and high protein dish which is filled with nutritious greens.
By Nandita Nataraj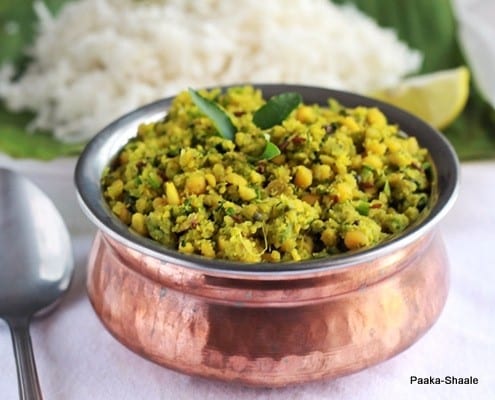 Menthya matvadi palya is a heartwarming, vegan, and high protein dish which is filled with nutritious greens- the fenugreek or menthya. This wonder herb and spice is rich in minerals like calcium, iron and potassium. Fenugreek leaves and seeds are also considered to be a Galactagogue that is often used to increase the milk supply in lactating women. Apart from this, it is often used as a medicine to reduce the discomfort of arthritis.  Fenugreek has also proven to be extremely beneficial in treating diabetes. With so many benefits in store, why not include the fenugreek in our diet and make the most of what it has to offer.
This is a simple and rustic curry with the subtle flavours of the fenugreek and the mild seasoning of cumin and curry leaves. I suggest you have this with some hot rice and a dollop of clarified butter. I am sure it will leave you all happy and satiated.
Fenugreek and lentil stir fry
Ingredients
Ingredients:
Channa dal or bengal gram- 1 cup, washed and soaked for 2-3 hrs
Methi or fenugreek leaves- 1 cup, chopped
Oil- 2tbsp
Curry leaves- 1 sprig
Coconut- 2 tbsp, (optional)
Hing- A pinch
Green chilli- 1, chopped
Ginger- ½" piece, grated
Turmeric- ¼tsp
Jeera or cumin seeds- ½ tsp
Mustard- ½ tsp
Salt to taste
Lemon juice to garnish- 1 tsp
Instructions
Drain the soaked channa dal. Grind the channa dal coarsely along with the coconut, green chilli and ginger and keep aside.
Heat oil in a wok and add the mustard seeds. Once they sputter and pop, add the cumin seeds and fry till they are brown.
Add the curry leaves and hing and fry till the curry leaves are crisp.
Stir in the chopped fenugreek leaves, turmeric and salt and fry for 2 min
Add the ground mixture, and fry till the mixture is dry.
Take off the heat, mix in the lemon juice and serve hot with rice.
Nandita Nataraj
Nandita was born, bred and spread in India, but right now lives in Tanzania where her quest for simple and exotic pleasures of food led to the creation of the blog Paaka-Shaale. She believes that food is not just a means to feed a body. But it is also meant to appeal the mind and satiate the soul.