Feeling chilly? Try this meatless chili from Shuchi Mittal. It is sure to warm you up.
By Shuchi Mittal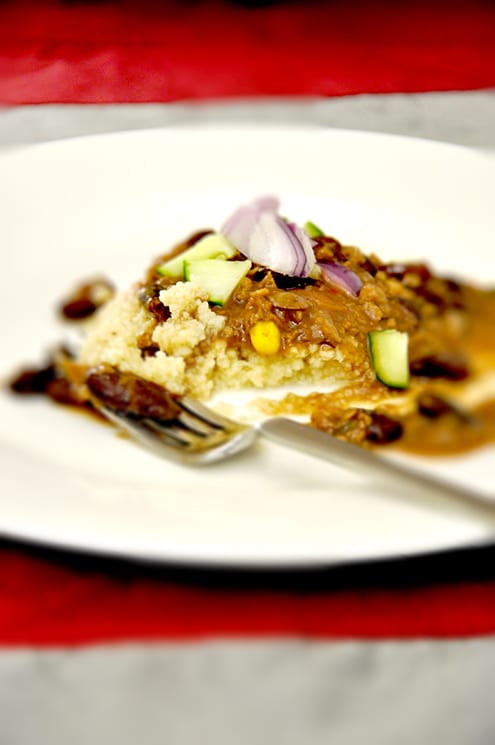 "Sundays come
And Sundays go,
But it's the Monday
That makes me say "Oh no!"
…and that is because every Monday my husband eats only vegetarian food. Now veg food has never been a difficult task for me. As an Indian, I grew up eating more vegetarian food than otherwise. But my husband didn't. A strict meat-arian, it is sometimes a challenge to make vegetarian food for him that comes in the disguise of a meat dish a.k.a make it taste good enough to pass as "un-green". After moving to the US, I discovered the world of mock meats and tofu, so I decided to re-create the celebrated Chili, sans any meat.  Was it a success..hmmm…I'd say so.
"Smells like meat
Tastes like it too,
But the gods are pleased
And I say..…phew."

A Meatless Chili
Ingredients
2 cups boiled red kidney beans (keep the liquid you boiled in)
200 gm tofu or veg protein mince
1 large tomato, chopped
1 medium onion, chopped
½ cup green and red peppers, diced
½ cup corn kernels
1 green chili, chopped
2 tablespoons olive oil
2 cloves of garlic, crushed
2 bay leaves
2 cloves
½ cup whole milk
1 teaspoon cumin powder
2 tablespoons coriander powder
½ teaspoon paprika or crushed red chili flakes
1 teaspoon dried oregano
2 tablespoon Worcestershire or BBQ sauce
Fresh coriander for garnishing
Salt & Pepper to taste
Instructions
Heat oil in a pan.
Add the garlic, onions, green chili, cloves and bay leaves and sauté till the onion turns translucent.
Add the tomatoes, mixed peppers, corn and the dry spices.
Cover and cook till the tomatoes are tender.
Stir in the veg protein mince and the kidney beans.
Cover and cook on low flame for 30 minutes.
Add the milk and cook for another 10 minutes.
The mixture should soak up most of the liquid and be semi thick in consistency.
Stir in the Worcestershire or BBQ sauce.
Garnish with fresh coriander and serve hot with couscous.