Matcha Yoghurt with Rhubarb Blackberry Puree
Bursting with flavor, this yogurt with a sweet-tart rhubarb blackberry puree is spiked with the Japanese matcha powder. Healthy enough to be a snack, this beautiful dish is flavorful enough to shine as dessert, too.
By Simone van den Berg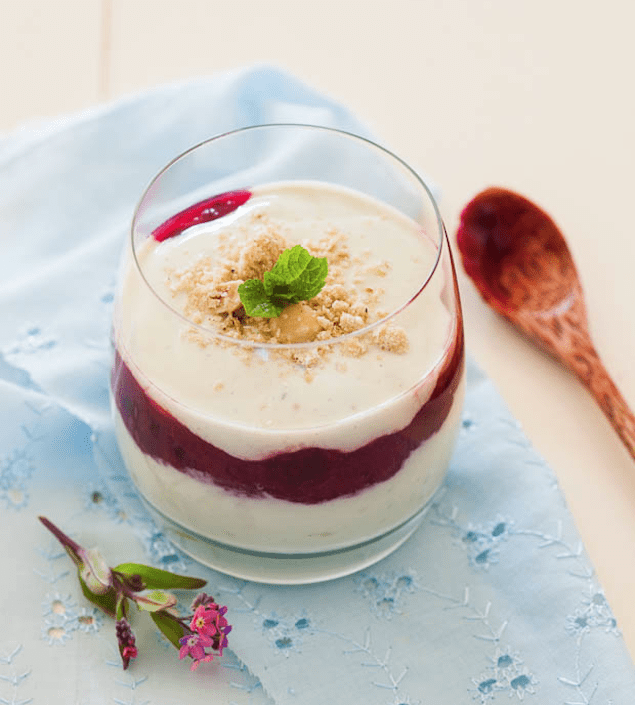 Rhubarb is quite versatile and you can do so much more with it than just cooking it to a puree. I bake with it, I cook with and I also sometimes make a puree, like here, with blackberries. The blackberries make the color of the rhubarb quite dark and intense and the flavor is delicious. I added a bit of matcha into the yoghurt. Matcha is a Japanese green tea which is ground to a powder and has a very distinct taste) I love it but if you don't it's easy to leave out.

Matcha Yoghurt with Rhubarb Blackberry Puree
Bursting with flavor, this yogurt with a sweet-tart rhubarb blackberry puree is spiked with the Japanese matcha powder. Healthy enough to be a snack, this beautiful dish is flavorful enough to shine as dessert, too.
Author:
Simone Van Den Berg
Ingredients
1 teaspoon matcha powder
250ml yogurt
1 tablespoon manuka honey (or regular honey)
4 tablespoons rhubarb blackberry puree
2 tablespoons hazelnut crumble
rhubarb blackberry puree
500g rhubarb (sliced into 2 cm pieces)
140g sugar
lemon zest (of one lemon)
cornflour
150g black berries (I used frozen but you can use fresh too ofcourse)
hazelnut crumble
75g flour
50g butter
50g brown sugar
pinch salt
50g rolled oats
50g hazelnuts
Instructions
Rhubarb puree
Preheat the oven to 200 C.
Put the rhubarb with the 140 gr of sugar in a pan, add a splash of water, cover the pan and let it simmer on low heat for a while.
Once the rhubarb is cooked but still has some chunky bits in it, add the blackberries. You can use frozen blackberries if you cannot find fresh. Add a bit of lemon zest in the pan as well. Put some cornflour in a small bowl, add water and whisk until smooth. Add this bit by bit to your fruit mixture until it is thick enough. It should become a thick puree. Leave to boil for another 1,5 minute to cook the cornflour. Then put your fruit puree into another bowl and stir to cool it down for at least five minutes.
hazelnut crumble
Make a crumble by adding the ingredients together in a bowl and mix it with your fingers till it resembles a rough crumble. Put the crumble on a baking tray, spread it out and bake for about 5 minutes until light golden brown.
Add 1 tsp of matcha powder to your yogurt and still well to combine. You can add more or less matcha if you prefer. Sweeten the yogurt a little bit with the manuka honey to your taste.
Make layers in the glass with the puree, the yogurt, ending with some hazelnut crumbles on top!
Simone Van Den Berg
Simone van den Berg is a Netherlands based freelance food photographer and food blogger. She has a passion for cooking, food and travel, which she shares on her blog Simone's Kitchen and of course right here on Honest Cooking.