[adrotate banner="44"]
Discover the history of Rioja wine and make the perfect match with the heavenly grapes.
By
Noah Charney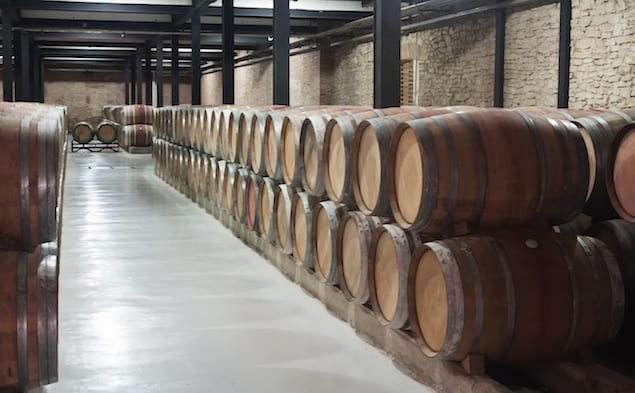 Shutterstock : Iakov Filimonov
There are certain words that bring out the oenophile in all of us. Whether or not you have studied wine, or simply love to drink it, certain regions or grape varietals trigger a Pavlovian reaction, prompting us, if not to salivate on cue, then to fantasize about drinking a wine. "Rioja" is one of them. But aside from professionals in the wine industry, few people know precisely what that word means, beyond having something to do with Spanish wine. Before we get down to some serious drinking, let us examine the history of Rioja—for it is always nice to get to know the subject of an enriching, long-term relationship. And you can enjoy a lifetime of drinking fine Rioja.
To begin with, Rioja is a region in Spain, divided into three zones (Alta, Baja and Alavesa). Those unfamiliar with wine tend to confuse regions (Rioja, Bordeaux, Chianti) with grape varietals (Pinot Noir, Chardonnay, Refosco), when the two must be kept distinct. Rioja is a protected term (D.O.C.) because it has international name-recognition, but it can be applied to any wine produced in this region of Spain. The grapes from which Rioja wines are made, however, may come from other regions (such as the Basque Country or Navarre), and may also come from any of the three zones with La Rioja. The region benefits from its geography, located just south of the Cantabrian Mountains in northern Spain, along the fertile basin of the Ebro and Oja rivers. The river provides nutrients to a region that might otherwise be arid, and the mountains act as a cushion to keep the climate mild and prevent the strong winds that can strike throughout northern Spain. But even within a single, narrow region the three Rioja zones produce variant wines. Rioja Alavesa wines tend to have a higher level of acid, which is in part due to the poorer soil conditions (compared to the two other zones), meaning fewer vines per hectare, as each vine needs more soil from which to draw nutrients. Rioja Baja, the lower region, has a more Mediterranean climate, warmer and drier than elsewhere in La Rioja, with drought as a regular threat. The intense red and high alcohol content distinguishes Rioja Baja from its neighbors. Finally, Rioja Alta, the highest elevation vineyards in the area, feature a shorter season for growth, meaning a lighter wine (the longer the growing season, normally the richer and deeper the wine) with fruitier notes to its palate.
Wine has been grown in the Rioja region since the pre-Roman times, when ancient Phoenicians enjoyed a lively merchant trade throughout the Mediterranean, and needed a nice beverage over which to haggle and deal. Rioja can boast a rich documented history dating back to at least 873, when an archive notes a donation to the Monastery of San Andres de Trepeana in which Rioja wine is specifically named, suggesting that it was already noteworthy some thirteen-hundred years ago. Monks produced much of the wine in the region, and drank a good deal of it. In 1063, we find the first documented mention of wine development in La Rioja, followed by the legalized status of Rioja wines by King Peter I of Aragon and Navarra, in 1102. The earliest known Spanish poet, Gonzalo de Berceo, who was a 13th century monk at the Susa Monastery in the Rioja region, mentions the wine, which surely helped the flow of his pen. The quality of Rioja wine was so carefully maintained that, in 1635, the mayor of a Rioja town called Logrono made it illegal for carts to travel streets that ran alongside wine cellars, for fear of vibrations that would disturb the wine below. In 1790 things got more serious and organized, with the first meeting of the Royal Economic Society of Rioja Winegrowers, who were powerful enough to push through policies to improve roads and rails, in order to facilitate the transport of wine, which had become a key industry for the region. The 19th century saw techniques imported from Bordeaux, with further measures taken both to maintain a high level of quality and to limit the territory in which Rioja wines could be produced—for Rioja had, by this time, already been a symbol of quality in wine for many centuries, and it was important to protect that brand.
But what about the tasting, you say? History and theory is all well and good, but it only comes to life, and truly sinks in, when it is combined with practical experience. There are many ways to introduce yourself to Rioja. There is nothing wrong with choosing a bottle at random, but it can be more instructive, and entertaining, to arrange an organized tasting. Because budgets do not always permit the purchase of historical wines, a vertical tasting can be tricky to arrange: these tastings would typically feature a single wine from a single vineyard, but with bottles from a number of different years, to taste the subtleties of one harvest to another. Horizontal tastings are easier to organize. These involve choosing a single wine, all from the same year (and it is fine to choose a recent year), but all from different producers within the same region. First we must choose either white (blanco), rose (Rosado) or red (tinto). Most people associate Rioja with red wine, and a good 85% of the wine from the region is indeed tinto. Reds consist of a mixture of grapes, including the most commonly found varietal, Tempranillo, or some of the other grapes used: Graciano, Mazuelo or Garnacha Tinta—in practice most Riojas combine these grapes with the majority of Tempranillo.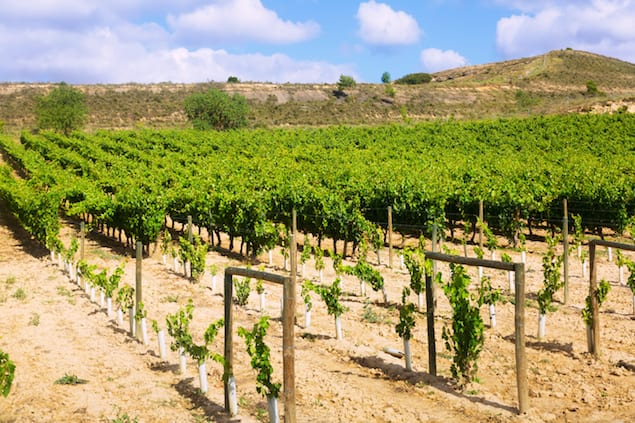 Shutterstock : Iakov Filimonov
I recommend one of two types of horizontal tasting. One option is to buy a bottle of wine, from the same year, from each of the three Rioja regions (Alta, Baja and Alavesa). The other would be to choose three vineyards from the same region, and the same year, to taste and compare. Take notes, enjoy with friends, and eat slices of Manchego cheese and jamon. You can't go wrong, for whichever wines you choose, if it is a true Rioja, you'll have a match made in Heaven.
[adrotate banner="43″]
Noah Charney
Noah Charney is a best-selling author of fiction (The Art Thief) and non-fiction (Stealing the Mystic Lamb) and professor of art history. He is also an award-winning columnist, and writes regularly for a variety of magazines, including The Guardian, Esquire, the Atlantic and Salon. He lives in Italy and Slovenia. Join him on Facebook or at www.noahcharney.com