Maple Berry Overnight Oats
This recipe can be made gluten-free by using gluten-free oats and can be made dairy free by substituting extra almond milk for yogurt.
By Natasha Steinberg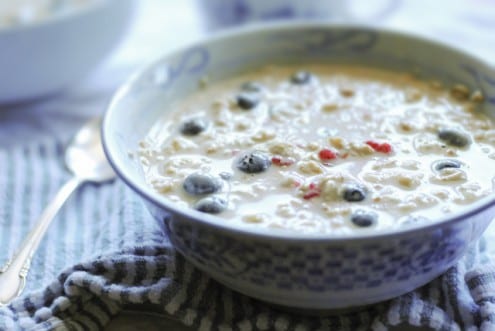 These overnight oats give me the best of both worlds (in breakfast form anyway)–cool bursts of berries with warm flavors of maple and oats. And it's ready for grabbing right out of the fridge, making it all the more appealing for my typical rushing-around-running-late-forgetting-things-every-morning ways.
Maple Berry Overnight Oats
This recipe can be made gluten-free by using gluten-free oats and can be made dairy free by substituting extra almond milk for yogurt.
Author:
Natasha Steinberg
Ingredients
⅓ cup rolled oats
⅓+ cup unsweetened vanilla almond milk, plus more for the morning
2 Tbsp. plain yogurt (I use Fage Total 0%)
1-2 Tbsp. maple syrup (depending on how sweet you want it)
½ tsp. vanilla bean paste or extract
pinch cardamom
1-2 handfuls of berries*
Instructions
In a pint mason jar or tupperware container, stir together all ingredients except berries until thoroughly mixed together. Add berries and stir to evenly distribute throughout oats. Cover tightly and place in the refrigerator overnight (or a few hours).
Notes
*I also really love these oats with slices of banana. If you decide to add banana, make sure all the slices are submerged in the oats so that they don't turn brown.
Natasha Steinberg
Natasha is a love-and-matriarch-taught maker of sweet things. She is passionate about using local and seasonal ingredients and making simple, satisfying sweets that make even the least of sweet tooths swoon. Although she is a native Texan, she currently resides in Atlanta where she is finishing up law school and documenting her sweet adventures through photos, recipes, and stories on her blog at tartletsweets.blogspot.com.