Avocado Dark-chocolate Madeleine Cookies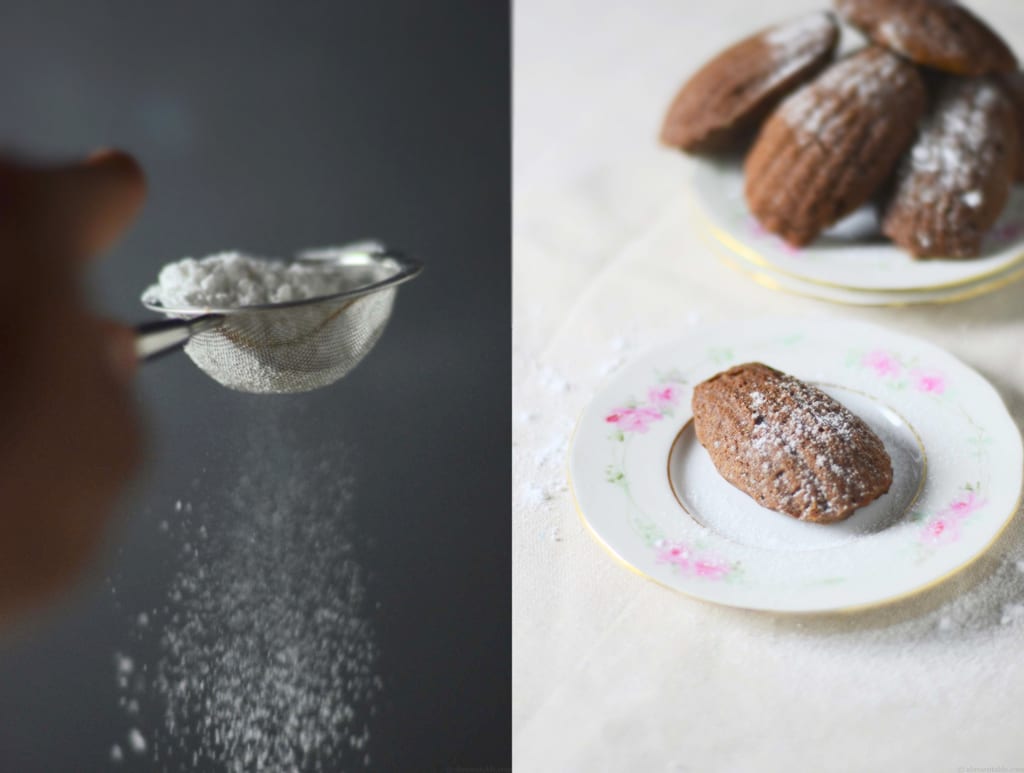 A tip while working with the batter, spoon it in and spread it a little to fill the mold, it will rise during baking and puff up well.
By Nik Sharma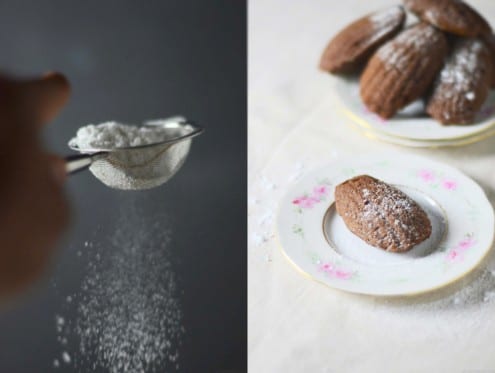 Avocado Dark-chocolate Madeleines
A tip while working with the batter, spoon it in and spread it a little to fill the mold, it will rise during baking and puff up well.
Ingredients
¾ cup unbleached cake flour
¼ cup dark cocoa
½ teaspoon baking powder
¼ teaspoon salt
1 ripe avocado
2 large eggs, at room temperature
¼ cup sugar
1 teaspoon vanilla extract
a little confectioner's sugar for dusting
Instructions
Place a wire rack in the middle of the oven and preheat to 350F.
Whisk together the flour, cocoa, baking powder, and salt and keep aside.
Mash and puree the avocado to get a smooth paste (you can use a food processor for this). Seal the puree with cling film in a glass bowl and place the bowl with the puree in a warm-water bath at 70C till use (this helps to melt out some of the fat and make it smoother).
Using the whisk attachment of a stand mixer, whisk the eggs for 5 minutes on medium speed until light and foamy. Add the sugar and vanilla and whisk for an additional 5 minutes on medium-high speed until thick and creamy. Remove the mixer bowl from the stand mixer.
Sift the flour-cocoa mixture into the whisked eggs and carefully fold the dry ingredients with a rubber spatula using a circular motion. Fold the pre-warmed avocado puree into the batter.
Generously coat a madeleine baking pan with a neutral cooking oil spray. Spoon and spread out the cake batter into the molds. Bake for 12 minutes in the preheated oven. The madeleines are baked and ready to be removed when the center is firm and springs back when pressed with the fingers. Remove the madeleines from the tray and allow them to cool on a wire rack. You can store them in an airtight container.
Before serving, dust the madeleines with a little confectioner's sugar using a sieve.
Nik Sharma
Nik Sharma is the cook, author and photographer behind "A Brown Table" and currently resides in Washington D.C. He is a self-taught cook that is constantly trying to infuse "exotic" spices and ingredients by learning different cooking techniques in day-to-day meals with the motto of keeping all cooking methods fun, simple and useful.