One of Korea's favorite, traditional dishes. Stir-Fry with sweet potato noodles and vegetables. Healthy, low carb and gluten free.
By Shannon Lim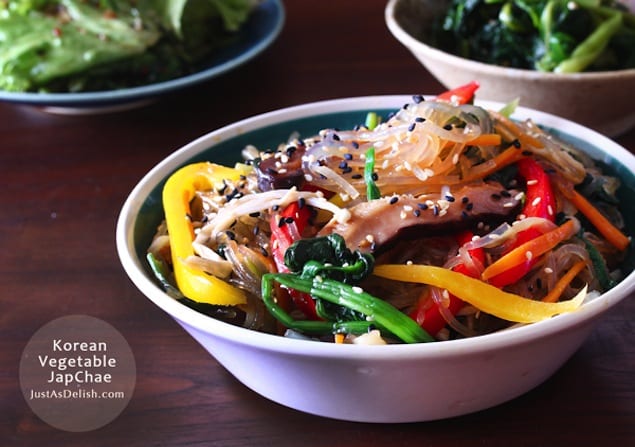 Japchae is a common dish found on a Korean restaurant menu. This sweet potato starch noodle (dangmyun) dish can be served as an appetizer, main meal, or eaten with rice. This is not a difficult recipe, it just requires a bit more time. The actual method of cooking is to stir fry each vegetable separately, so you can get the temperature of the pan and texture of the vegetables right. I took a risk and cooked four of the veggies at the same time. It's true, it takes an experienced cook to get the texture right when they are all together, which I have yet to master. But it still taste just as delicious. I served the noodles with 2 side dishes – Lettuce Salad and Spinach Banchan.

Korean Vegetable and Noodle Stir-Fry
One of Korea's favorite, traditional dishes. Stir-Fry with sweet potato noodles and vegetables. Healthy, low carb and gluten free.
Ingredients
170g (6 oz) Dangmyun (Sweet Potato Starch Vermicelli)
170g (6 oz) Spinach - roots trimmed
2 cloves Garlic - minced
½ medium White Onion - sliced
1 medium Carrot - cut into matchsticks
½ Red or Yellow Bellpepper - sliced thinly
5 Dried Shiitake Mushrooms - soaked and sliced thinly
3 Green Onions (green parts only) - cut into 1-inch pieces
80g (3oz) Enoki Mushrooms (Optional) - cleaned and roots trimmed
1 tablespoon + 1 teaspoon Sesame Oil
3 tablespoon + 1 teaspoon Soy Sauce (or Tamari for gluten-free soy sauce)
1 tablespoon + 1 teaspoon Honey (or sweetener of choice)
Sea Salt
Grapeseed Oil
Sesame Seeds for garnish - toasted
Instructions
Bring water to boil in a medium pot and blanch spinach for 30secs. Remove with tongs / slotted spoon, reserve the hot water and rinse with cold water. Squeeze out excess water using your hands. Add ½ of minced garlic and pinch of salt. Mix well. Set aside.
After removing the spinach, immediately transfer the sweet potato noodles to the pot while the water is still piping hot. Let it sit for 15 minutes.
Meanwhile, heat a pan over medium-high heat. Add grapeseed oil to coat the pan. Add onions, stir-fry for a minute; add in carrots, stir-fry for another minute; finally, put in bell peppers and stir-fry for another minute or two. You want the bell peppers to maintain their color and crispness. Add a pinch of salt and set aside.
With the same pan on medium high heat, add oil, sliced shiitake mushrooms and ½ of minced garlic. Stir-fry until the mushrooms are lightly brown. Add green onions, teaspoon of soy sauce and 1 teaspoon of honey. Stir-fry for a few more seconds until the liquid (soy sauce) is absorbed and the green onions just start to soften.
After 15 minutes of soaking, the noodles should look translucent. Taste to make sure it is fairly soft and chewy, like al dente pasta. Strain and rinse with cold water. Drain dry.
Heat a non-stick pan or a wok with 1 tablespoon oil over medium heat. (If you are using normal pan, make sure it is well coated with oil or the noodles will stick to the pan). Add noodles to the pan and stir to coat with oil. Stir-fry for about a minute; you want the noodles to maintain some chewy texture. Add reserved vegetables, and mix well. Mix 3 tablespoon soy sauce, 1 tablespoon honey and 1 tablespoon sesame oil in a bowl and add into the pan. Add enoki mushrooms, mix well to be heated through and switch of fire/remove pan from heat.
Garnish with sesame seeds and serve immediately.
Shannon Lim-de Rooy
Shannon's kitchen is her playground and creative outlet, where she loves to experiment with recipes. As a Malaysian, her food influences are mainly Malay, Chinese and Indian cuisine but her curiousity in other culture lead to cross cultural cooking. On her blog JustAsDelish.com, she pursue her mission in creating healthy and delish food.