The Montreal favorite, french fries topped with cheese curds and gravy, gets an international update with the addition of kimchi by Edward Lee.
By Serge Lescouarnec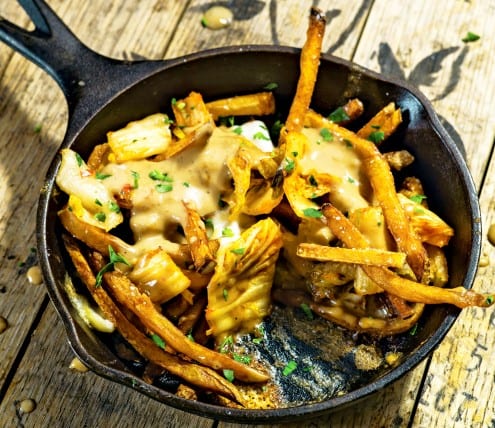 (Excerpted from Smoke and Pickles by Edward Lee (Artisan Books). Copyright © 2013. Photograph by Grant Cornett.)
Kimchi Poutine
The Montreal favorite, french fries topped with cheese curds and gravy, gets an international update with the addition of kimchi.
Author:
Serge Lescouarnec, adapted from Smoke and Pickles by Edward Lee
Ingredients
1 tablespoon unsalted butter
1 tablespoon all-purpose flour
¾ cup heavy cream
¼ cup chicken stock
1 teaspoon soy sauce
Pinch of cayenne pepper
Salt and freshly ground black pepper to taste
As many French Fries as will fit in a 6-inch cast-iron skillet in a single layer
½ cup cheese curds (see note)
¼ cup chopped Kimchi
1 teaspoon chopped fresh flat-leaf parsley
Instructions
Preheat the oven to 350°F.
Melt the butter in a 6-inch skillet. Stir in the flour and cook, stirring, over low heat for 3 minutes to make a roux. Gradually add the cream, chicken stock, and soy sauce, stirring until smooth. Season the gravy with the cayenne and salt and pepper to taste. Keep warm until ready to serve.
Place the french fries in the bottom of a 6-inch cast-iron skillet. Sprinkle the cheese curds and kimchi over them. Heat the skillet in the oven until the cheese is warm and melty, about 5 minutes.
Remove the skillet from the oven and pour the gravy over the fries. Top with the chopped parsley and serve right away, in the skillet.
NOTE: Cheese curds are the milk solids from soured milk traditionally used in poutine. They're hard to find fresh, so a good melty Havarti or Jack cheese, grated, works just fine.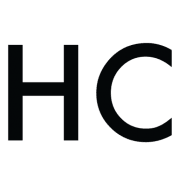 Serge Lescouarnec
Also known as Serge The Concierge, food and wine are essential parts of the DNA of New Jersey based Serge Lesouarnec. His French roots guarantee strong opinions on food, wine and travel, topics he has been writing about since 2005.