Learn to make the popular chocolate hazelnut spread from scratch for a healthier, all-natural version.
By Shannon Lim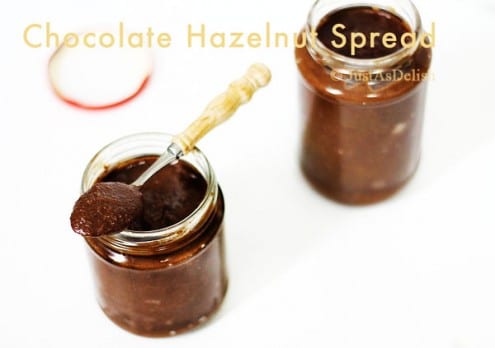 How to Make "Nutella" at Home
Learn to make the popular chocolate hazelnut spread from scratch for a healthier, all-natural version.
Ingredients
70g Hazelnuts – Roasted & blanched
180g Sweetened Condensed Milk (I only use 100g)
85g Dark chocolate – roughly chopped
3 tablespoon Honey
Instructions
Toast the hazelnuts in the oven at 350F for 3-4minutes. Or can dry roast on pan.
Add the cooled, toasted hazelnuts to the processor bowl, pulse for 2-3 minutes and you will have very finely ground hazelnuts. Scrape down the sides and the blade and process until there are no lumps remaining. Keep processing until it become a thick paste. You can try processing until it become creamy liquid (which didn't happen for me).
Using stovetop double boiler, melt chocolate, condensed milk, and honey in a bowl. Or you can melt using microwave for 20sec pulse.
Add the warm chocolate mix to the food processor bowl and mix well.
Shannon Lim-de Rooy
Shannon's kitchen is her playground and creative outlet, where she loves to experiment with recipes. As a Malaysian, her food influences are mainly Malay, Chinese and Indian cuisine but her curiousity in other culture lead to cross cultural cooking. On her blog JustAsDelish.com, she pursue her mission in creating healthy and delish food.