These giant meatballs, grilled and juicy, are influenced by the many homemade sausages and skewered meatballs of the Balkans. This version is based upon cevapi. It is great served with polenta. Remember to soak the skewers for 30 minutes before grilling.
By Tami Ganeles Weiser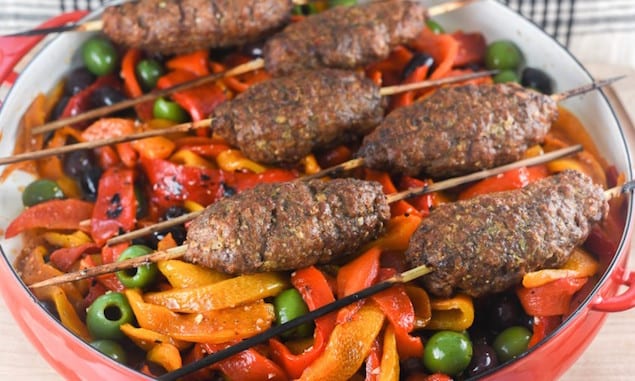 Print
Grilled Meatball Kebabs and Roasted Pepper Salad
Large meatballs, grilled and juicy, are influenced by the homemade sausages and skewered meatballs of the Balkans. This version is based upon cevapi.
Author:

Tami Ganeles Weiser

Yield:

4

servings

1

x
Category:

Main

Cuisine:

Balkan
Meatballs:
¾

pound ground beef (

80/20

ratio of lean to fat)

½

pound ground lamb

½

medium yellow onion, peeled, grated and drained (see notes)

6

garlic cloves, peeled and grated, any green center discarded

1 teaspoon

sweet paprika

1 teaspoon

salt

1¼ teaspoons

freshly ground black pepper

½ teaspoon

baking soda

1

large egg
Roasted Pepper Salad:
8

red, orange, and/or yellow bell peppers,

2 tablespoons

extra-virgin olive oil

½ teaspoon

white balsamic vinegar

2

cloves garlic, peeled and grated, any green center discarded

1 teaspoon

salt

½ teaspoon

freshly ground black pepper

½ cup

pitted Kalamata olives (see notes)

½ cup

pitted green Castelnuovo olives (see notes)
Instructions
If you are using wooden or bamboo skewers, soak 8 (10- to 12-inch) skewers in water for 30 minutes.
Prepare the meat: place the beef, lamb, onion, garlic into a bowl, sprinkle with the paprika, salt, pepper, and baking soda and toss gently to combine. Add the egg and mix to combine. Cover and refrigerate for about 30 minutes.
Prepare the salad: toast and peel the red peppers, (see Kitchen Tips) but do not rinse (a little char or skin is fine). Core, stem, remove the seeds and ribs and cut into ½-inch wide strips. Place in a nonreactive bowl with the, oil, vinegar, garlic, salt, and pepper and toss gently to coat. This will keep, covered, in the refrigerator for up to 3 days and can be served at room temperature or chilled.
When you are ready to cook the kebabs, heat a grill to high heat on one side and medium-low on another. Spray the skewers with nonstick vegetable oil spray, and using about ? of the mixture (about ¼ to ? cup) fashion the meat around one skewer in an oblong shape about 4 to 5 inches long. Repeat with the remaining mixture. (Once made, these can be covered and refrigerated for up to 3 hours before grilling).
Grill each side on the hot side of the grill for 5 to 6 minutes on each side, until deeply browned, and then move to the cooler area to allow the meat to finish cooking without burning the outside. These are best when served immediately after grilling, on a bed of the Roasted Pepper Salad.
Notes
Kalamata (also spelled Calamata) olives are purplish-brownish olives from Greece that are salty and pungent.
Castelvetrano (sometimes also known as Castelnuovo) olives are large, bright green, meaty, almost buttery olives from Sicily, with a flavor that is milder than your typical olive.
Once you have grated the onion into a bowl, transfer it into a fine-mesh sieve. Set the sieve over the bowl and let it drain for 15 minutes, or until most of its liquid has been released and it no longer drips.
To grill peppers, heat a grill to high heat. Rub each pepper with a little olive oil and place on the hottest part of the grill. Let the peppers grill, turning occasionally with tongs, until the skin blackens all around. If you prefer to roast them the night before, preheat the oven to 350°F. Rub each pepper lightly with a little olive oil, place on a baking sheet, and roast for 50 minutes to 1 hour, until tender but not brown. If you have a gas stovetop, you can put the oiled peppers right on the grates of the hottest, highest flame you have and allow them to blacken all round, turning them occasionally with large tongs and working in batches as necessary. Whichever way you cook them, place the warm peppers into a bowl and cover with plastic wrap. Cool to room temperature. Peel off the skin. Cut open and remove the stems and seeds. It's fine if there is a little burned skin left on the peppers. Do not rinse them. Proceed as your recipe instructs.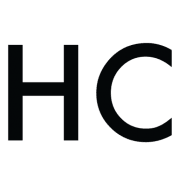 Tami Ganeles Weiser
I am Tami Weiser—food writer, food anthropologist, and culinary professional. Join me in finding a genuine expression of your heritage through food, incorporating who you were, who you are and who you want to be. At theweiserkitchen.com I offer original, globally-inspired, seasonal, kosher-style recipes, culture and history made relevant and a dollop of kitchen wisdom to take you and your cooking from good to great.