You can top this salad with chicken, chickpeas or some other protein to make a meal out of it.
By Natalie Rose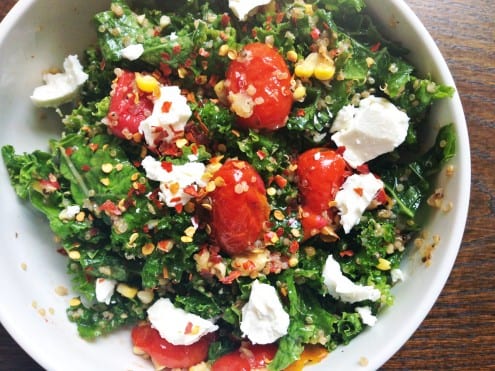 Kale Salad with Roasted Tomatoes and Toasted Quinoia
You can top this salad with chicken, chickpeas or some other protein to make a meal out of it.
Ingredients
tomatoes
2 pints cherry tomatoes
2 ears fresh corn
1 tablespoon olive oil
salt and pepper
quinoa
1 tablespoon olive oil
½ medium onion, diced
2 cloves garlic, minced
½ cup quinoa
1 cup water
kale
2 heads lacinto kale
2 tablespoons good quality olive oil
juice from one lemon
salt and pepper to taste
½ cup crumbled feta (optional)
crushed red pepper flakes
Instructions
Set your oven at 400 degrees. Slice corn off its cob. Reserve cob for stock. Toss tomatoes, corn and olive oil together with a good pinch of salt and pepper. Roast on a baking sheet for 40-45 minutes, until tomato skins have burst and corn in brown. Pull out of oven and reserve
In a saute pan with a tight-fitting lid, heat olive oil over medium-high heat. Add onions and garlic; fry for 3-4 minutes. Add quinoa and fry until golden, stirring often, for about 5 more minutes. Add water, cover and simmer until all the water is absorbed and the quinoa is fluffy, about 20 minutes. Fluff with a fork and reserve.
Wash, drain and dry kale well. Tear or chop kale into bite-size pieces. In a large bowl, massage kale with olive oil, lemon juice, salt and pepper. Add tomatoes and corn mixture and quinoa. Toss to combine. Let stand for 20 minutes for kale to marinate.
Natalie Rose
Natalie Rose is a freelance food and travel writer, media producer and avid cook. The daughter of a Mexican-American mother and a Lebanese-American father, Natalie honed her palate tied to the apron strings of family members keen to pass along the strong culinary traditions of Mexico, Lebanon, and her native Arizona. She writes the food and travel blog Chocolate and Chiles. She resides in New York City and La Antigua, Guatemala, and spends her days dreaming up new adventures and delectable dishes to cook. Her mother says she was always a very good eater.