Create a homemade jerk blend and toss it on your salmon for a show-stopping, flavorful meal served over a bed of blueberry, radicchio, arugula and more.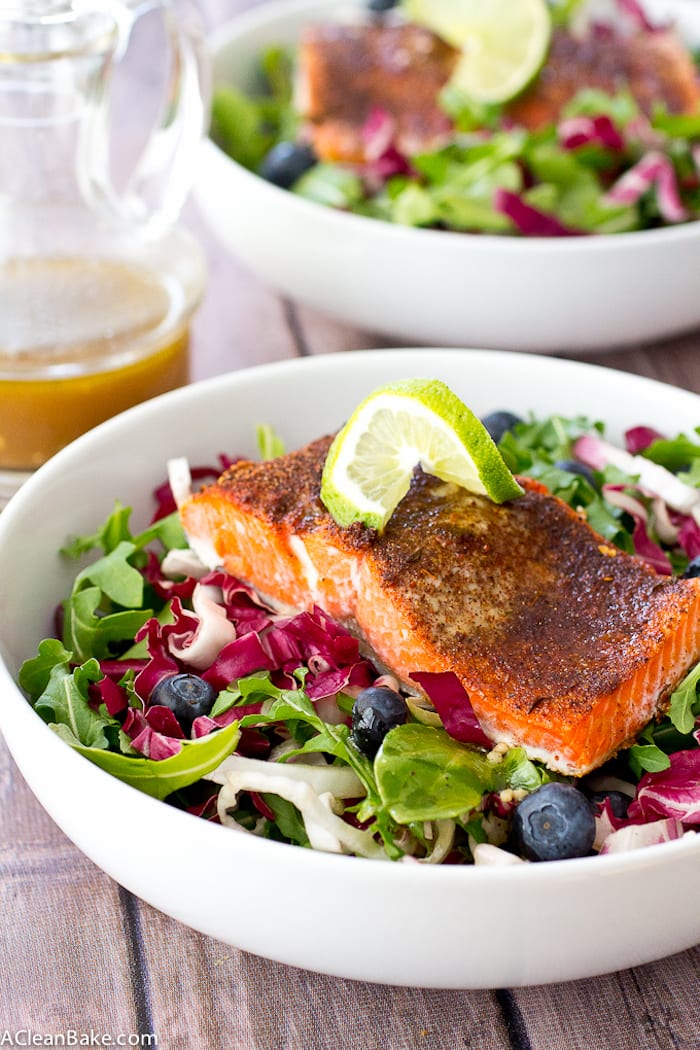 I'm all for encrusting a few chicken breasts and thighs with jerk seasoning and throwing it on the grill – you can't go wrong with a classic – but if you're looking for something a little bit more off-the-beaten-path, salmon tastes remarkably with a jerk season.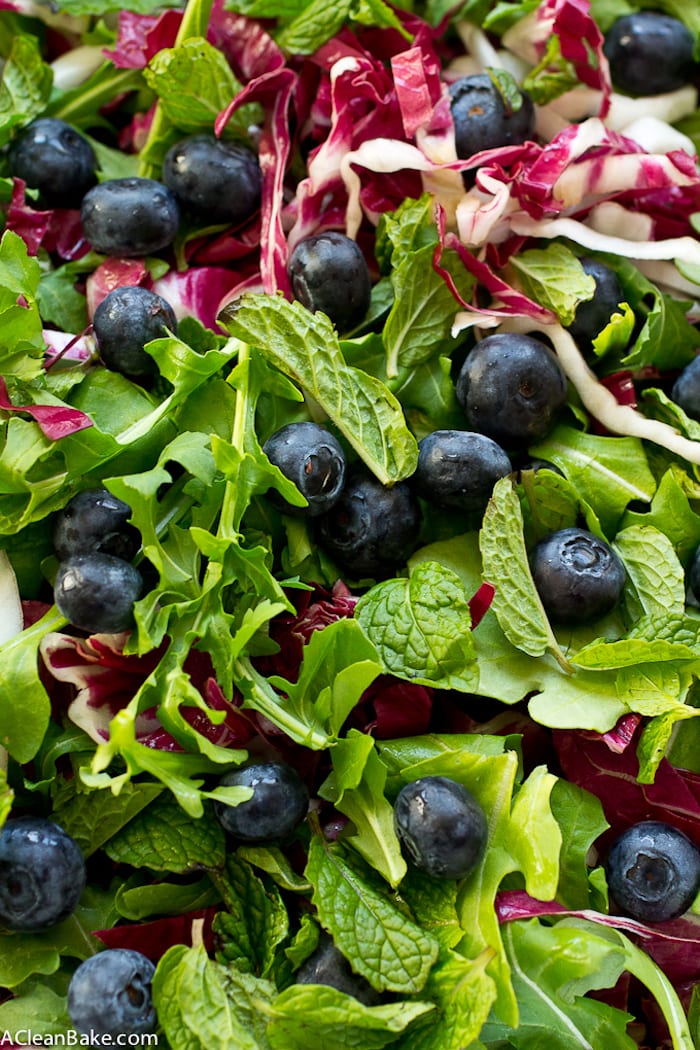 Before you make a decision about this recipe, let me first address the elephant in the room: I realize this ingredient list is as long as the recipe title is eye-rollingly shmancy, but if you let either of those factors influence your decision, you're missing out on something spectacular. Sure, you could certainly make a huge batch of this and just absolutely kill it at your next dinner party, but around here, we have had this meal a few times for dinner – and the leftovers make a really great lunch.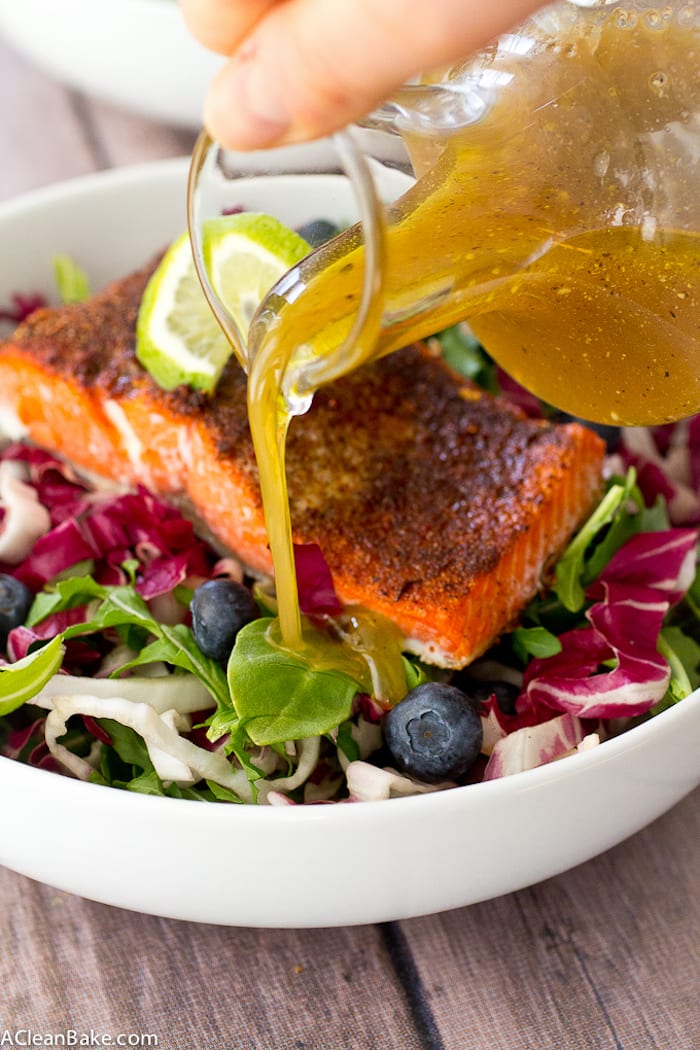 The salmon, for one, stays juicy and flavorful whether it's right out of the oven, or has been in the fridge since last night's dinner. I under cook mine slightly so that it is medium rare, but you can certainly leave it in the oven a little longer to get that firmer, flakier consistency.
The slaw, not to be outdone, is also a rockstar when it comes to sustaining its crisp texture and fresh flavor, even over the course of a few days. I have been really enjoying eating the slaw for lunch with different protein options, so feel free to either make half of the salmon component or double the slaw. Then, to mix it up for lunch, try adding feta, cashews, edamame (if you eat soy), or sliced grilled chicken.
Click here for the jerk seasoning blend.

Jerk Salmon and Blueberry Radicchio Slaw
Create a homemade jerk blend and toss it on your salmon for a show-stopping, flavorful meal served over a bed of blueberry, radicchio, arugula and more.
Ingredients
Ingredients for the salmon
4 salmon fillets (approx. 8 ounces each, before cooking), skin on
Extra virgin olive oil
2 Tablespoons jerk seasoning
Ingredients for the slaw
1 head of radicchio, exterior leaves and core removed, thinly sliced
2 (firmly packed) cups baby arugula
½ cup (loosely packed) fresh mint leaves, thinly sliced
½ cup crumbled feta
2 cups fresh blueberries, rinsed and dried
Ingredients for the dressing
¼ cup sherry vinegar
¼ cup fresh orange juice
2 Tablespoons olive oil
2 teaspoons honey
1 teaspoon minced garlic
Salt and pepper to taste
For serving
Lemon or lime slices or wedges
Instructions
Preheat the oven to 325F. Grease a baking pan and place the salmon about 2" apart on the pan, skin side down. Sprinkle each fillet with ½ Tablespoon of jerk seasoning and bake for 15-20 minutes (15 for a more medium/medium-rare fillet, 20 for a more well-done fillet).
While the salmon is cooking, prepare the slaw and the dressing. For the slaw, toss together everything but the blueberries, then sprinkle the blueberries over the top. For the dressing, whisk together all of the ingredients or add them all to a small container or jar with an airtight top, close and shake vigorously.
If you're going to eat the meal immediately, toss the dressing with the slaw. If you plan to save some for leftovers, I recommend dressing each portion of slaw separately. Top a generous (dressed) portion of slaw with a salmon fillet, garnish with lemon or lime, and serve.
Notes
Store the salmon (cooled) and the slaw (undressed) in separate airtight containers in the fridge for up to 3 days. Store the dressing in an airtight container at room temperature for up to a week, or in the fridge for 2-3 weeks.