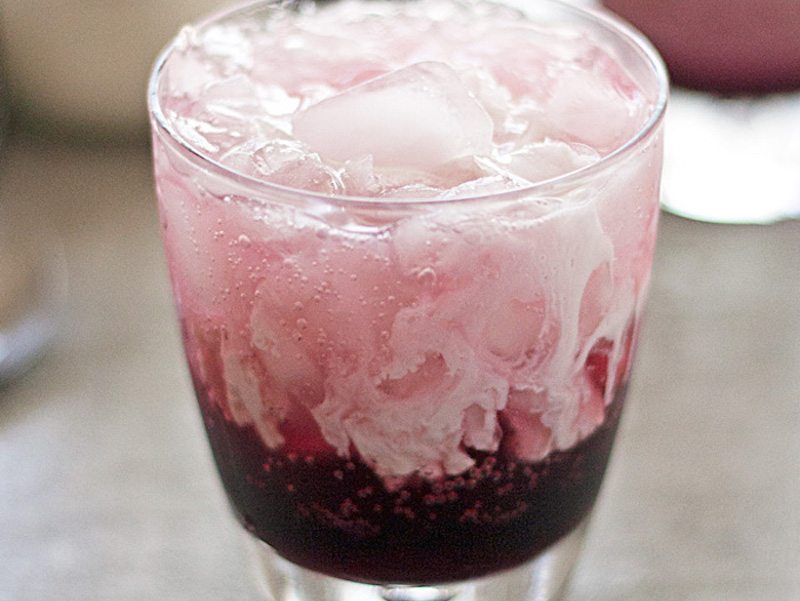 Make a creamy, bubbly, delicious Italian soda with pomegranate juice and maybe even spiked with vodka for a party cocktail.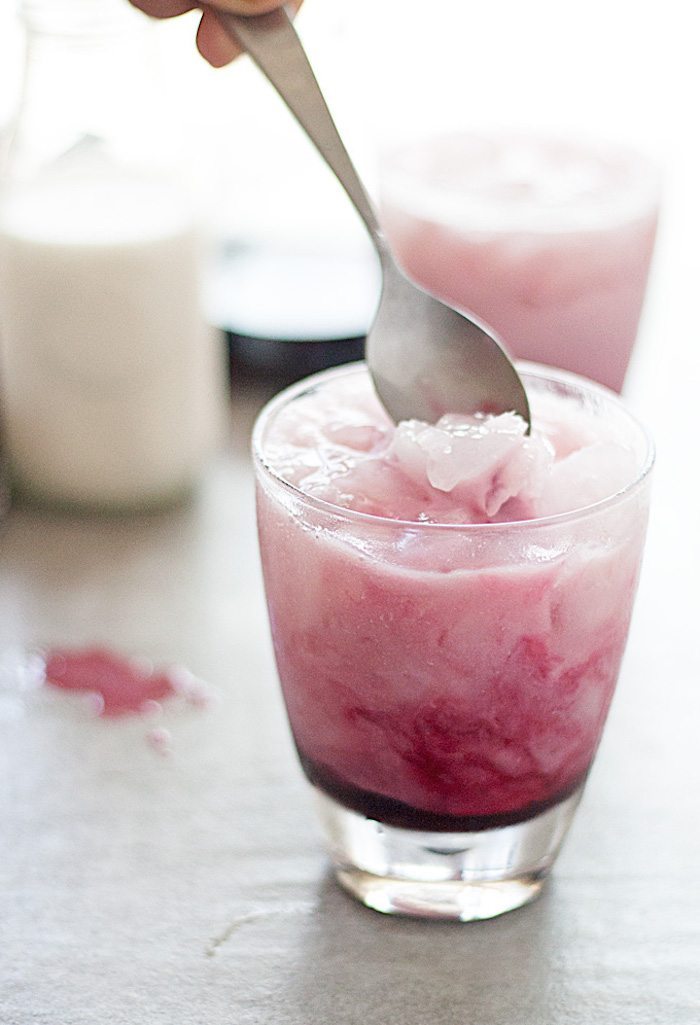 First, it's fall and we're totally embracing the fruits of the season. But – let's not get crazy and juice fresh pomegranates (we don't have time for that nor are we interested in that mess). We can totally use store-bought (100%) pomegranate juice with no judgement.
This recipe makes a uber-licious pomegranate syrup that not only works great in these pomegranate Italian sodas, but also could be drizzled over ice cream, poured over pancakes, or shaken into a salad dressing. It's magical and you should use its super powers liberally.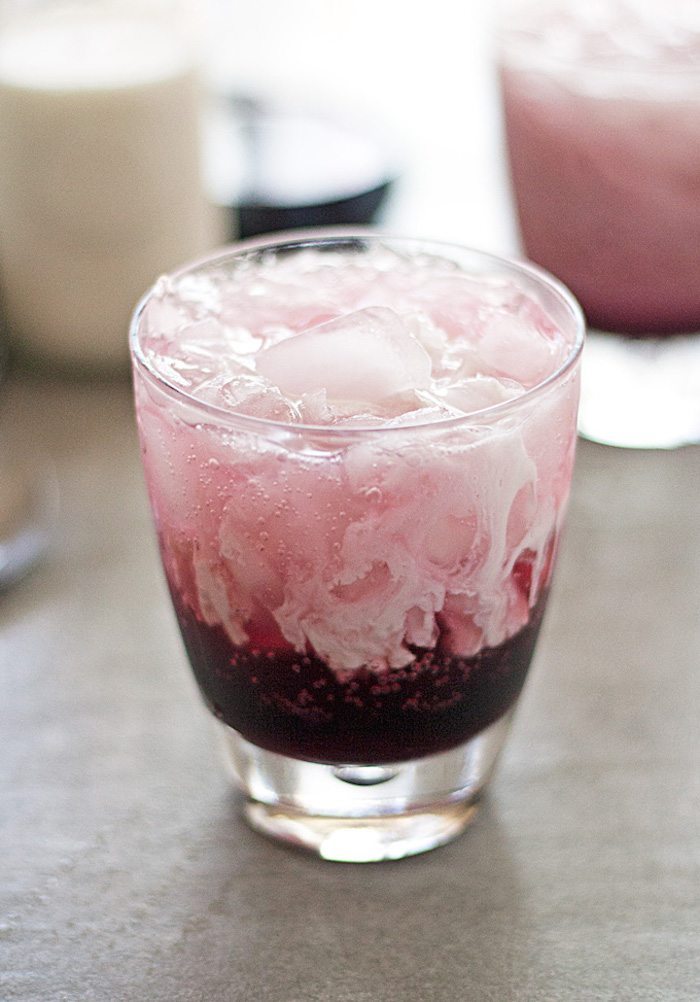 But for these sodas we just need to start with a glass filled with crushed ice, a little pomegranate soda, a heavy pour of bubbly club soda and then top with a tablespoon or two of half and half.
All of this makes the creamiest, bubbliest, most refreshing yet still classy concoction and yes, you're thinking the same thing I am… how can we booze this up? Well, just add about 2 ounces of vodka (even a vanilla vodka would be delish) and now we have the perfect adult cocktail for all these holiday parties where we must act like ladies and gentlemen.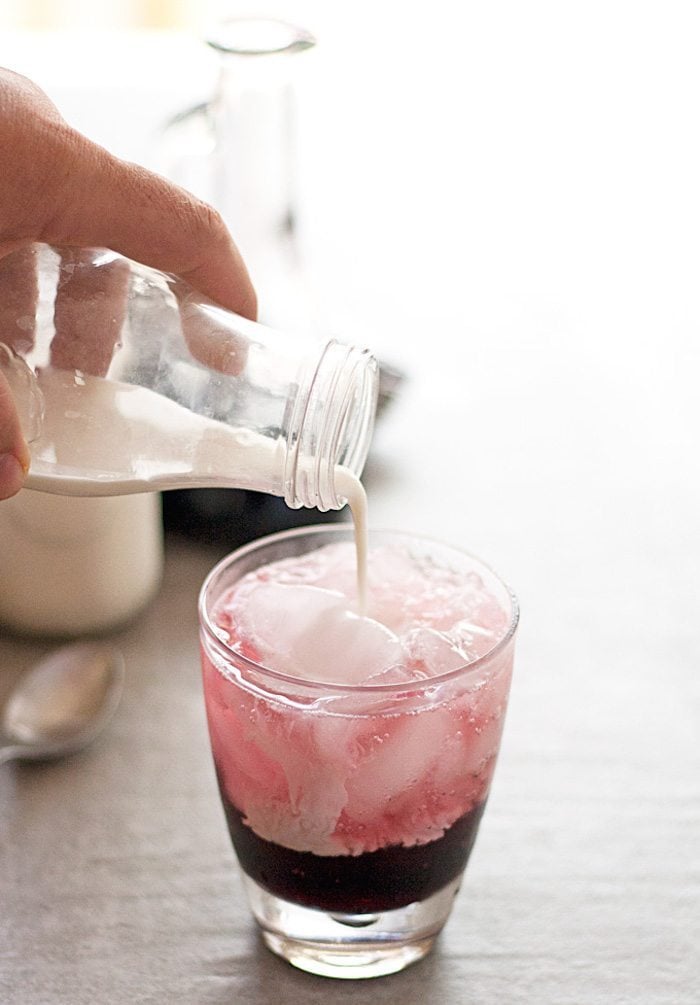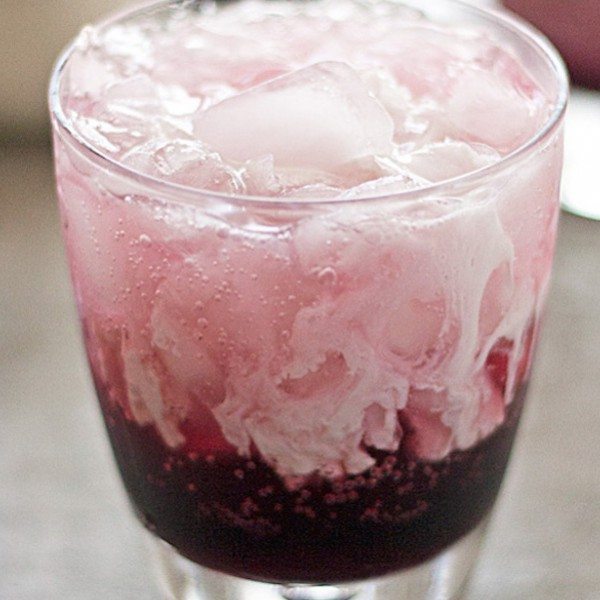 Jessica Potts
Ingredients
pomegranate italian soda
2

ounces

pomegranate syrup

see recipe below

4

ounces

club soda

1-2

tablespoons

half and half

2

ounces

vodka

optional
pomegranate syrup
16

ounces

100% pomegranate juice

¼

cup

sugar

1

tablespoon

lemon juice
Instructions
pomegranate italian soda
In a medium glass filled with crushed ice, add pomegranate juice and then club soda.

Float half and half on top, stirring to incorporate as desired.

If adding vodka, reduce the amount of club soda by slightly.
pomegranate syrup
In a medium saucepan over medium high heat, combine pomegranate juice, sugar and lemon juice.

Bring to a boil and then reduce heat to a simmer, stirring occasionally.

Simmer for 15 minutes, or until mixture has reduced to about half. Be careful not to overcook or it will become a hard, sticky texture.

Store in an airtight container in the refrigerator for up to six months.
Jessica Potts
The amateur cook, baker and photographer responsible for everything you'll find at A Happy Food Dance. I live in Los Angeles, by the beach, with my boyfriend and our quirky little dog. I am crazy, head over heels, in love with food; making it, sharing it and eating it. I consider myself a professional cupcake eater, will put avocado on anything and nothing taste better than a good margarita.