Hans Neuner is the unlikely Austrian chef that brought Portuguese cuisine to new heights. It all started in 2007, when after years of working all over the world, the young chef fell in love with the views from the dining room of his now emblematic Ocean: A two Michelin-starred restaurant that has evolved to become a beacon of Portuguese cuisine and culinary history over the last decade and a half. This is his story.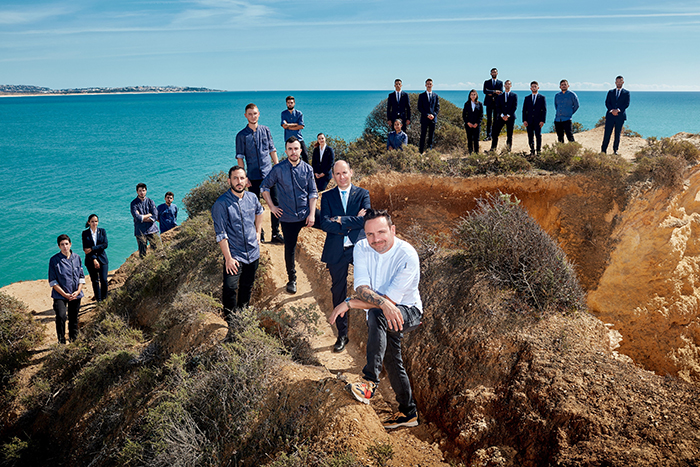 There's always been a debate about evolution. Anaximander, a pre-Socratic Greek philosopher, concluded that our race descended from fish back in the 500s B.C.E, for example. Then Erasmus Darwin and a group of scientists and philosophers in the eighteenth century also proposed different ideas but it wouldn't be until the times of his grandson, Charles, that those would take the form of an actual theory. The theory of evolution by natural selection explains how species evolve, or change through time, and I couldn't stop thinking about that word, EVOLUTION, when I interviewed Hans after experiencing his wonderful work at Ocean Restaurant.
He comes from four generations of cooks and became the first one to take the very difficult and sometimes ungrateful leap into fine dining with success. He was born in a small town in Austria, that he pretty quickly outgrew, and traveled the world looking to please his hunger for more. He grew up and succeeded in an industry that has gone through outstanding changes over the time of his career and worked his way to the top in every step of the way. And he even helped his second country, Portugal, develop a culinary language of its own. All with a great sense of humor and humility that everyone around him can vouch for. Hans Neuner's story is the perfect example of evolution.
Nowadays the celebrated chef who also holds the 62nd position in the top 100 list of The Best Chef Awards finds inspiration for each menu in Portugal's age of discovery, an idea that he got by chance after the pandemic. That same hunger and curiosity to learn and try more that got him to move to Portugal fifteen years ago, is now the fuel for a yearly adventure that he and his team take to create his flavorful dishes. The "India Route" tasting menu from last year, for example, showcased a journey that starts in Portugal, passes through Africa and culminates in Goa on the coast of India, and the current season is named 'Memories from Brazil'.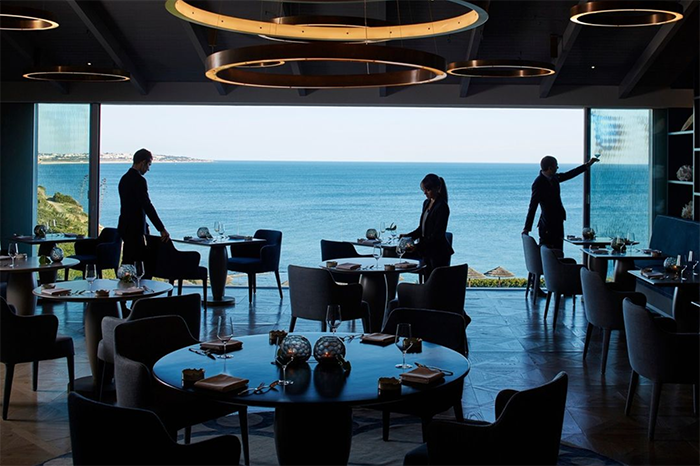 From A Tyroler Town To London
Originally from Austria, Hans Neuner started cooking at fourteen years old. He didn't really have to think too much about it as he's the fourth generation of his family to work in a kitchen. Restaurants, cooks, pots and ingredients have been a part of his life since he can remember. He grew up in Leutasch, a very small village in the state of Tyrol, and started cooking school at fifteen. He describes it almost as military, with a 5:30am wake up call to clean the rooms, followed by study and breakfast at 8:00am. Then the school day started. 
"I started before my fifteenth birthday. If I think about it now, when I look at fifteen year old kids, I mean, they're kids. But in our time it was normal. At seventeen years, I finished school and moved to Switzerland until I had to come back to do military service in Austria for almost a year. I quickly returned to St. Moritz after that to make some money and there, during the St. Moritz Gourmet Festival, I met the chef from the Dorchester in London and took the opportunity to ask him for a job",  Hans explains.
His move to London was one of his dreams, as he always wanted to change his small town for a big city, and his new job at the Dorchester was his first taste of the rough reality of the culinary industry. They started at six in the morning and finished at eleven at night in the basement of the hotel, and from the group of twenty chefs, pretty much everyone left. He resisted for a year and a half and then did a 180 and moved to Bermuda. How did he choose that destination? He simply grabbed the book of the leading hotels of the word, found ten places that looked interesting, wrote them asking for a job, and took a plane to the first one that replied.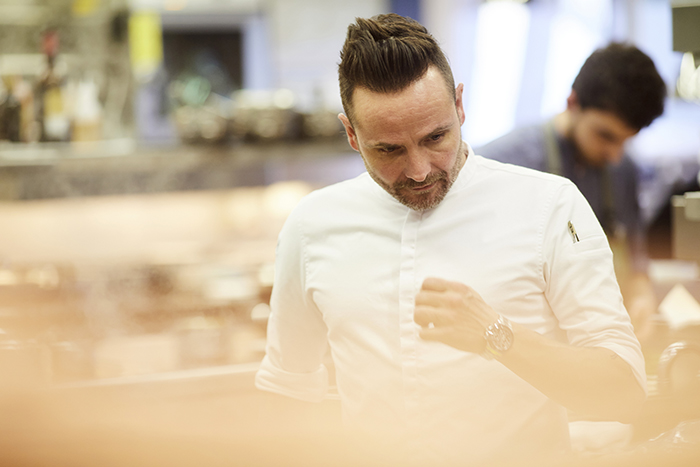 Growing Up In A Kitchen
Social conventions and timings have also evolved a lot over the last few decades and for an European teenager of current times, maybe it would sound insane to have already moved countries five times before twenty years old, and to already have six years of working experience in the kitchen. After Bermuda, young Hans found a new adventure that would take him cooking all over the globe: he joined his older brother, who's naturally also a chef, on a cruise ship that started in Los Angeles and went over Hawaii to Asia, Arabia and back to Europe. It sounds like a Jules Verne book, but it was just a tiny chapter in his path towards becoming one of the best chefs of the world.
"We went on a world tour and it was amazing. Also cooking wise. I had the luck of being responsible for all the guest chefs and we hosted some amazing ones, so when the guest chefs came, they gave me the list of ingredients and the recipes and I had to make everything happen. A cruise ship is a completely different ball game. I was lucky to learn so much, travel the world and to have my brother and another friend, so we had an amazing time", Neuner tells.
He then traveled through the US with his brother, and went back home without a plan but pretty quickly found himself moving to Berlin, where a friend invited him to be a part of the team that would reopen the legendary Adlon Hotel after a remodel. That same hotel where Michael Jackson infamously dangled his baby son out the window. Hans was only 24 and was already the sous chef at one of the world's most luxurious hotels.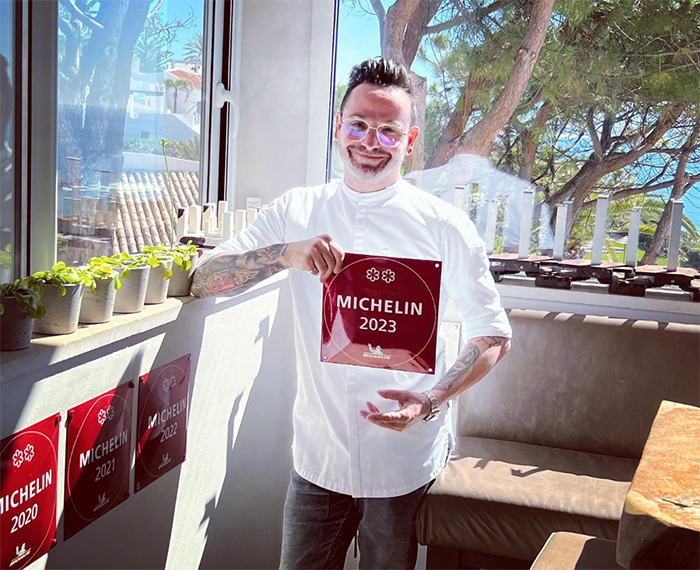 An Evolving Industry
Hans still thinks back to his teenage years with awe of how early in life he started and recalls having to fight extra hard sometimes to be taken seriously because of his young age. It was a harsher industry twenty five years ago, where nobody was talking about sustainability, gender equality and working conditions. The focus also wasn't on local cuisine or seasonality. It was all about strength, perfection, respect for the command line, technique and luxury (for the guests).
"When I was a trainee I got slapped two times and I remember calling my dad, who's also a chef, and him telling me that I probably deserved it before hanging up. They came from a different generation of chefs and that's how it was, no speaking out, no complaining, just pushing or leaving. Then as a young executive sous chef in Berlin, I had to be very very strong to make a group of forty chefs respect me, much of whom were older than me. Two things helped me: I was younger but with way more experience than most of the other chefs, and my boss had my back", says Hans.
He now confesses that he would be way more relaxed if he could go back in time. But he just wanted to tear the world apart and become the best chef he could be. It was a part of a learning process that led him to his current understanding of what it means to be a leader. And today he's very clear on the importance of a good team. One that stays together for years and grows. That can come up with ideas, develop them and bring them to life without having to start from scratch every time a team member changes. Today, he has achieved to create such a team at Ocean.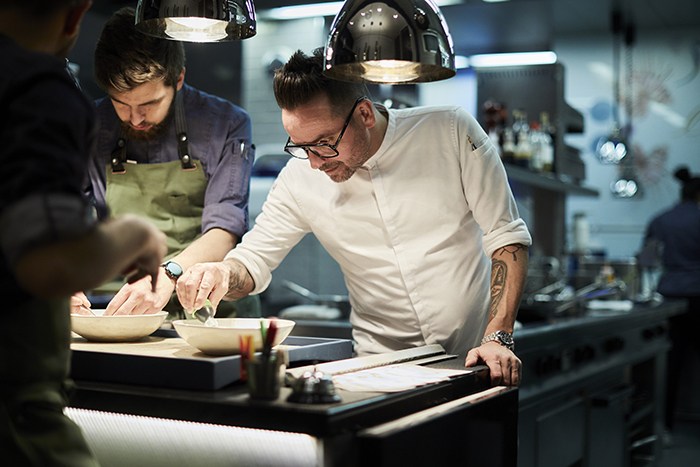 A View Into The Ocean
The Adlon was where Hans first experienced being a part of a team that received a Michelin star. After leaving that job and working at another starred restaurant in Mallorca, he returned to Germany, this time to Hamburg, to help his former boss from Berlin open a new place. They also received a star there. These years of great culinary success gave Neuner the idea that it was time to open his own project, and after exploring possibilities in Russia, England, Italy and a much younger Dubai, he got an offer to move to Algarve.
"I had a phone call with the F&B director and we ended up having a two hour conversation about the idea and the project. After that I agreed to doing it without even seeing the place. I had just seen one picture from the old cafe. It was old school, but the view was incredible. I knew that we could remodel the place later on but that view was the selling point for me. It's amazing and it still takes my breath away every day, even fifteen years after the first time I saw it", he says.
That was the birth of Ocean. It's safe to say that the only similarities that that version of the restaurant and the current one have are the chef and the name. Hans explains that it was a very different scene in the Portuguese culinary landscape in 2007. He had also never been to Portugal so the menu consisted mostly of renewed versions of old dishes he had created in other projects, all with a strong mix of French and Mediterranean influences. They even had to import most of the produce from France or Spain as in those days, he didn't know a single local producer.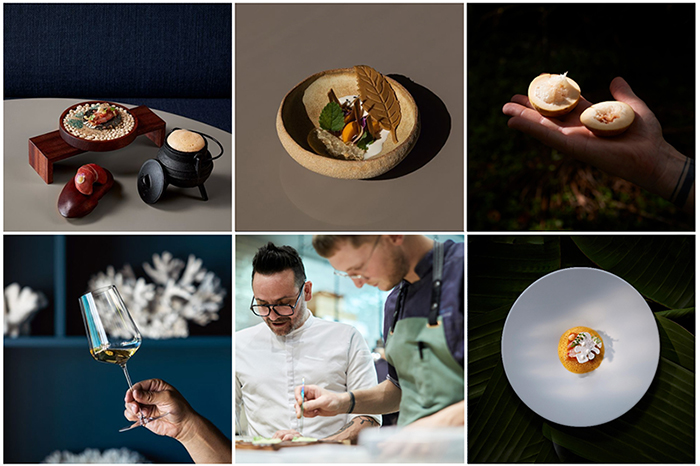 Embracing Portugal
The restaurant started off very different, safe and reflecting the chef's experiences in previous countries. Naturally, he had to soak in the culture and little by little he translated that into his work. But that didn't stop him from earning his first Michelin star in 2009 and the second already in 2011, becoming only the second restaurant in Portugal to ever achieve that status, four years after opening.
"My process of embracing the local culture has been a super interesting journey for me. I think that it mostly started by me visiting a lot of markets and restaurants, and also because of our Portuguese team members. We would just talk a lot about food, ideas, ingredients, traditions, and find inspiration as the restaurant evolved and as I discovered the true essence of my new home and Ocean. Then the second star gave us a lot of visibility and more and more chefs from Portugal knew about me and the project. Today I definitely feel the respect and love of my Portuguese colleagues, and I'm very proud of that."
With the years, Hans embraced his new surroundings, which provided him with a new gastronomic passion. He still remembers that the first Portuguese dish he included in his menu was a version of the chicken Piri Piri. After the worst time of the pandemic, when we all had time to reflect and redirect our lives, he decided that he would go on an expedition throughout the different regions of Portugal's age of discovery for inspiration and to translate the eclectic and diverse influences that make up Portugal's vibrant food heritage into his cooking. Since then, Hans and his team embarque on a discovery trip every year during the off season to create the new menu for the following year.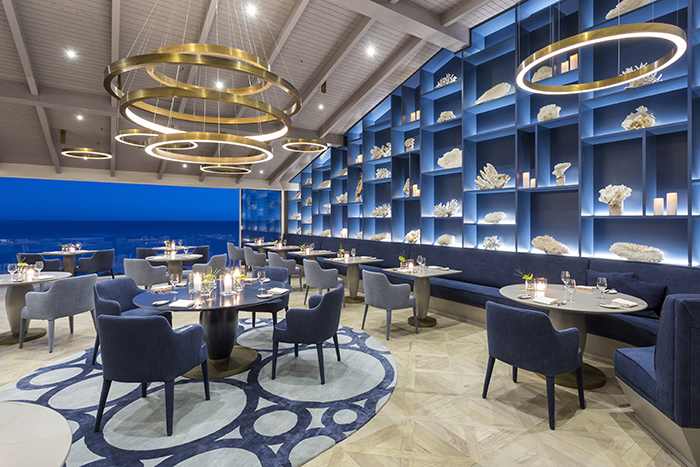 Ocean Today
There's no trace of that old looking café anymore but the view is as stunning as ever. The restaurant is in one of the buildings of the luxurious Vila Vita Parc Resort in the sunny Algarve region. It is sophisticated and luxurious in a very laid back-mediterranean way. When the doors open, a hallway of Murano glass serves as a frame for the first glimpse of the view in the back of the room. Then guests step into a luminous dining room, decorated with a tapestry specially made by the Algarvian artist Vanessa Barragão on one side and with a huge display of corals and shells on the other. Every detail is taken care of and combined with a very well choreographed service to round up the experience.
See Also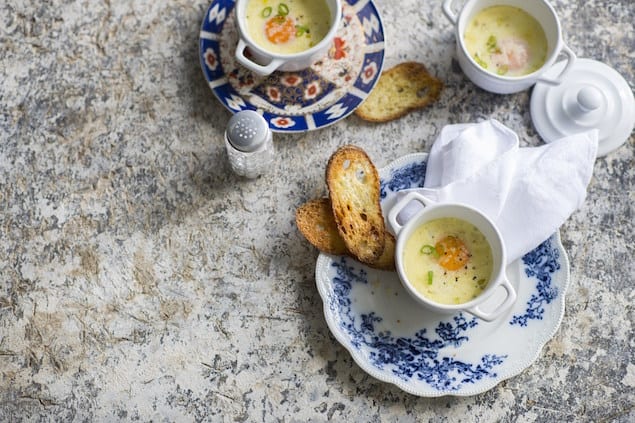 Last year it was all about the "India Route" tasting menu. It showcased a journey that started in Portugal, passed through Africa and culminated in Goa on the coast of India. The current season is named 'Memories from Brazil', and was inspired by a trip that Hans and his team took through the giant South American country earlier this year where they had the opportunity to explore and discover the roots and origins of Brazilian cuisine, like the young explorer Pedro Alvares Cabral when he, on his way to India in the 1500s, came across this new land.
"It really was a trip of discovery for us and we tried everything. We not only had traditional food like moqueca, we also tried a lot of ingredients and got inspired by them to create dishes for our current menu. For example ants. Everybody cooks with ants in Brazil and we made tribute to that in one of our desserts without actually using the insect. In the end, our goal is for guests to enjoy the meal and to translate a part of that rich and wonderful culture to them, but we do it in a way that guests can recognize and without pushing it. I know that if I used the actual ants on a dish, a lot of my guests wouldn't enjoy it. That's a part of the challenge", Hans says with a smile.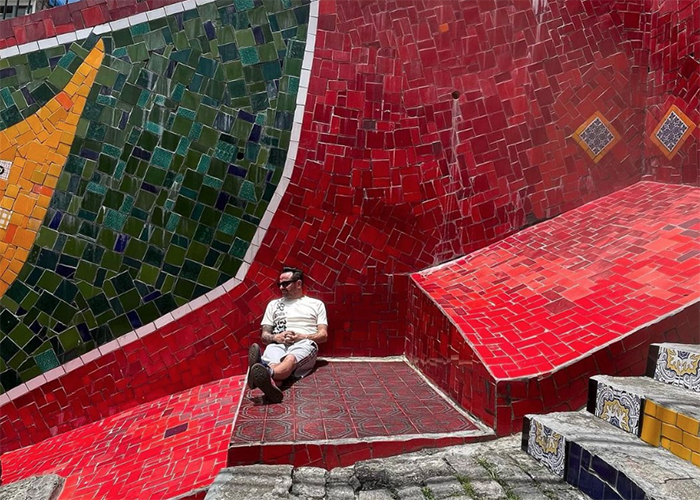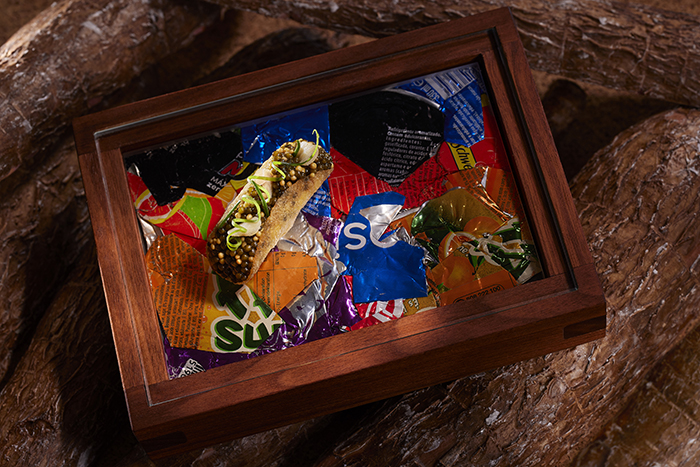 Os sabores do Ocean
Hans Neuner is a restless chef. Curious, energetic and creative. If he isn't thinking about his next move, he gets bored. Even after almost 30 years of cooking there's always something new to learn and try. This is also the reason for his yearly expeditions and 2023 is all about his 'Memories from Brazil'. The menu includes classics like manioc, pão de queijo, feijoada and of course the moqueca.
The first bite is a bang: a taco made out of manioc, one of the most important ingredients in Brazilian cuisine, and filled with smoked eel and imperial caviar, because yoo want to have some caviar in there. It comes on a plate that's also designed by Hans and made out of waste, specifically smashed cans, a commentary on waste and recycling. The Pão de queijo comes next and is done in two ways: the traditional one, with guava and cheese, and Ocean's version made out of blue cheese ice cream, served between two cow faces made out of crispy bread and topped with apricot jam. It's almost as if it was done that way to show guests what's next: a display of Brazilian flavor, but done in a different way. There's tradition and then there's Oceans take on it.
Feijoada is next. It is this rich and powerful stew usually done with black beans and pork and the first Brazilian dish Hans Neuner ever tried. It's also one that he ate more than once during his recent adventure in the South American country. At Ocean, he makes it with a twist and combines lobster, pork belly and choriuzo and presents it in three steps. First the pancake, also made out of black beans and inspired in the Brazilian acarajé, topped with white beans puree, dried meats and lobster. The second part of the dish is made to simulate a giant black bean and is filled with the sauce from the actual feijoada, and the final part, a pot with traditional feijoada.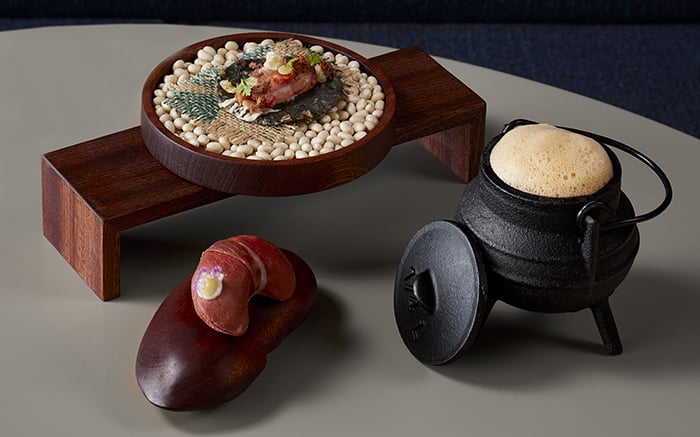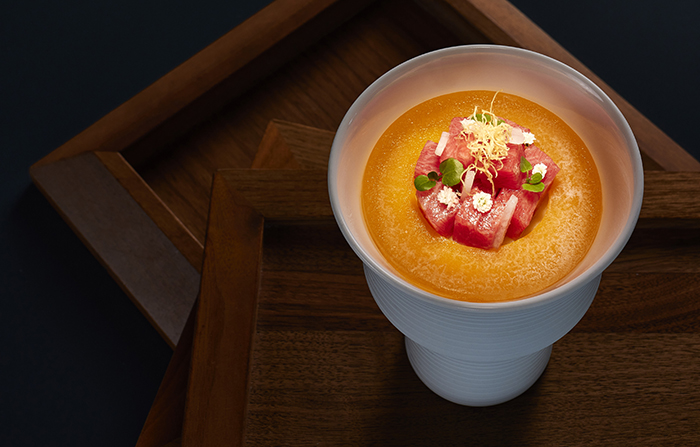 Other highlights of the menu are the tuna belly with coffee and passionfruit but a very special one is the Moqueca. Maybe because it's the most personal one to Hans. "Moqueca is a dish from my wife. She's from São Paulo and if I didn't put it on the menu, she would probably leave me. It's actually inspired by her. This is her dish. I learned it from her at home. She cooks it and when we got together, twelve years ago, we cooked much more at home. I was even nervous for her to try it."
Creating menus like this is always tricky as the inspiration is a completely different, profound, rich and complex culture. There's got to be a high level of respect and admiration for the task and Neuner admits that he gets nervous every time he presents a menu that introduces a new world. What would Brazilians think after a meal at Ocean? So far they love it, including his wife who's his biggest teacher and critic. More examples of this exotic meal include the maminha, composed by Kobe, mushrooms, bone marrow, bell peppers and smoked eggplant, and the desserts, a colorful sequence that includes a giant make believe ant with a magnifying glass, the face of the famous Jesus statue from Rio made out of chocolate, and a tray of fun sweet bites that exemplify the most playful side of the chef. Bombons, brigadeiros and fruity bites that replace the classic petit fours and seal the deal for what can be one Portugal's most exciting culinary experiences of today. 
A true homage created out of pure love and respect by an Austrian, who took Portugal in as his new home and now exploring every era of its history. There's one big downside from being a nomad. Yes it opens a world of wonders but at the same time, when an Austrian goes to Algarve for fifteen years, there can be a feeling of not belonging to either place sometimes. Where is home? If you think about it, food plays a big part of that sense of belonging and at this point, Hans confesses that Piri Piri and cataplana make him feel at home as much as goulash or salad or schnitzel do. So much so that when he is done exploring the different periods of the era of Portuguese discovery, he would even try to create a menu that mixes his homeland with his new home.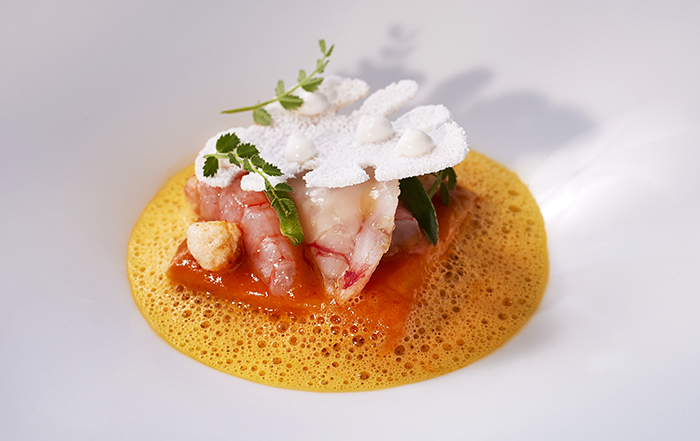 Ocean, Vila Vita Parc Resort & Spa, R. Anneliese Pohl, 8400-450 Porches, www.restauranteocean.com