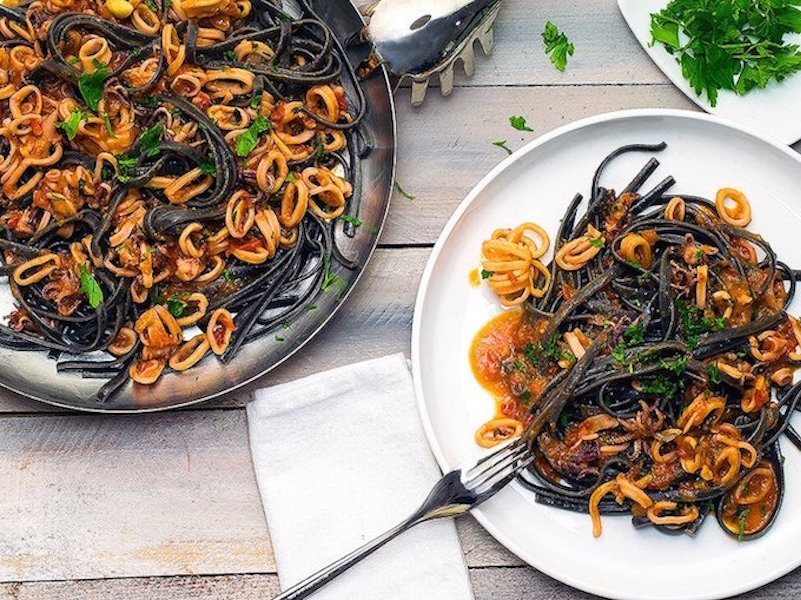 Lighten things up with a refreshing seafood dish served over dark squid ink pasta for a stunning presentation.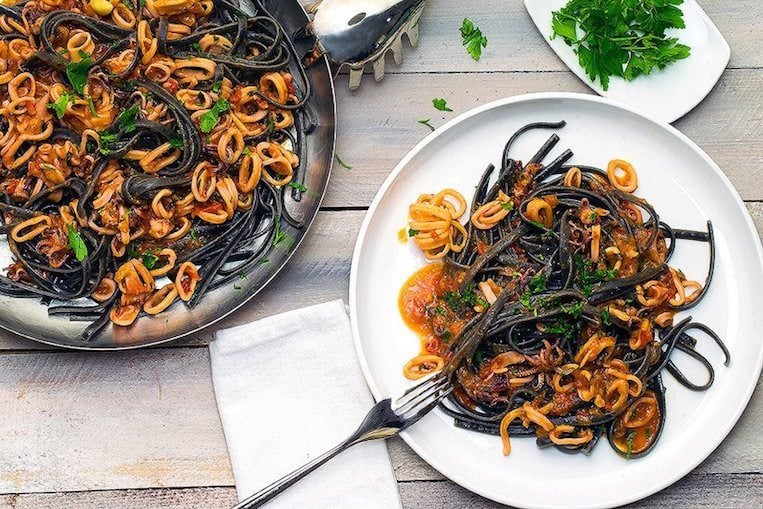 Nothing takes me back to the Italian coastal towns during the summertime like this recipe of squid ink pasta with a seafood sauce.
In most recipes you find along the coast, the sauce is colored black with the addition of squid ink, which is very popular in these regions. I found some beautiful imported homemade dried squid ink pasta from the Amalfi Coast, and made the sauce the traditional way, which makes a unique and beautiful presentation, with the black pasta!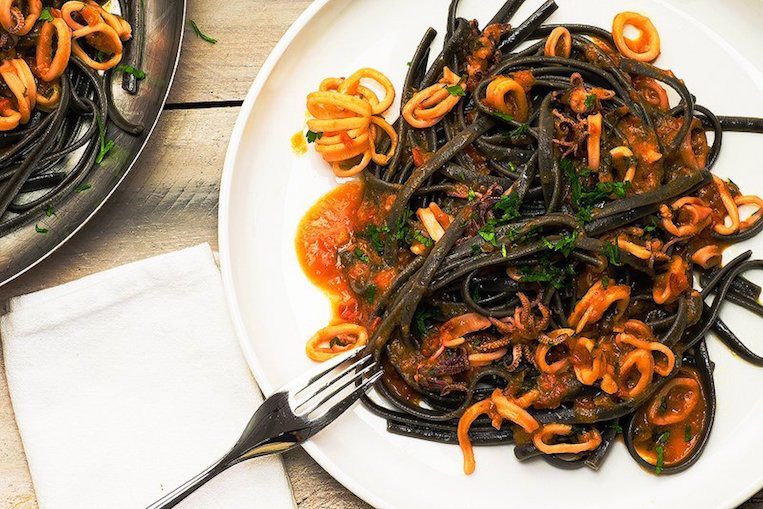 Find more authentic Italian pasta recipes here.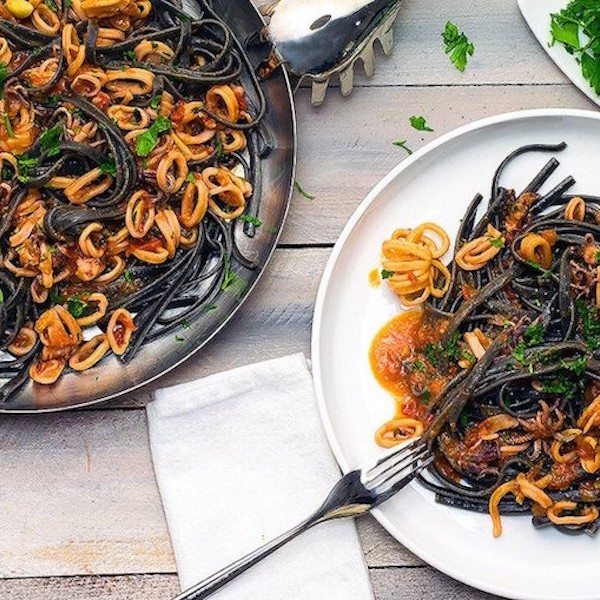 Francesco Romano
Ingredients
1

pound

squid ink pasta

dried or fresh

1

pound

squid and tentacles

fresh or frozen

4

tablespoons

extra-virgin olive oil

3

cloves

garlic

minced

2

small shallots

finely chopped

3

teaspoons

salt plus 1 tablespoon for the pasta water

1

teaspoon

freshly ground black pepper

1 12

oz

can San Marzano tomatoes

1/4

cup

white wine

preferably Pinot Grigio
Instructions
Slice the squid body into 1/4-inch rings and mix with the tentacles.

Heat the olive oil in a large sauté pan over medium-low heat.

Add the shallots and sauté until translucent, about 3 minutes.

Add the squid, and cook for one minute or until they turn light pink.

Add garlic, salt, pepper, and sauté for about 2 minutes.

Add tomato sauce, the white wine and let simmer for about 3 minutes.

Turn off the heat, cover and set aside.

Bring a large pot of water to a boil add a tablespoon of salt cook the pasta for three or four minutes if fresh, or if dried, until al dente, eight or nine minutes.

Transfer the pasta to the pan with the sauce, toss to combine and serve immediately.
Francesco Romano
Francesco Romano was born in Italy and has been living in America for 25 years. As he was growing up, he didn't realize how spoiled he was! He had two of the best chefs under one roof, his Grandmother Nonna Sara and his Mama Francesca, who made every meal from scratch and with love. As a kid, he would sit in the kitchen for hours while these women were hard at work, enjoying the smells, tasting when he was allowed to, and later being put to work to help make fresh pasta. It wasn't until he was a grown up, moved away from home, and later to America, that he understood how much of his heritage and family centered on food. It was always made from fresh seasonal ingredients and was a way of bringing the family together to savor, to bond and to enjoy. On his site you WILL find mouth-watering food that is fresh, easy and authentic Italian, straight from my Mama's kitchen to yours.