Italian Meringue Delights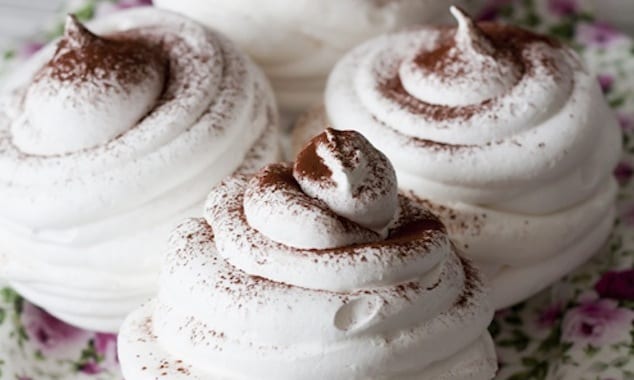 Enjoy these light, dried Italian meringue cookies with a hint of cocoa powder.
By Tamara Novakoviç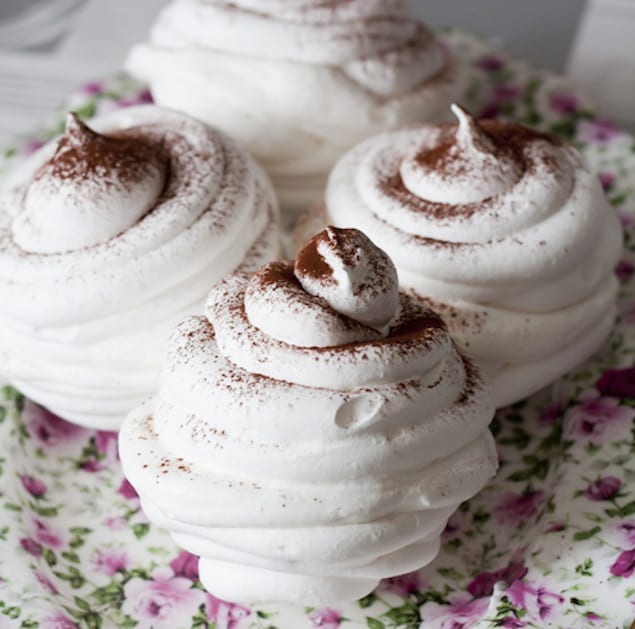 I've recently returned from a trip to Italy with a lot of inspiration recipe-wise, keen on testing and making some of the things I ate there at my home. These meringue cakes glued together by whipped cream were one of my favorite things to eat there, since I really am a meringue lover. I've noticed they have a lot of cookies based on their famous Italian meringue. It is made with boiling sugar syrup, which leads to a much more stable soft meringue. It is actually the most stable of all the meringues, making it ideal as an icing, topping or component in desserts. Unlike other types of meringue, once you've finished beating the mix it is ready to use and requires no further cooking. However, these cakes are baked (dried) on low temperature.

Italian meringues
Lovely looking cakes!
Ingredients
For the meringue
7 oz (200 g) caster sugar
5 egg whites
pinch of salt
0.85 cup (200 ml) cold water
For the filling
2.11 cups (500 ml) whipping cream
2 tbsp sugar
1 vanilla bean
Instructions
Place the sugar and water in a small saucepan over a high heat. Bring to the boil, stirring continuously with a wooden spoon until the sugar has dissolved.
Reduce the heat to medium and brush down sides of the saucepan with a wet pastry brush to prevent any sugar crystals forming.
Meanwhile, beat the egg whites with the cream of tartar in the bowl of an electric mixer fitted with a whisk attachment until soft peaks form. Bring the sugar syrup to 121°C (hard ball stage), then increase the mixer's speed to high and with the motor running pour in the hot syrup in a smooth, steady stream.
When the syrup is completely incorporated, lower the speed to medium and continue to beat the meringue until it has cooled to room temperature (15-20 minutes). By this stage the meringue will be thick, glossy and ready to immediately use. Transfer it into a piping bag with round tip and pipe large, round piles onto a baking tray lined with parchment paper. Preheat oven to 248F (120C) and dry them for about 4 hours. You can make them several days in advance and fill on the day of serving.
For the filling, whip cream with sugar and beans from one vanilla pod. Transfer into a piping bag with round tip and glue two meringue pieces with it. Serve.
Since meringues are fairly sweet, you can dust them with some cocoa powder before serving.
Tamara Novakoviç
Tamara Novakovic is a passionate self-taught cook, food blogger, freelance food writer and photographer behind bite-my-cake.blogspot.com. Her life journey has led her through Faculty of Humanities in Zagreb, Croatia to discovering passion for making cakes. She is currently a weekly food columnist for Croatian newspaper V magazine and food magazine Repete.