Multi-award winning chef Chantelle Nicholson has a lot of ideas about food. Inspired by her vegetable garden and her career as a professional chef, Chantelle has thought beyond the usual vegan menus and has created a bunch of seasonal vegan recipes we can all love and be inspired by too.
Does cooking vegan food or for a vegan friend of family member seem daunting? Have no fear! Pick up a copy of Chantelle Nicholson's new book, Planted: A Chef's Show-Stopping Recipes. This is perfect if you have vegan guests coming over for the holidays. You can feed them and satisfy the other palates in the room too, all with the same recipes.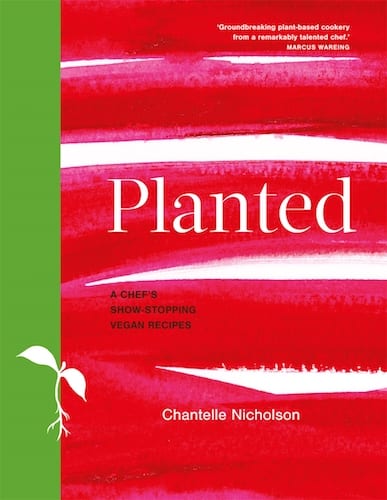 Here are a few dishes in the book that truly inspired us to cook better vegan food.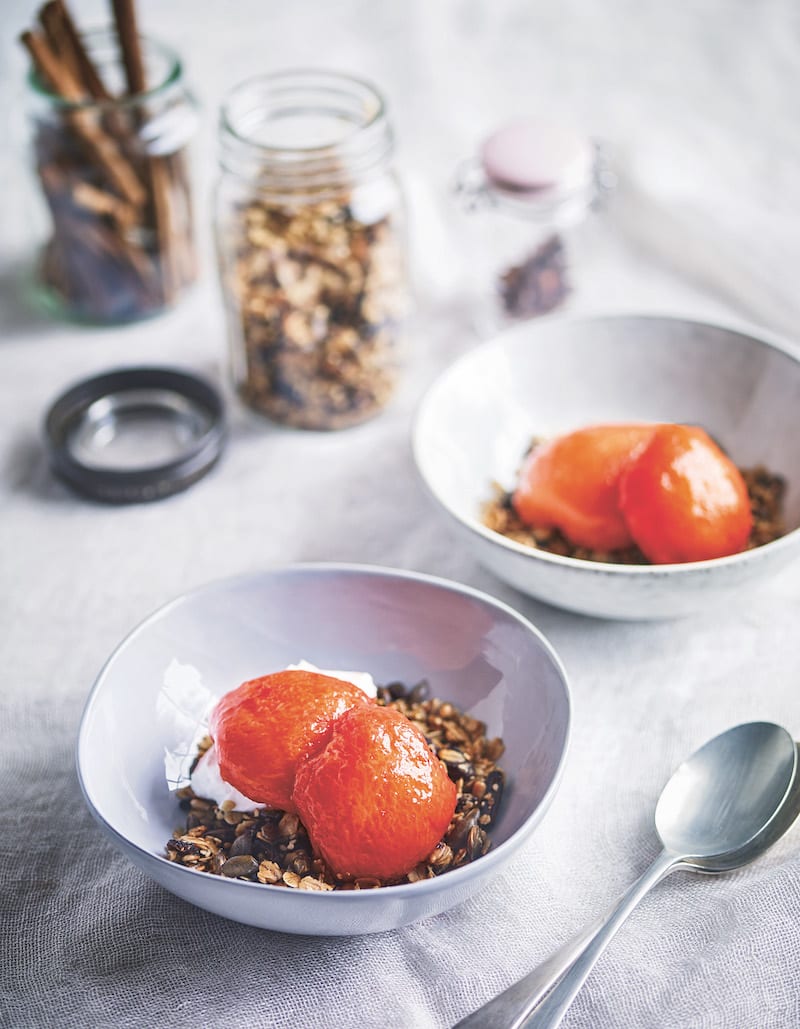 Seeded Granola and Chai-Spiced Poached Plums
Make a big batch of granola and keep it on hand for a quick breakfast with a dairy-free milk or yogurt. We love the poached plums to top oats, this granola and even desserts.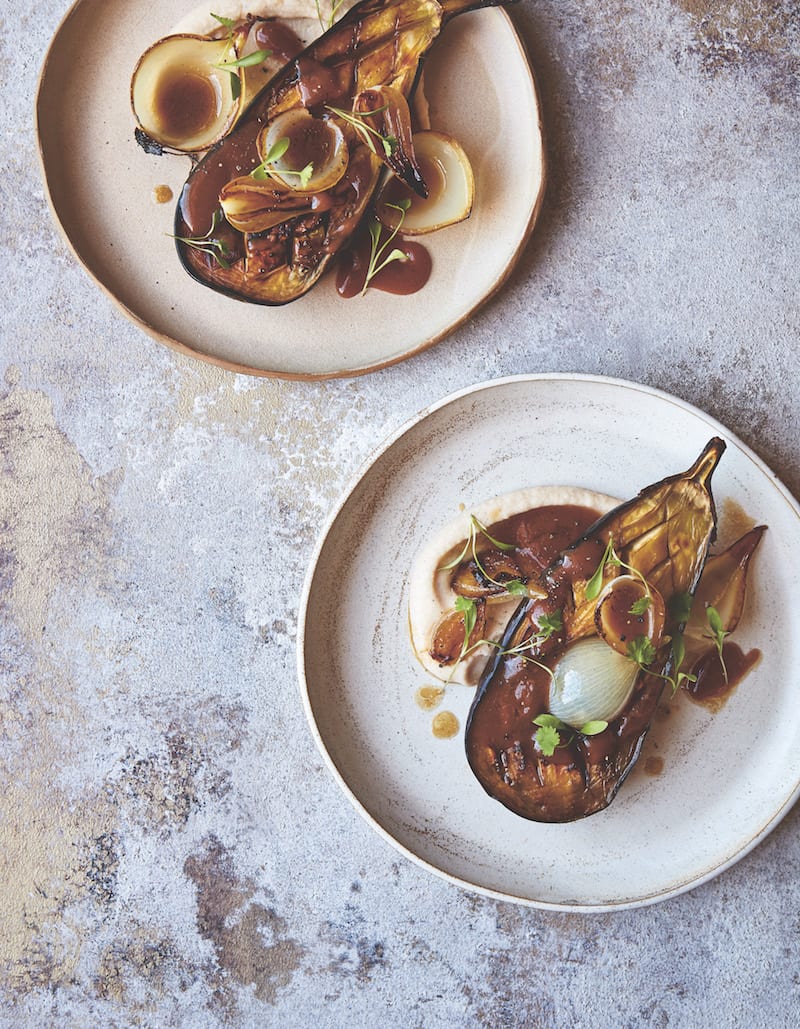 Slow-Cooked Aubergines, Tamarind, Roasted Onion, White Bean Purée
We've have slow-cooked eggplant, but add in a creamy white bean purée and we're in a heaven.
Slow-cooked Aubergines, Tamarind, Roasted Onion, White Bean Purée
Serves 4
2 aubergines
2 tablespoons olive oil
2 tablespoons vegetable oil
2 onions, peeled and halved from root to tip
2 tablespoons non-dairy butter
300ml Roasted Vegetable Stock (see ?page 180)
sea salt and freshly milled black pepper
For the white bean purée
150ml non-dairy milk
2 bay leaves
2 tablespoons non-dairy butter
400g can cannellini beans, drained ?and rinsed
For the tamarind sauce
50g tamarind paste
100ml Roasted Vegetable Stock (see ?page 180)
1 tablespoon agave syrup
1 tablespoon cornflour
coriander, to garnish
Preheat the oven to 180°C/fan 160°C/gas mark 4.
Halve the aubergines lengthways and score the flesh with diagonal lines. Drizzle with the olive oil and season well with salt. Place in a roasting tray, cover with foil and roast for 30 minutes. Remove the foil and roast for a further 20 minutes.
Meanwhile, set an ovenproof saucepan or frying pan over a moderate heat and add the vegetable oil. When hot, put the onions, cut-side down, into the oil. Season well with salt and brown for 8 minutes until golden, then add the butter and cook for a further 8 minutes. Pour over the stock, bring to the boil, then cover with the pan with a lid or foil. Transfer to the oven and roast for 30 minutes. Once cooked, remove the onions from the pan and reserve the liquid.
For the bean purée, put the milk, bay leaves and butter in a saucepan. ?Bring to a gentle simmer then remove from the heat, add the beans and cover and set aside to infuse for 20 minutes. Remove the bay leaves, then blend the beans until smooth, adding more milk if needed. Season well ?and keep warm.
For the tamarind sauce, put the tamarind paste, stock and agave syrup in
a medium saucepan. Add the cooking liquor from the onions, bring to a simmer and season well. Mix the cornflour with 1 tablespoon of water, then whisk into the sauce. Remove from the heat and pour through a fine sieve.
To serve, place a large dollop of white bean purée onto each plate and add an aubergine half. Using a fork, peel apart the layers of each onion and add to the plates. Finish with the tamarind sauce.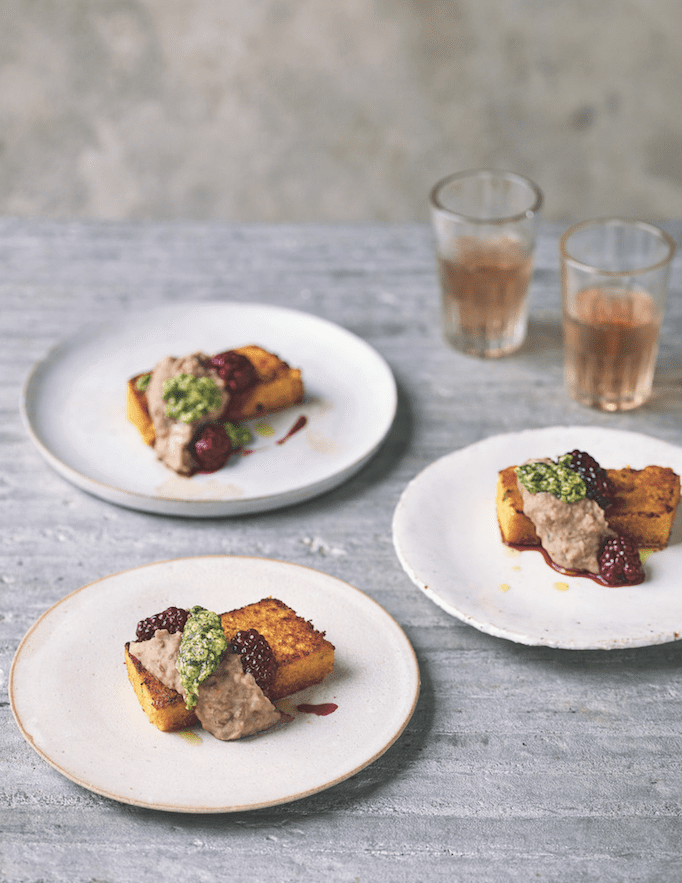 Cornbread, Refried Beans, Jalapeño Mole, and Smoky Blackberries
An ode to Mexican cuisine, this dish is untraditional, but has many of the familiar flavors. It's a beautiful, composed dish that is quite impressive when plated and served. Vegan or not, this is a comforting, satisfying dinner idea.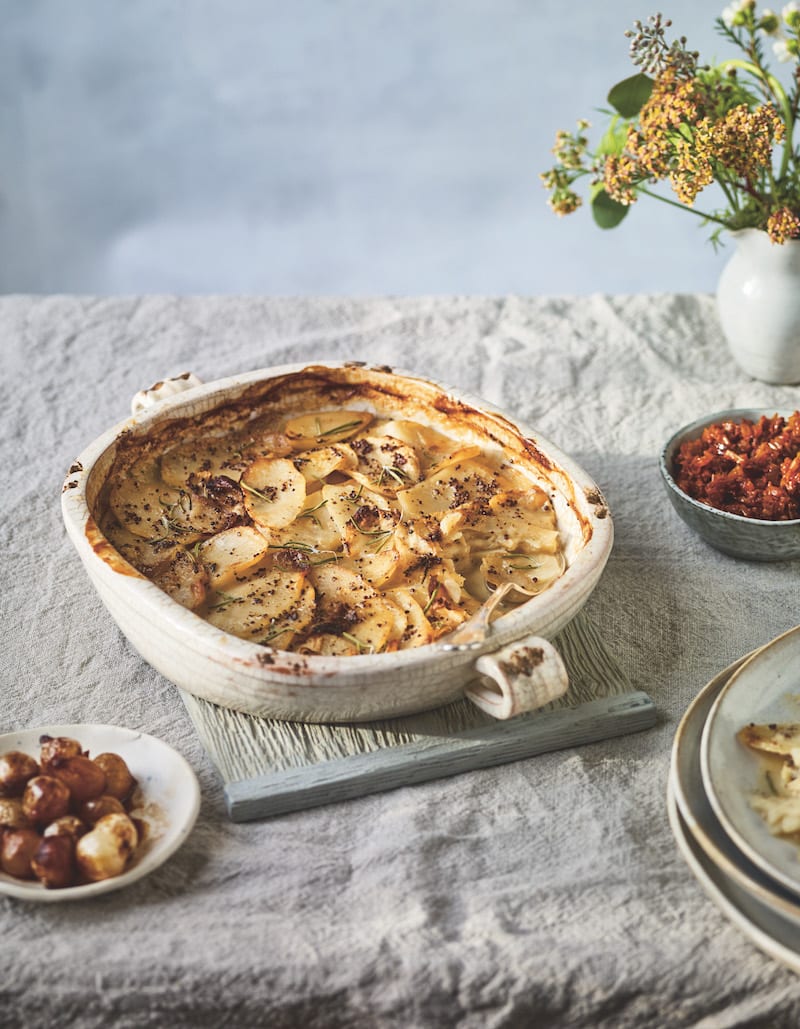 Celeriac Gratin, Button Onions and Olive Sofrito
Most gratins are laden with cheese, but this one is just as flavorful and delicious without it.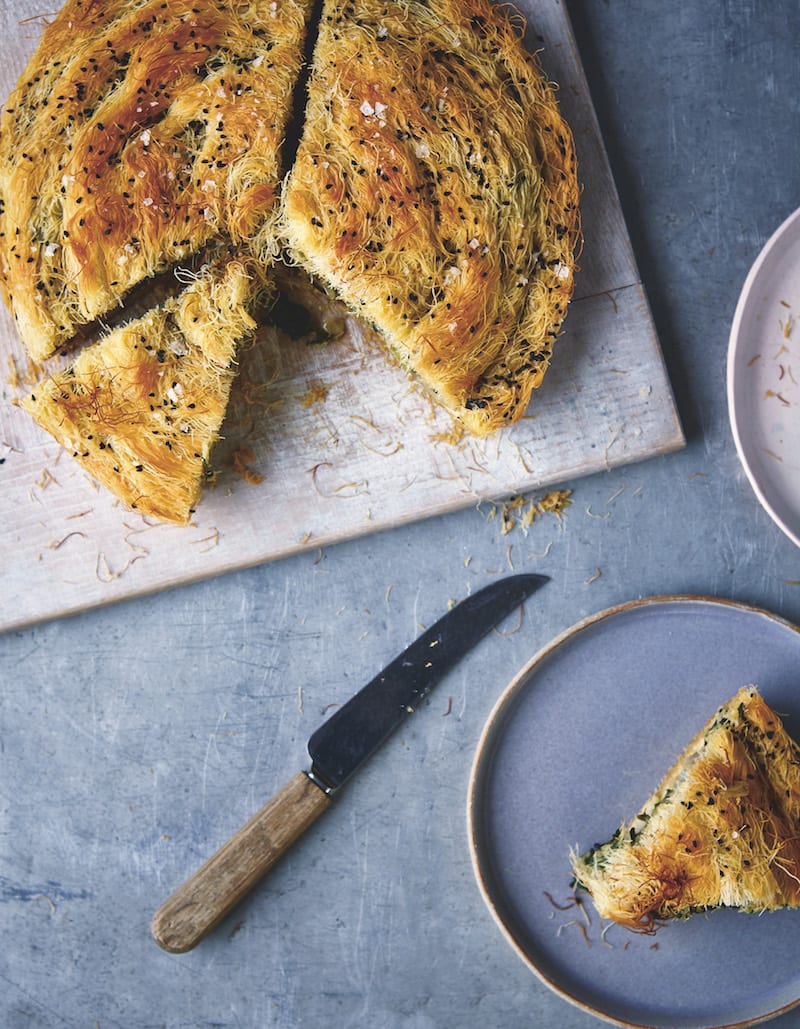 Spinach, Leek and Oregano Kataifi Pie
Filled with hummus and spinach and topped with the crispy kataifi pastry, this savory pie is a showstopper.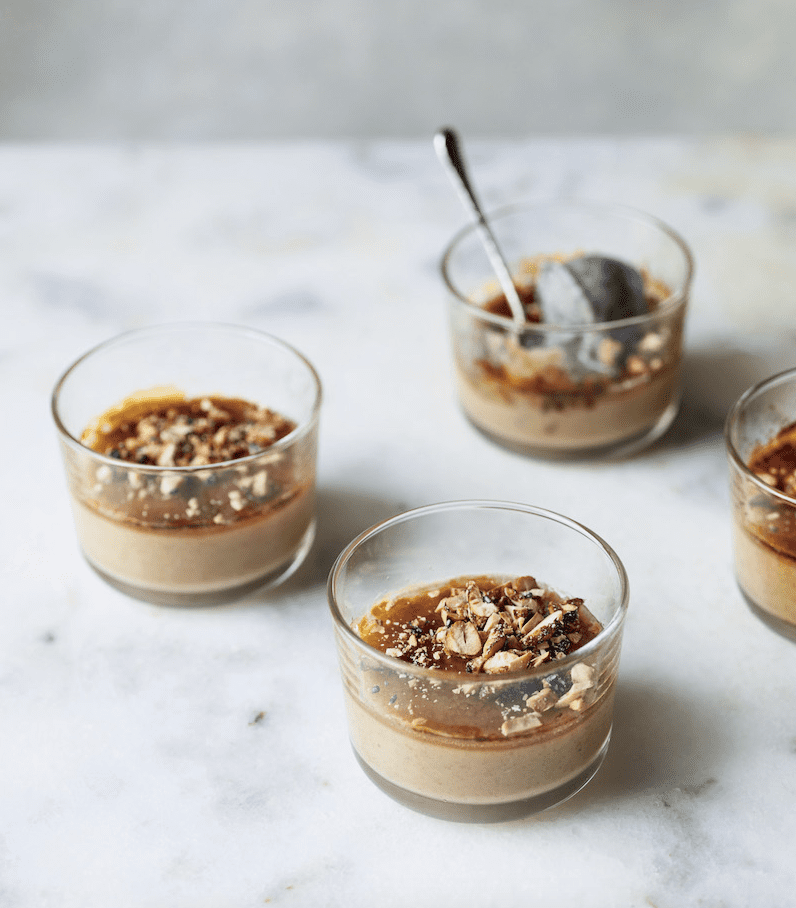 Caramelized Banana Crème Brûlée
Dessert can seem like the hardest part of a meal to turn vegan, but Chantelle has a whole chapter to steer us in the right direction. Our favorite? It was hard to choose, but these dairy-free custards stole the show.
Caramelised Banana Crème Brûlée, Black Sesame Ice Cream, Cashews
Makes 6
For the ice cream
50g black sesame seeds, toasted
200ml non-dairy milk
100g caster sugar
50g tahini
250ml oat cream
50ml vodka
½ teaspoon xanthan gum
For the crème brûlée
80g demerara sugar
2 overripe bananas, peeled and ?roughly mashed
25ml dark rum
200ml oat cream
1 sachet Vege-Gel (vegan gelatine)
150ml coconut milk
100ml non-dairy milk
6 teaspoons caster sugar, for caramelising
For the cashews
1 tablespoon treacle
1 teaspoon sesame oil
2 tablespoons black sesame seeds, toasted
1 tablespoon demerara sugar
½ teaspoon sea salt flakes
60g cashew nuts
Begin by making the ice cream. Put the sesame seeds, milk and sugar in ?a small saucepan over a low heat and simmer for 10 minutes. Remove ?from the heat, cover and set aside for 10 minutes. Transfer to a blender with the tahini and cream and blend until smooth. Add the vodka and xanthan gum and blend for a further 3 minutes. Freeze, whisking regularly to break up the ice crystals, or churn in an ice-cream maker following the manufacturer's instructions.
For the crème brûlée, put the demerara sugar in a medium, heavy-based saucepan over a moderately high heat. Gently shake the pan when you see the sugar beginning to melt. Do not stir, as this may cause the caramel to crystallise. As it continues to melt, keep shaking and swirling the pan until a deep caramel is formed. Add the bananas and keep shaking the pan until they are covered with caramel. Add the rum and now begin to stir the caramel. Cook, while stirring, for at least 10 minutes until the mixture has combined and any lumps of banana have broken down. Stir in the cream, mix well, then blend until smooth. Put the gelatine into a separate pan with the coconut milk and milk and leave to sit for 10 minutes. Place over a medium heat, whisking well, and bring to the boil for 1 minute. Add to the banana mix, mix well, then pour through a fine sieve into six ramekins and refrigerate for at least 2 hours.
Preheat the oven to 170°C/fan 150°C/gas mark 3.
For the cashews, mix the treacle and sesame oil together, then add the other ingredients, coating the nuts well. Pour onto a baking tray lined with parchment paper and bake for 10–12 minutes until golden. Allow the nuts to cool, then roughly chop.
To serve, put a teaspoon of caster sugar onto each crème brûlée. Blow torch until caramelised, then top with the chopped nuts and a scoop of black sesame ice cream.
Credit: "Planted" by Chantelle Nicholson © 2018 Kyle Books, food photograph © Nassima Rothacker.