This Teriyaki Tofu and Roasted Broccoli Sheet Pan Dinner is so quick you'll feel like your dinner dream came true.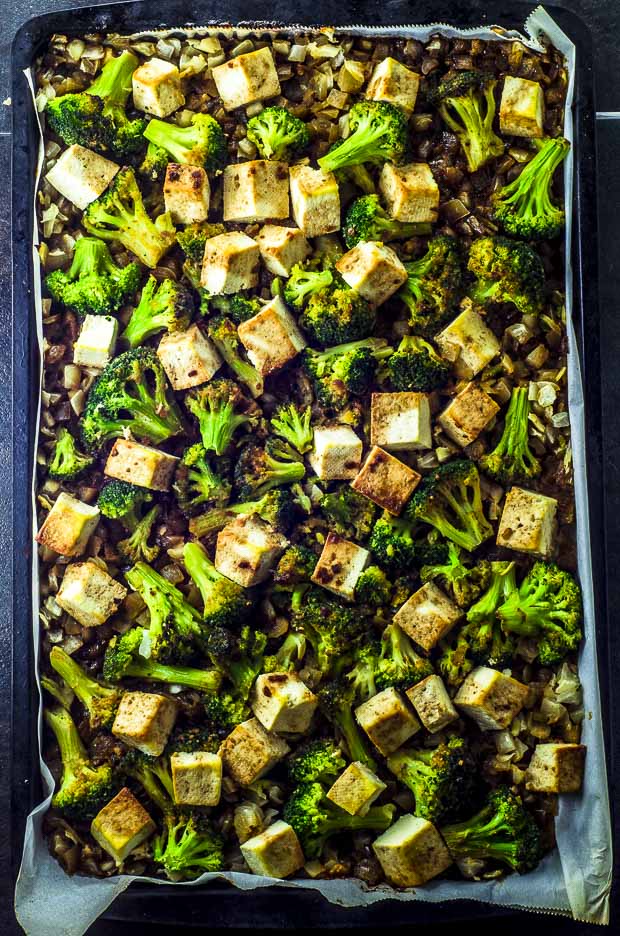 Sheet-pan dinners are our new obsession and with good reason.
Sheet-pan roasting gives protein wonderfully-crispy edges, turns vegetables mellow and sweet, and creates delicious stir fry-like sauces from a sprinkling of spices, juices, and condiments – and all with minimal supervision of your oven so you get to the more important things in life.
With the release of our new cookbook TAHINI and TUMERIC: 101 Middle Eastern Classics Made Irresistibly Vegan, we haven't had much extra time lately so sheet-pan meals have become a mainstay in our homes. Thanks to the endless variations of frozen vegetable blends and spices available in the markets today, the options for sheet-pan meals are truly limitless.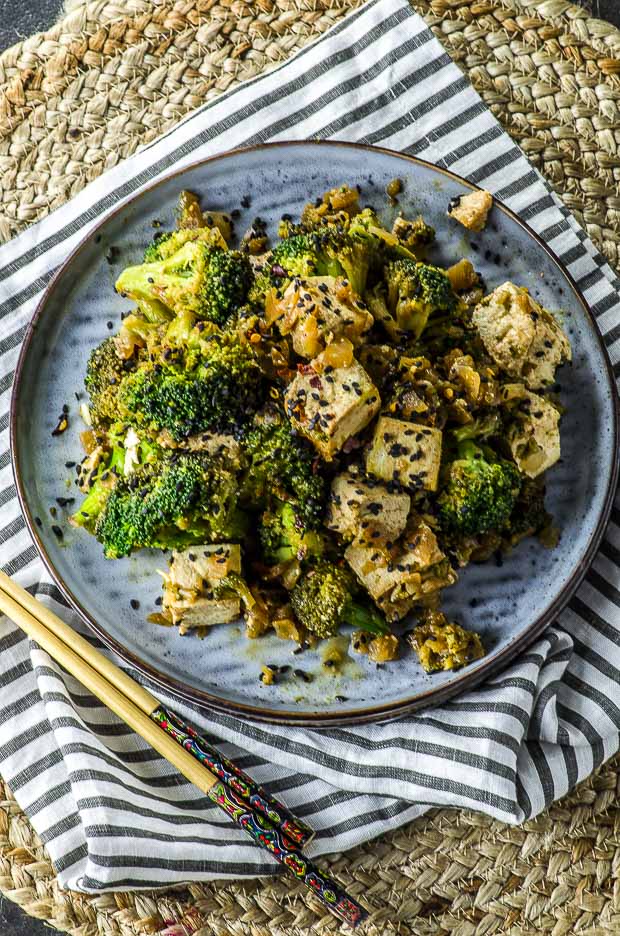 One ingredient that we always have on hand is a bag of frozen chopped onions – they are easily blended with other vegetables (fresh or frozen) and add a touch of sweetness once roasted and caramelized. We love to use vegan protein in our sheet-pan meals including extra-firm tofu (no draining necessary), tempeh, or seitan. Try topping your sheet-pan meal with roasted nuts (peanuts or cashews are delicious!), sesame seeds, red pepper flakes, dukkah, good quality tamari, coconut liquid aminos, sriracha or hot sauce.
You can find some great tips for sheet-pan meals on our posting for delicious Cauliflower-Chickpea Sheet-pan Dinner. Here are some basics when making our Sesame-Teriyaki Tofu & Roasted Broccoli Sheet-Pan Dinner or when you create your own:
Choose your vegetables – Winter root vegetables caramelize, and lighter spring greens can be roasted until crispy
Choose your protein – Vegan soy proteins or beans are great options
Select a flavor profile – Mexican spices like chili powder, cumin, and lime bring heat; Middle Eastern spices like za'atar and sumac are earthy; Asian flavors include teriyaki, ginger, garlic, Indian pices like Garam Masala and coconut milk will transport you to far away lands
Choose your liquid – Balsamic vinegar or lemon juice can punch up flavor; fruit juice and soy sauce add sweetness
Toss with olive oil and roast – 400 degrees for 30 minutes
Optional toppings: roasted cashews, sesame seeds, red pepper flakes, sriracha etc…

Sheet Pan Dinner: Teriyaki Tofu and Broccoli
Author:
Vicky Cohen and Ruth Fox
Ingredients
1 pound bag frozen diced onions
1.5 lbs frozen broccoli florets (you can also use fresh)
14oz pack extra firm tofu, cut in ¾? cubes
1 cup your favorite teriyaki sauce
Black sesame seeds and hot pepper flakes (optional)
Instructions
Preheat the oven to 400F. Line a large baking sheet with parchment paper. Spread the frozen onions evenly and top with broccoli.
Arrange the tofu between the vegetables. Pour the Teriyaki sauce all over.. Gently mix, avoid breaking the tofu. Bake for 30 minutes or until broccoli is done
Sprinkle sesame seeds and/ or pepper flakes, if using