Indo-Chinese Hakka Noodles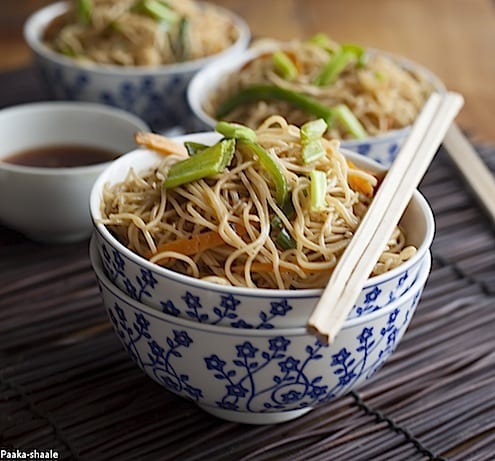 This noodle preparation can be cooked either with a variety of vegetables, bean sprouts, tofu or meat. A colourful and exciting dish, that is perfect for children who shy away from vegetables.
By Nandita Nataraj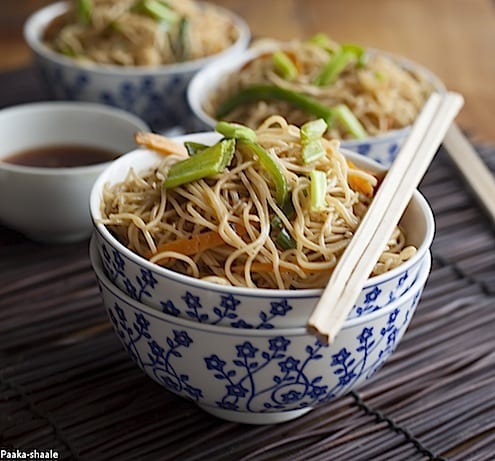 Hakka noodles is perhaps one of the most popular Indo-Chinese creations. A wholesome and nutritious street food that was created by the Hakka immigrants in Kolkata. Hakka noodles is also called as chow mein which literally means, stir fried. This noodle dish, delicious one pot meal that is simple yet gratifying.
This noodle preparation can be cooked either with a variety of vegetables, or bean sprouts or tofu or meat. A colourful and exciting dish, that is perfect for children who shy away from vegetables.
Indo-Chinese Hakka Noodles
This noodle preparation can be cooked either with a variety of vegetables, bean sprouts, tofu or meat.
Ingredients
Noodles - 200gm
Sesame oil - 2tbsp
Ginger - 1" piece finely chopped
Garlic - 3-4 cloves, finely chopped
Spring onion - 2, whites and greens separated
Carrot - 1 med, cut into thin strips
Green Beans - 6-7, diagonally sliced
Capsicum - 1 small, cut into thin strips
Shredded Cabbage - 3 tbsp.
Light Soya sauce - 1-1/2 tbsp.
Vinegar - 1tsp
Vegetable stock - ¼cup
Freshly ground black pepper powder - ¾tsp
Salt to taste
MSG - ¼tsp (optional)
Instructions
Heat plenty of water in a large vessel. When the water comes to a boil, add oil and salt and mix.
Add the noodles and allow the noodles to cook for 3-4min. When the noodles are almost cooked (al Dante), drain and refresh in cold water.
Drizzle a tsp of oil and mix well to coat the noodles and keep aside until further use.
Heat the remaining oil in a large wok or skillet and add the chopped ginger and garlic. Fry till the raw smell goes.
Add the chopped spring onion white and fry for min.
Stir in the carrot and beans and fry on high heat for 2-3 min
Add the shredded cabbage and bell pepper and fry for another two mins.
Add the soya sauce, vinegar, vegetable stock, MSG, salt and pepper and mix well.
Stir in the cooked noodles and mix well. Toss for a minute or two and serve hot.
Nandita Nataraj
Nandita was born, bred and spread in India, but right now lives in Tanzania where her quest for simple and exotic pleasures of food led to the creation of the blog Paaka-Shaale. She believes that food is not just a means to feed a body. But it is also meant to appeal the mind and satiate the soul.