Hygge is that Scandinavian word that is all the rage. It simply means to be cozy and enjoying a purely joyful moment of comfort and relaxation either on your own or with good friends. Here are a few cozy, sustainable wines that help us enjoy a moment of hygge.

Maison Roche de Bellene Saint Aubin Blanc 2015 $25
Coming from a region in France that is know for Chardonnay and Pinot Noir, this 100% Chardonnay wine is a perfect example of how warm and cozy a white wine can be. With rich, buttery notes, a silky, fatty texture and warming hints of ripe pear that finish with a creaminess, this wine will be our BFF as we snuggle under a blanket and watch the snow fall.

Bonterra Organic Vineyards 2015 Merlot $16
This organically and sustainably made wine is rich, flavorful and cozy. Knowing we are drinking a wine that is responsible towards our earth helps us zen out and relax. Loaded with warm notes of dark fruits, smoke and even vanilla and other baking spices, this elegant wine is the perfect thing to sip on a cold night. It finishes with beautiful acidity and tannins that make it a great pair with a rich burger or a meat-filled stew or chili.

2015 Boom Boom! Syrah $17.99
This fun-named wine comes from Washington State and is a beautiful blend of 96% Syrah with a sprinkling of Viognier and Grenache. With dark fruit and spice notes, this cozy, deep wine is not too big so it can still be enjoyed without food, but is also great with lamb, dark chocolate and braised meats.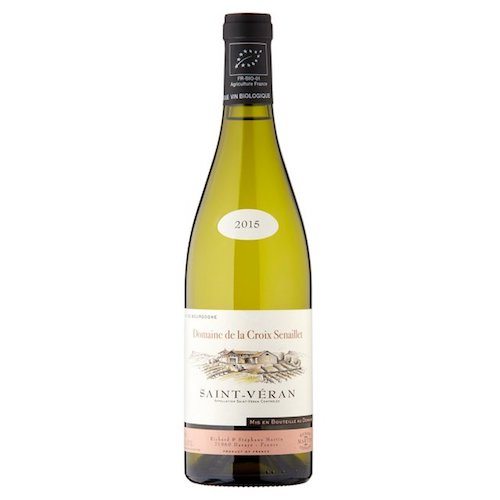 Domaine de la Croix Senaillet Saint-Véran 2015 $24
Maybe an un-oaked Chardonnay doesn't sound very cozy to you, but this wine is everything we want on a cold day. Coming from the Saint-Véran AOC or region known for its Chardonnay grapes, we like that this bottle is bursting with refreshing citrus notes and minerality that are slightly warmed with hints of flowers and honey. Its crispness makes it ideal with all the heaviest winter foods, while still giving our palate a break from the richness with its coolness. Enjoy with salty snacks or warm goat cheese appetizers.

Bonterra Organic Vineyards 2016 Pinot Noir $16
Another sustainable bottle, this Pinot Noir is one of our favorites to sip when we could use a little self-care. It starts off with fresh, fruity flavors of berries and finishes with woody hints of spice. It's long finish makes it the perfect pair with cozy foods like squash soup, a mushroom pasta or a classic pizza.