Enjoy this brilliant Indian comfort food recipe from Preethi Vemu.
By Preethi Vemu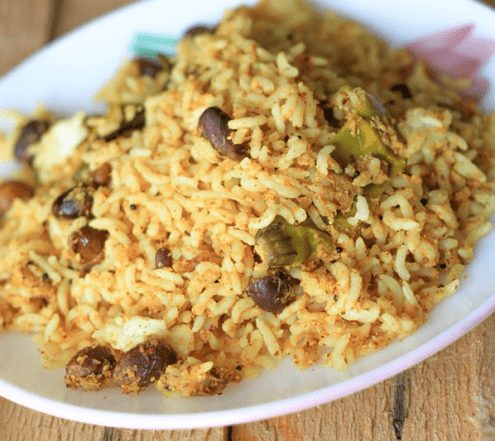 This is a South Indian main course dish, served as one of the items in a large meal at weddings or at festivals. However, this recipe is for the Mangalorean version of Pulihora/Huliogare.
Print
Huliogare – Mangalore Style
Enjoy this brilliant Indian comfort food recipe from Preethi Vemu.
Author:

Preethi Vemu

Prep Time:

10 mins

Cook Time:

10 mins

Total Time:

20 mins

Yield:

4

Category:

Side
Cooking oil – 4 Tbsp
Ural dal – 1 Tbsp
Chana dal – 1 Tbsp
Peanuts – 1/2 C
Green chillies – 6-7, slit length-wise with seeds in it
Tamarind paste – 1/2 C
Fresh Coconut – 1 full coconut, with the fresh grated or ground coarse in a mixer-grinder
Mustard seeds – 1 Tsp
Mustard powder – 1/4 C (I used black mustard powder, but you try with yellow mustard powder if you like)
Jaggery – 1/4 C
Turmeric – 1 Tbsp
Curry leaves – a handful, washed
Salt – to taste
Instructions
Heat the oil in a pan, and add the mustard seeds to it. Once they start spluttering, add the urad and chana dals to this. Let this sit on the heat for a min. Now add the peanuts and saute till the peanuts turn golden brown in colour. Add the curry leaves, green chillies, tamarind paste and jaggery and let the paste boil in oil. Check the taste and add salt per your taste and a little more, so that it balances out by the end of the preparation.
Meanwhile, mix the grated coconut with mustard powder and keep aside.
Once the tamarind paste boils with no trace of water in it, add the turmeric powder and mix the coconut-mustard powder mixture to this. Do not cook once the coconut is mixed with tamarind.
You can keep this paste frozen for future purposes or use it right away. Mix a quantity of this paste with cooked plain white rice. Check for the taste and salt and mix the paste accordingly.
Can be served hot or warm by itself.
Preethi Vemu
Preethi loves tea, animals, food and her Kindle. When she is not busy being a geek, she dreams about seeing her name in print media some day . An avid reader and an amateur food photographer, Preethi lives in Hyderabad, India with her husband who is subjected to all her culinary experiments.