Sponsored Post: Check out these easy entertaining tips for all your winter holidays and dinner parties complete with charcuterie and pâté. This is a sponsored post in collaboration with Les Trois Petits Cochons.
Forget a small charcuterie board, cover your table in butcher paper and turn the entire surface into a charcuterie spread. It will be big enough for a holiday crowd, more the merrier! This post includes three delicious recipes: Balsamic Roasted Grapes, Red Wine Raspberry Jam, and Honey Rosemary Almonds.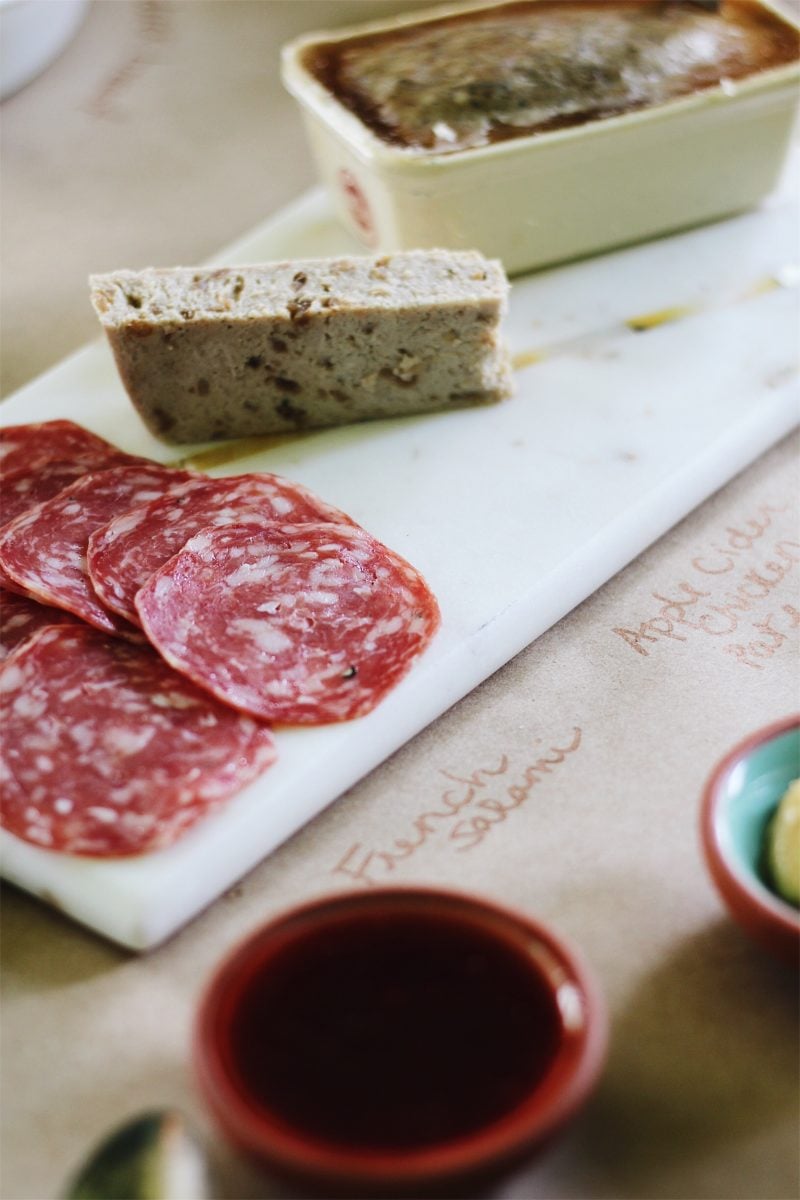 Yes, that's right. This post is a chef-inspired charcuterie table.
Charcuterie boards, move aside.
It's nothing personal. It's just that we love charcuterie spreads so much, that we think they deserve an entire table.
Don't you agree?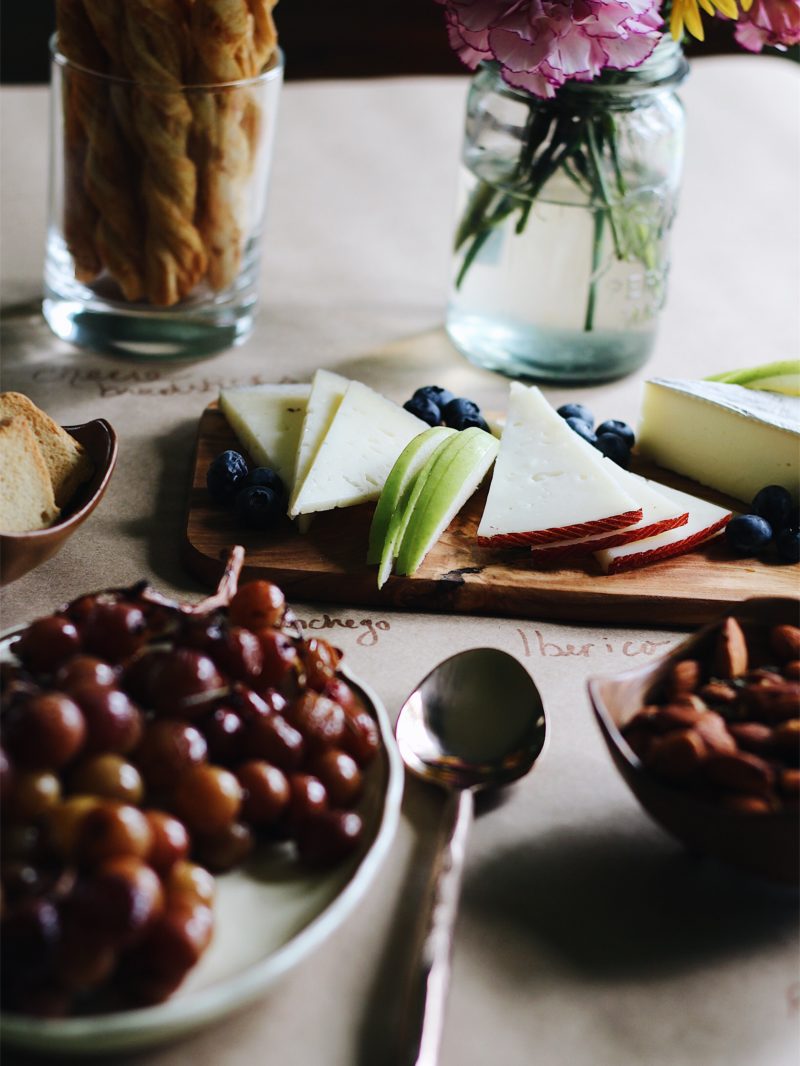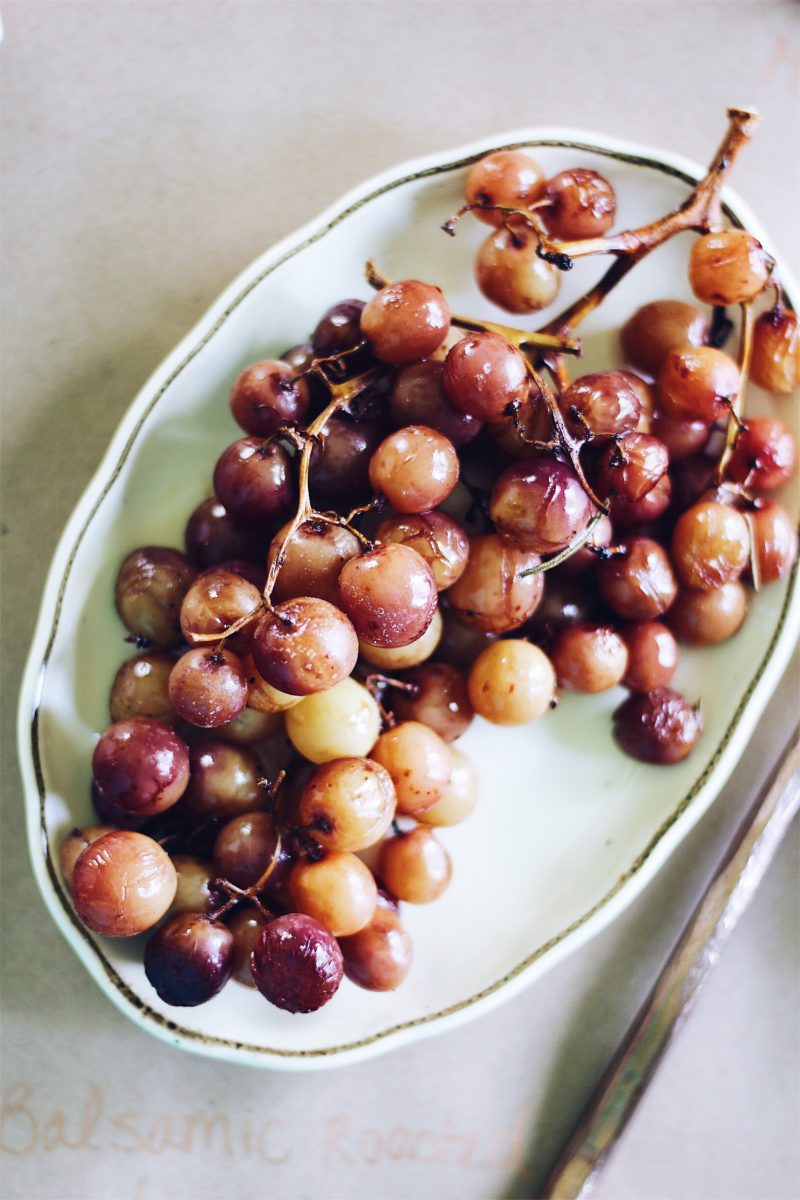 A charcuterie board is instantly my favorite part of any holiday party. It's the first thing I'm gravitated towards, and more often than not it's what I fill up on.
I mean… there's cheese. Olives. Meats. Spreads and breads. Fruit. Crunchy nuts. It's all of my favorite foods!
And, of course, it also pairs amazingly with wine. No holiday party, in my opinion, is complete without an epic charcuterie board.
So I am here to bring you some holiday party inspiration. But not with your basic charcuterie board, because we all know how to make one of those. This time, we're making a chef-inspired charcuterie table.
We're going to line the entire table in butcher or food-safe kraft paper. Then, we're going to spread out all of our fixings and label them with a pretty metallic marker. It's going to be fun, interactive, and of course, delicious.
And we're going to take this chef-inspired charcuterie spread next-level by making three easy recipes for it: Red Wine Raspberry Jam, Balsamic Roasted Grapes, and Honey Rosemary Roasted Almonds.
We'll have some incredible accoutrements to this chef-inspired charcuterie, which is what makes it chef-inspired. These thoughtful, tasty, and handmade recipes come together in just under 30 minutes, but are an impressive addition.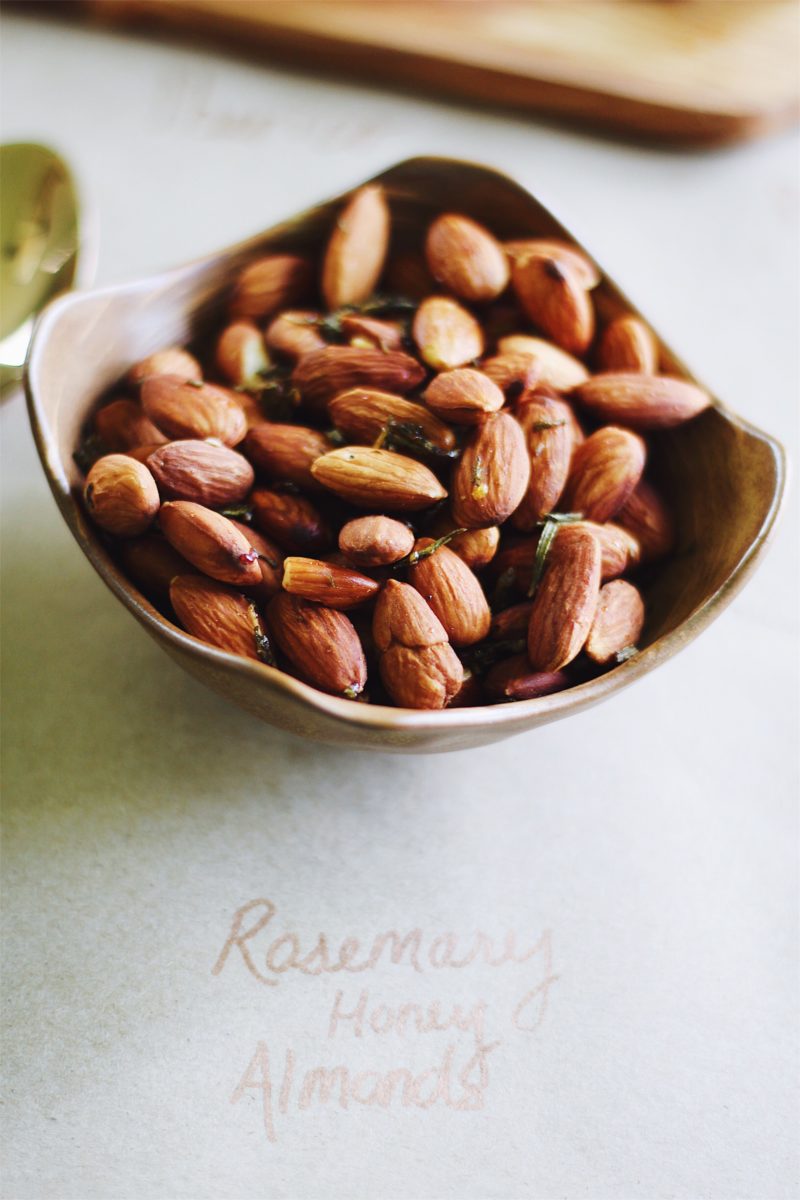 But (delicious) trappings aside, a charcuterie board is all about the charcuterie, right?
For our chef-inspired charcuterie board, I use lots of goodies from Les Trois Petits Cochons. The company began in Greenwich Village, NYC and has been making amazing charcuterie and pâté since 1975. I can instantly tell that their products are crafted with care and quality. I always order from them during the holidays to make my charcuterie spreads special.
See Also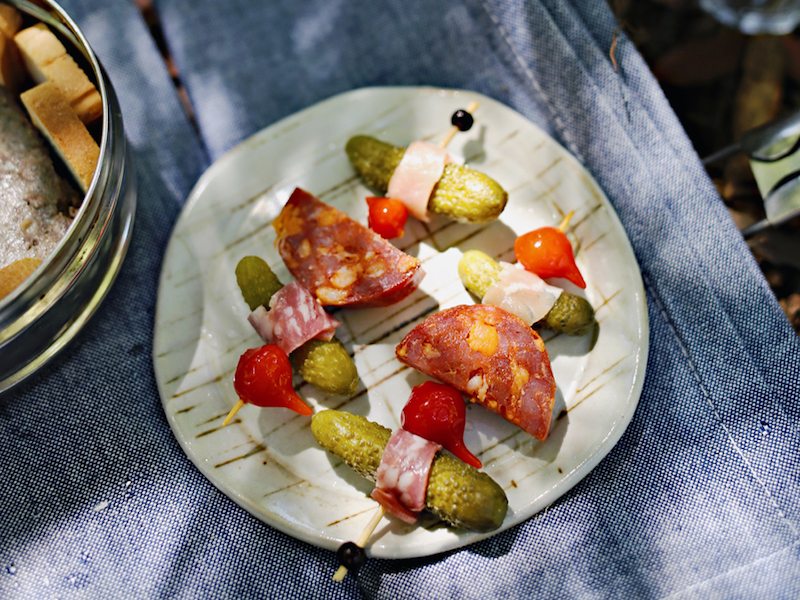 Things You'll Need For the Table:
Butcher paper, to line the table.
Metallic markers, to label everything for your guests.
Bowls and dishes of varying sizes, to make everything look neat.
Fresh flowers and/or festive decor.
Fresh fruit.
Spoons, knives, and serving ware. Make everything easy and accessible for your guests.
Smoked duck breast or duck confit, warm from the oven.
A selection of cheeses: Manchego, Iberico, and Brie.
Cheddar or herb breadsticks and petite toasts or crackers.
Balsamic Roasted Grapes, recipe below.
Honey Rosemary Roasted Almonds, recipe below.
Red Wine Raspberry Jam, recipe below.
Petits Poivrons (sweet mini peppers).
Dijon mustard.
Cornichons.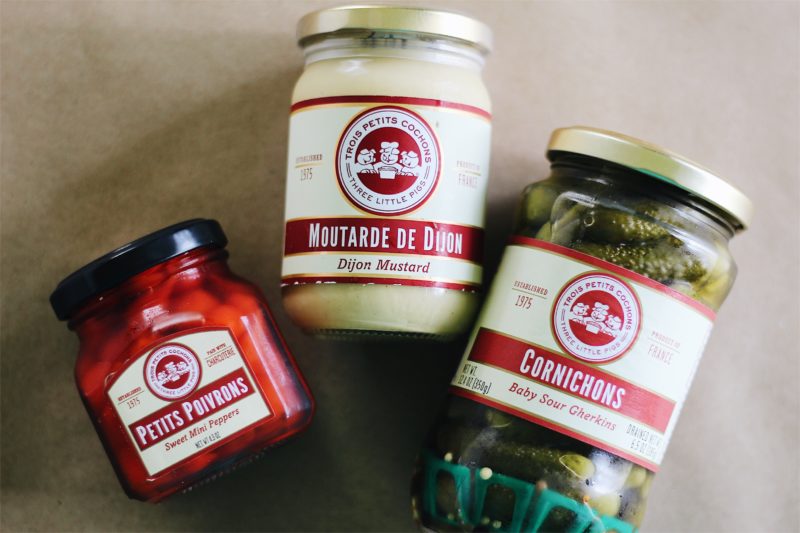 I hope that this Chef-Inspired Charcuterie Table finds a place into your holiday festivities! Watch our video below to see how it comes together.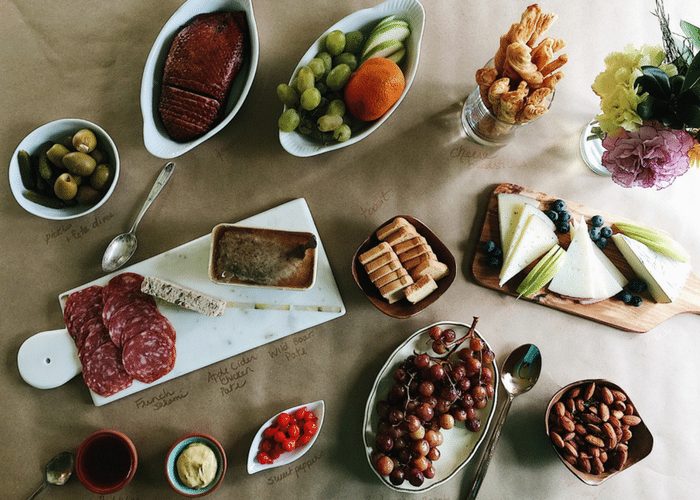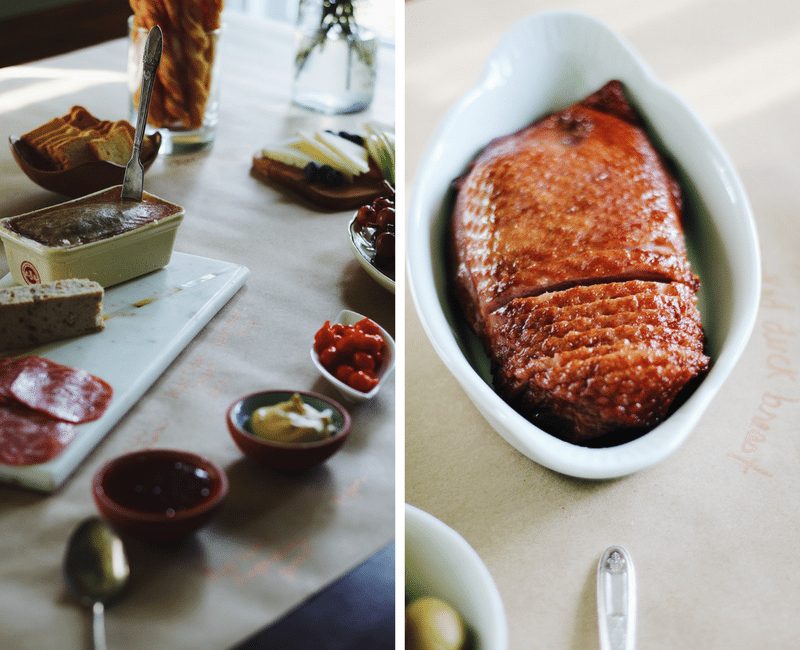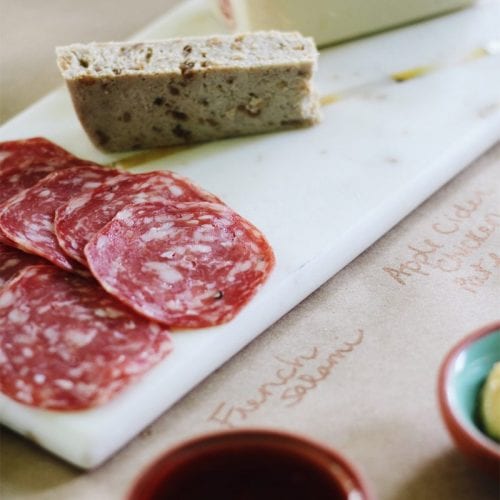 How to Make a Charcuterie Table
Tiffany La Forge
Ingredients
FOR THE HONEY ROSEMARY ALMONDS:
2

cups

raw almonds

2

tablespoons

chopped fresh rosemary

1

tablespoon

honey

1

tablespoon

olive oil

1/4

teaspoon

cayenne pepper

Sea salt and pepper

to taste
FOR THE BALSAMIC ROASTED GRAPES:
2

cups

seedless red grapes

1

tablespoon

olive oil

1

tablespoon

balsamic vinegar

1/4

teaspoon

dried thyme

2

teaspoons

chopped fresh rosemary

Sea salt and pepper

to taste
FOR THE RED WINE RASPBERRY JAM:
6

ounces

fresh raspberries

1/2

cup

red wine

1/2

cup

cane sugar

1

vanilla bean

sliced down the middle and scraped
Instructions
FOR THE ALMONDS:
Preheat the oven to 375 degrees F. Stir together the almonds, rosemary, honey, olive oil, cayenne, sea salt, and pepper. Lay the almonds in one even layer on a parchment-lined baking sheet. Bake until evenly roasted, about 18 minutes, stirring once or twice to avoid burning. Can be made ahead of time.
FOR THE GRAPES:
Preheat the oven to 375 degrees F. Toss the grapes, oil, vinegar, thyme, rosemary, sea salt, and pepper together. Place the grapes in a greased baking dish.

Bake until the grapes begin to burst and juices are thick and syrup-like, about 20-25 minutes.

Let the grapes cool slightly and serve warm or at room temperature.
FOR THE JAM:
Roughly mash the raspberries and combine with the wine, sugar, and vanilla bean in a small sauce pot. Bring the mixture to a simmer over medium heat.

Allow the jam to steadily simmer (but be careful not to boil over) until thickened, about 25 minutes. The jam should be gelled and coat the back of a wooden spoon.

Let the jam cool and discard the vanilla bean. You can strain the jam if you'd like to remove the seeds, but it's not necessary.
Tiffany La Forge
Professional Pastry Chef and food writer, exploring the world and all of its culinary adventures. Parsnips + Pastries is a food blog about seasonal produce, healthy recipes, and the occasional sweet indulgence. It also offers DIY, tips, and tricks to help you live your happiest, healthiest life.