Whether you're making it to make chips or you're just eating the pita bread with hummus, this is a recipe you'll be wanting to make again and again.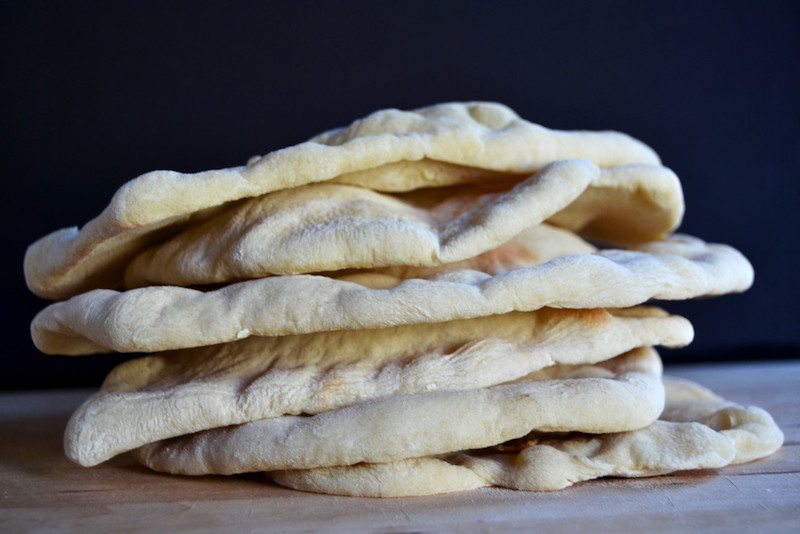 Alright guys. We're a week away from the Super Bowl.
I am a huge snack lover. So if you invite me over for a football game and you promise me beer and some snacks, then I will become a fan of whatever the hell you want. And I will definitely make you some of these bad boys.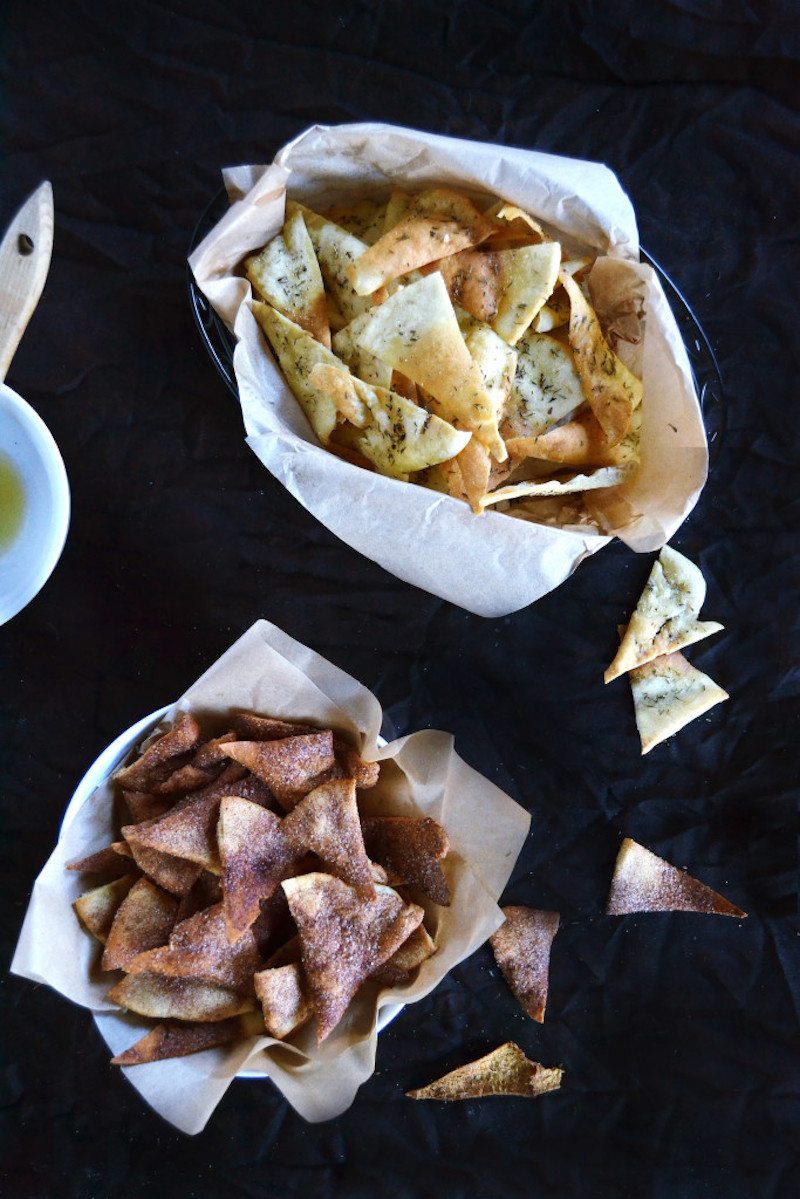 These chips are made completely from scratch, but you can also use the chip recipe below with store-bought pita bread. There is nothing like fresh, warm, soft bread to get your salivary glands pumpin', and I've devoured several dozen pitas this week alone.
They're also lots of fun to make. Watching bread quickly puff up like a balloon is probably the most exciting thing you'll ever see happen in your oven. Not all pitas will puff up, but that's perfectly fine. It'll all end up in someone's mouth anyway.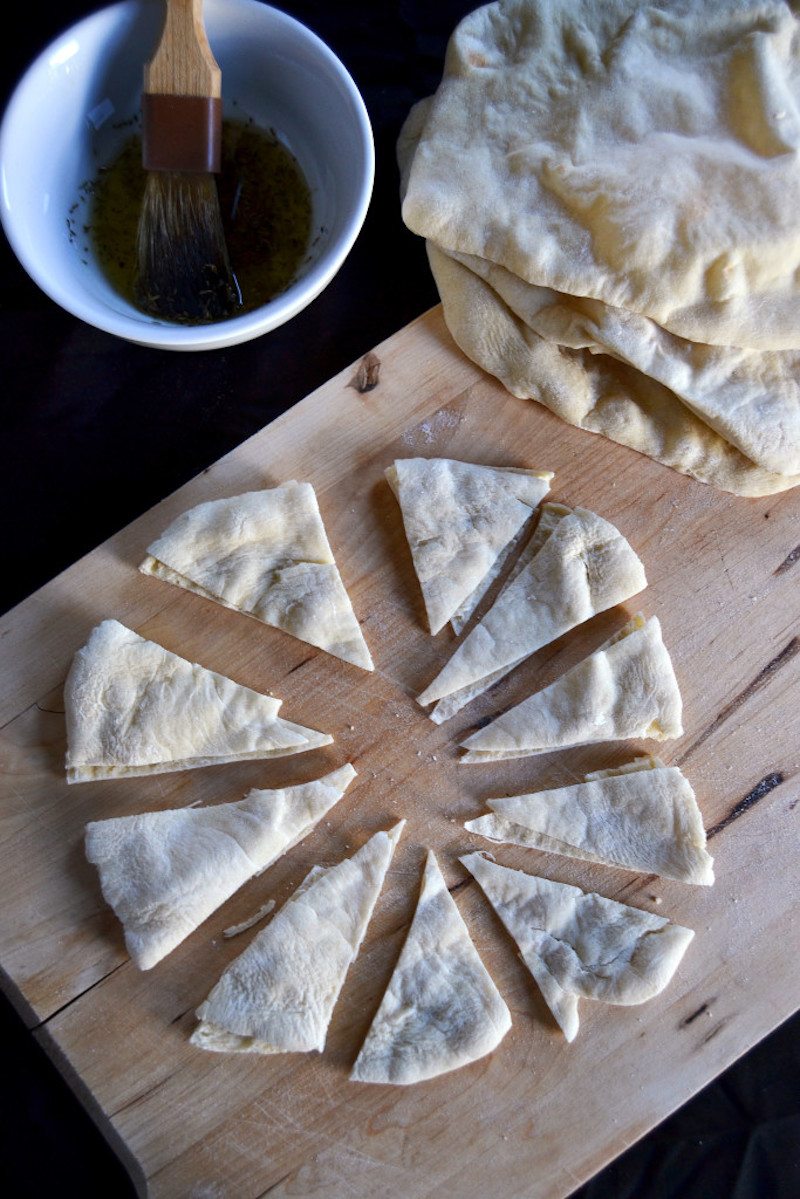 I have a pizza stone, which gave me perfect pitas after warming up in a 450F oven for half an hour. A cast iron skillet would be a good alternative, either in the oven or on the stove. Failing that, your next best bet would be a regular sheet pan that's been in the oven while it preheats.
The recipe below yields roughly four sheet trays worth of pita chips. In true Yin and Yolk fashion, I offer a recipe for making half of these sweet and the other half savory. Make these for the Super Bowl and they'll steal all the attention.
Print

---
Author:

Leili Ansari and Wei Chang Chen

Yield:

4

baking sheets

1

x
PIta Bread
1 cup

water (at room temperature)

2 teaspoons

active dry yeast

1 teaspoon

honey

3 cups

all purpose flour

2 teaspoons

salt

2 teaspoons

olive oil
Seasonings For Pita Chips
Savory Olive Oil and Thyme (enough for 3-4 pitas worth of chips)

6 tablespoons

olive oil

1 1/4 teaspoon

salt

3 teaspoons

dried thyme
cracked black pepper to taste
Buttery Cinnamon Sugar (enough for 3-4 pitas worth of chips)

4 tablespoons

melted butter

2 tablespoon

sugar

1 tablespoon

cinnamon
---
Instructions
Combine the yeast, water, and honey and olive oil in the bowl of an electric mixer fitted with a dough hook. In a separate bowl combine the flour and salt, then add this to the yeast mixture and knead on medium for 10 minutes, or until the dough is smooth and slightly tacky, and stretches when pulled apart instead of breaking.
Let the dough rest in a cool place overnight. If you don't have time, let it rest covered at room temperature for at least 2 hours, or until doubled in size. Preheat the oven and either a pizza stone or cast iron skillet to 450F.
Punch it down, allow it to rest for another hour, then divide it into 8 roughly equal pieces. On a generously floured surface, roll each piece into 8" circles, turning the dough after every roll to prevent it from sticking. Don't roll it too thin or you're more likely to get crispy pitas instead of soft ones; the ideal thickness is about 1/4" thick.
Transfer the dough to the pizza stone – I baked two pitas at a time. Bake for 2-3 minutes, they'll be done when puffed and not yet starting to brown. Let them cool slightly before making them into chips, and lower your oven temperature to 375F.
Seasoning
Combine the olive oil, salt, thyme, and pepper in a small bowl, and brush this mixture over each pita triangle. Bake for 8-10 minutes. They may not look completely browned, but they will still be crunchy.
Combine the sugar and cinnamon. Brush each chip with melted butter, then sprinkle the cinnamon sugar over them. Bake for 8-10 minutes.
Leili Ansari
Leili is a Boston-based food writer and recipe developer who shares all of her kitchen adventures on her food blog, Yin and Yolk. She loves cooking up healthy comfort food dishes but also has a passion for pastries, and strives to create recipes that are both delicious and wholesome. When she's not experimenting in the kitchen, she can be found perusing the local farmer's market, jogging through the city, or trying out new places to eat.