Fresh, rich and creamy: goat's milk ricotta is the perfect accent for summer cooking in the Southern Hemisphere.
By Alexia Kannas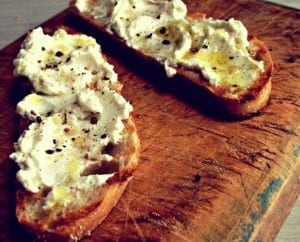 Not being in Greece in the summertime leaves me missing many things; some of them are swimming in temperate waters, drinking before midday, eating watermelon chilled in the village spring and dancing all night at summer bars under the stars, instead of roofs. I also miss cheese.
Living in Melbourne means that I have access to a good number of Greek cheeses; I can always buy Kaseri, Kefalograviera and, of course, feta. But what I really miss are the locally produced, soft, fresh cheeses that you buy by the scoop to spread on bread, or dollop into salads, or bake into pies. The most commonly known is mizithra, but there are different varieties made all over the country that use different combinations of cow, sheep and goat milk to achieve different levels of sharpness and a variety of textures. My favourite, xynomizithra, is a sour version of mizithra that tastes like a tangy incarnation of very fresh, rich ricotta. The best is thought to be produced on the island of Crete, where they use sheep and/or goat milk to make the cheese.
It's going to be a little while before I can get back there to eat some, so I decided to make my own. To do this, I simply replaced the cow's milk in a standard recipe for ricotta with fresh goat's milk and, after a couple of hours of waiting for the cheese to drain, I had something so rich, smooth and delicious that I could hardly believe it. I ate this first batch on grilled ciabatta, sprinkled with smoked sea salt, cracked black pepper and olive oil from the mother country – and it was almost as if I were back there in my grandmother's kitchen on a warm summer morning, eating a little something at her insistence before heading to the beach. It was magic.
I'm thinking that the next lot (draining right now) might get folded into a filling for honey and cinnamon pastries, but I can't wait to try this on pizza or as a filling for pasta. This is if I can get past the luxury of eating it on toast, perhaps topped with something sweet and sticky, like rose petal jam or a fresh fig. No matter how I decide to eat it, I feel I'll be making this all summer long.
Print
Homemade goat's milk ricotta
This recipe will make around a cup of gorgeously creamy, fresh-tasting goat's milk ricotta cheese.
Author:

Alexia Kannas

Prep Time:

2 hours

Cook Time:

5 mins

Total Time:

2 hours 5 minutes
1

litre (34 fl oz) fresh goat's milk

1/2 teaspoon

sea salt

3 tablespoons

lemon juice, freshly squeezed
Instructions
Pour the goat milk into a nonreactive saucepan and add the salt. Heat the milk gently over low to medium heat, watching all the while and stirring occasionally so that the bottom doesn't burn.
When the milk is on the verge of boiling, remove it from heat and add the lemon juice. Stir the mixture once gently to encourage the curds to form before letting the pot sit undisturbed for 5 minutes.While you're waiting for the milk to become cheese, line a strainer or colander with a double layer of muslin and place it over a large bowl (or in the sink, if you're not bothered about losing the whey).
Pour the milk mixture gently into the colander and let the curds strain. The ricotta will be ready to eat after an hour of straining, but I preferred the dense, richer texture of mine after almost two. Taste a little to see what you prefer. If you're making the ricotta for use later, note that it will firm up further in the refrigerator.
Notes
There's no special equipment required to make this cheese, but you'll need a yard of cheesecloth or 'butter muslin' cloth and a nonreactive pot (stainless steel, clay, enamel – not aluminum). Cheesecloth, or 'butter muslin' is an inexpensive loose-weave fabric available at craft and fabric stores, as well as some kitchenware supply stores.
Alexia Kannas
Alexia Kannas is a writer and academic based in Melbourne, Australia, who spends her days thinking and writing about cinema - and food. Fascinated by the relationship between food and memory, she writes about how cooking, meals and taste recall moments from film, literature, history and imagination. Her dream dinner-party guests are Jarvis Cocker and all her non-single friends. The two things she fears most are i) guests leaving hungry and, ii) a world without gin.