Serve this marmalade on toast, crackers, biscuit's, Indian paratha, cake and even ice creams.
By Anamika Sharma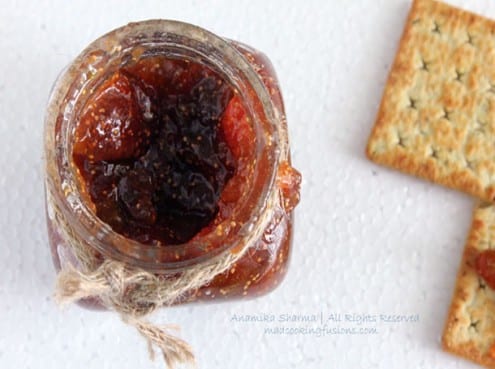 Print
Homemade Fig Marmalade
Fresh figs are always a great ingredient for making marmalade.
Author:

Anamika Sharma

Prep Time:

10 mins

Cook Time:

1 hour

Total Time:

1 hour 10 minutes

Yield:

1 jar
Fresh Figs – 500 grms (14-15 fresh green figs)
Granulated sugar – 2 cups
Lemon Zest (grated) – 1/2 lemon
Lemon Juice – 1/2 lemon
Cinnamon Powder – 1/4 teaspoon
Water – 1 cup
Instructions
Wash Figs nicely.
Take a non-stick pan, add water to the pan, when the water is about to boil add in chopped figs to it. Lower flame and stir.
Keep it on low flame and continuing stirring in-between.
Cover and let the figs cook and get tender, press the figs a little to get to the jam / marmalade kind consistency with a wooden spatula.
Now add in sugar and mix gently.
Add in lemon zest to it and continue to cook on medium-low stirring occasionally.
Cook till the marmalade gets little thicker, if you want your marmalade to be more thick, cook for few more minutes.
Mine took about 50 minutes to cook.
Add in lemon juice, cinnamon powder and switch off the flame.
Allow it to cool, marmalade will get thicker on cooling.
Best served warm or else can be refrigerated for a week or 10 days.
When cool, pour into a clean jar & close the lid tightly.
Store in a dark and cool place.
Notes
I have not combined sugar and chopped figs and kept them overnight, however if you wish you can keep sugar and chopped figs overnight and start the cooking process as mentioned in my recipe the next day. Before pouring the marmalade into the glass jar, please ensure it is nicely cleaned and sterilized. Do not pour hot marmalade, allow it to cool and then pour into the sterile jars. For making the fig marmalade, please use undamaged fruit,else it will spoil the result. Also while making any kind of marmalade or jam, please ensure all the equipment you use are clean and dry. Always leave the marmalade to settle off the heat for 10 -15 mins once setting point is reached to prevent the fruit rising to the surface when poured into the jars. To check on the setting point of the marmalade, place some hot marmalade onto a plate and place it in to the fridge for 15 mins. After that push the edges of the marmalade with your index finger, it is set when it all wrinkly and thick, it does not go back when pushed with your index finger. Do not overcook. On cooling the marmalade with get thicker so check and adjust accordingly your cooking time.
Anamika Sharma
Anamika Sharma is a passionate foodie, a food blogger with a background in aviation and telecom industry for good 15 years. Her mission is to spread the love for Indian cooking to all those who wrongly think it's too difficult. She loves to cook for her family, specially her kids. Besides cooking she also enjoys photography and traveling. MAD – making a difference is a word she chose to describe her Indian cooking site. Cooking always meant to her to be maddening and now she is mad about cooking.