Kristina Wiley sets out to create the perfect hamburger in honor of her favorite tv-show.
By Kristina Wiley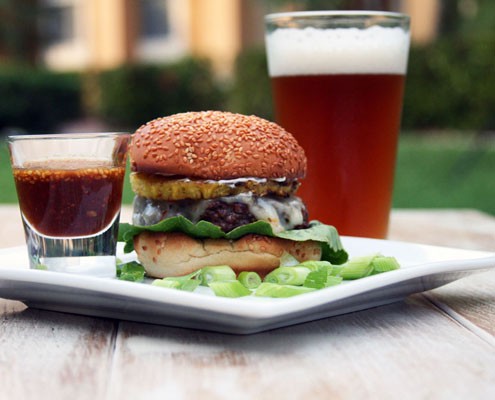 Summer time is officially here and you know what that means… time to pull out your grills, people!!! The hubs and I love a good burger, but sometimes we want a little more than just a seasoned patty on a bun. We like to mix it up with things like our Blue Cheese Balsamic Burger, and now this:
The Hawaii 5-0 Burger (named in honor of one of our favorite shows that just had it's finale a few weeks ago)! Side Note: Awesome show! You should probably add it to your Netflix queue!
This burger is my at home re-creation inspired by one of my favorite burgers from a restaurant called Yardhouse. Yowza! This was DELISH. So delish that the hubs wanted me to make it again the next night haha. I'm making him wait though, don't want him to get too much of a good thing!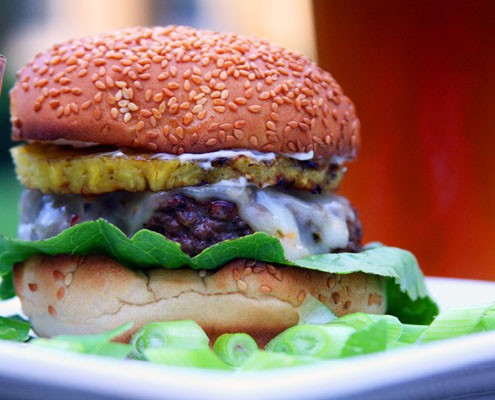 If you want to spice up burger night, I highly recommend these babies!  It's the perfect combo of spicy, sweet, and savory! We love when food has that dynamic trifecta of flavor!
Enjoy friends!
Oh, and FYI: nothing goes better with burger night than these oven roasted fries!!

Perfect combination of sweet, spicy, and savory all on America's favorite sandwich: the Burger!
Ingredients
For the Garlic Aioli:
⅓ cup mayonaisse
1 large clove garlic, minced
1 teaspoon lemon juice
½ teaspoon salt
⅛ teaspoon black pepper
For the Burgers:
1⅓ pounds ground chuck
¼ cup brown sugar
⅛ teaspoon cayenne
½ teaspoon salt
4 pineapple rings (about ⅓ inch thick)
¼ cup teriyaki sauce
4 slices of pepperjack cheese
4 hamburger buns
lettuce (optional)
Instructions
For the Aioli: Mix all ingredients together and refrigerate until ready to use.
For the Burgers: Preheat grill to medium-high heat. Divide ground beef into 4 equal patties (1/3 pound each). Mix together, brown sugar, cayenne, and salt. Divide mixture and rub equal amounts onto each burger patty (1/8 of the mixture per side). Spray pre-heated grill with nonstick spray and place pineapple sliced straight onto the grill grates. Cook for about 1½ minutes per side allowing grill marks to appear. Remove from grill and set aside.
Turn grill down to medium heat and add the hamburgers. Cook to desired doneness (flipping halfway through). We did ours about 4 per side. Then, baste the patties with ½ of the teryaki and flip (so the basted side is down) and cook for another 1 minute. Repeat with remaining side. Next, add one slice of cheese per patty and close lid for another 30 seconds to allow cheese to melt. Open and remove burgers from grill.
To Assemble: Take one hamburger bun (we toast ours in the oven first, but that is up to personal preference!) and slather 1 tablespoon of aioli onto the top half of the bun. On the bottom half of the bun, stack one hamburger patty, followed by a slice of pineapple, and top with lettuce (if desired). Add top half of bun and serve. You may serve with an additional side of teryaki if desired!
Kristina Wiley
Kristina Wiley is the South Florida blogger behind the blog My Life as a Mrs. She is passionate about food, entertaining, and life. She writes about cooking as a joy that can be used to bring friends and family back together around the dinner table; be it quick and easy weeknight meals or full on multi course dinner parties.