The story of how the hamburger came to Denmark, and a classic Danish fall recipe.
By Kalle Bergman – Photos by Mads Damgaard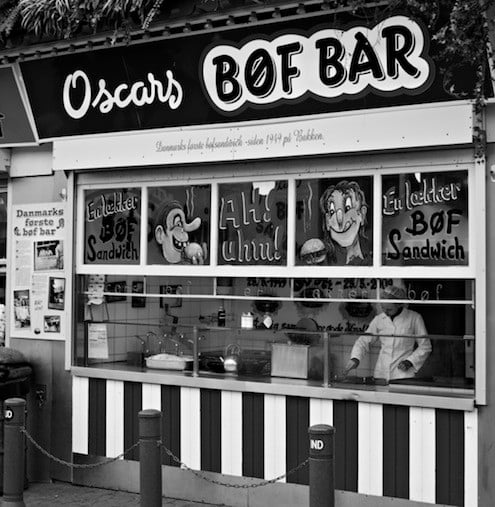 The history of the hamburger is still a matter of much dispute. There are several different versions of historical origins, and I honestly have no idea which is the correct one. But, one of the legends is that the Hamburger was invented by a Danish butcher's apprentice in the US around the turn of the 19th century.
Whether or not that is the true story of the origin of the Hamburger is probably best left unsaid, but since it is undeniably fitting in the context of this recipe – let's all agree to pretend that it is, ok?
What is absolutely true, is that a Danish food writer visited USA in the mid 40's and immediately fell in love with the country's emerging fast-food culture. He brought his new found love for burgers back to old Denmark and started spreading its gospel to anyone that would listen. Married couple Oscar and Anni Pettersson jumped on the idea of a burger joint in Copenhagen and opened Oscars Bøf Bar (Oscars Beef Bar) in late May 1949 in the amusement park Bakken (which by the way is the oldest amusement park in the world) on the outskirts of Copenhagen. And the Beef Sandwich – as the Danish version of the American Hamburger was called – was an almost instant success.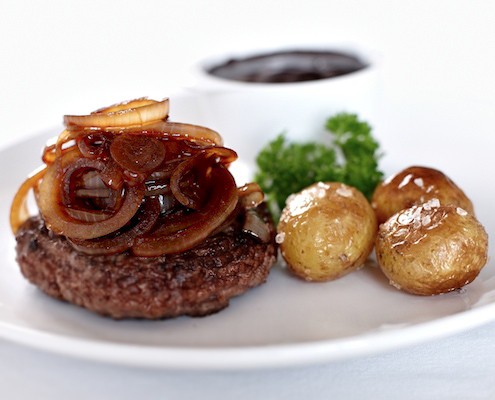 See Also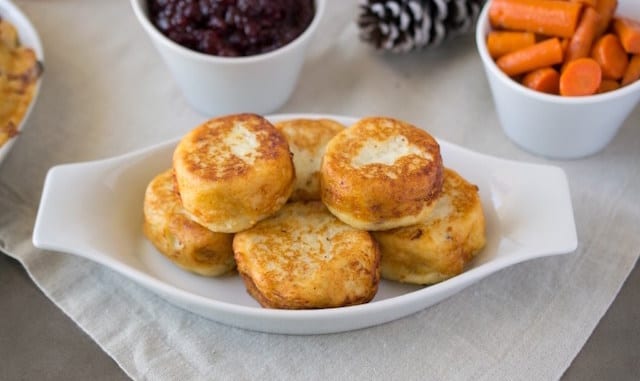 Today Oscars Bøf Bar is still going strong as an active institution in Danish culinary life, now run by the third generation of the Pettersson family at the same place in Bakken as always.
Hakkebøf Med Bløde Løg (Chopped beef with soft onions) is what might could call the "dinner version" of the beef sandwich. In this dish, the traditional burger bun is removed and replaced by potatoes, gravy, pickled accessories and lots and lots of soft onions. A great fall dish!
Print
Danish Hakkebøf with Soft Onions – Hakkebøf med Bløde Løg
One of the most classic Danish fall/winter dishes, and the story of the hamburger.
Author:

Kalle Bergman

Prep Time:

20 mins

Cook Time:

20 mins

Total Time:

40 minutes

Yield:

4

1

x
1

1?2 Ib Ground beef from the butcher's
Salt
Pepper

2

Large onions

1/2 Cup

water
Sauce
2 Tablespoons

of organic butter

3 Tablespoons

flour

1

1?2 Cups of really good beef stock
Salt & Pepper
A dash of food coloring
Instructions
Take the meat out of the fridge about 15 minutes before you want to start cooking. Shape it onto four round hamburgers and season with salt and pepper. Fry them in butter in a large pan for about 5 minutes on each side.
Peel and slice the onions. Put in a medium heat pan with a little bit of butter and fry for a minute. Add water and simmer until the water has evaporated.
Melt butter slowly in a casserole. Add the flour and use a whisk to mix it for a minute or two.
Slowly add the stock in portions, and keep whisking while you pour it in. Season with salt and pepper, and add just a dash of coloring to get the right dark brown color.
Serve the hakkebøf with soft golden onions on top, together with boiled or roast potatoes, brown sauce and pickled cucumber or beets.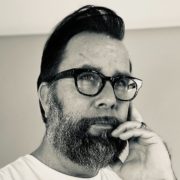 Kalle Bergman
Kalle Bergman is a food writer and media entrepreneur who is the founder of Honest Cooking and PAIR Magazine. As a food writer, his writing has been regularly featured in publications like Gourmet, Los Angeles Times, Huffington Post and Serious Eats. He is obsessed with simple food, more often than not from his native Scandinavia.