It's not uncommon to see a chef standing by the grill with a beer in their hand. Next time you are in the same situation or see this, offer up one of the tips or recipes below because they are all delicious and contain beer.
By Mallory Davis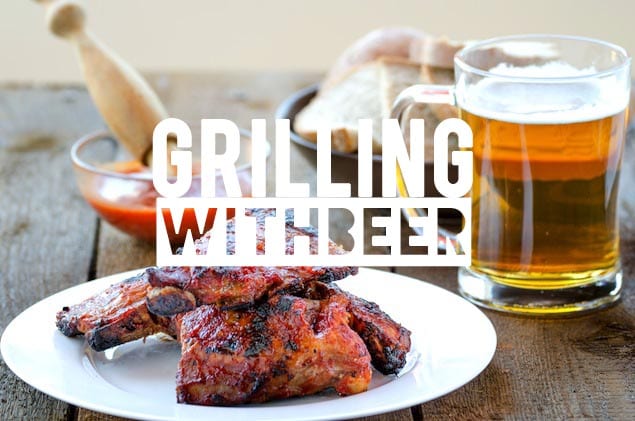 Not only is grilling with beer fun; it also is very versatile, such as substituting it in marmalades and rubs instead of citrus juices and wine that is often used. Below are some reasons why you should switch to beer at the grill next time.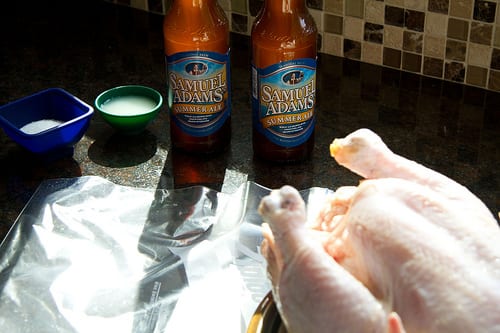 www.anotherpintplease.com
1. Flavor
Beer's flavor compared to other flavors (ex: wine, citrus juices) is much less acidic, but is still packed with plenty of unique tastes.
2. Texture
Because of the alcohol content, beer tenderizes the meats and breaks down tough fatty and non-fat tissues. Say hello to tasty, not tough meats.
3. Added Spices
Any added herbs and spices that are found in the beer and are marinated with the meat add that much more delicious flavor and those flavors won't be overwhelmed by acidity.
4. Price
Many beers tend to be less expensive than wines and other substitutes used to grill.
5. Variety
Beers provide a larger variety of types and flavors thus encouraging the chef to experiment and have fun on the grill. For example, trying an apricot or chocolate stout brings a unique, but fun new flavor on the grill. Pick a beer that you would drink and chances are you will like it on the grill, too!
6. Scientifically Lower Carcinogens
There is also a major health benefit to using beer. With grilling comes the danger of ingesting carcinogens. The Journal of Agricultural and Food Chemistry found that by marinating meats in a pilsner or dark ale for at least four hours before grilling cut polycyclic aromatic hydrocarbons (PAH, cancer-causing compound that forms as meat sizzles on the grill) decreased by fifty percent. Researchers believe the antioxidants from the beer slow down the process of of PAHs forming.
www.anotherpintplease.com
Below are some fun and easy recipes that go beyond beer can chicken to try next time you are planning a barbecue.
Beer-Simmered Bratwurst
Use a German light ale with this recipe in order to ensure all flavors of garlic, onion, and ginger are brought out to their fullest potential. After grilling the brats, they sit in a delicious and savory marinade perfect for sharing (if you choose!). Get the recipe here.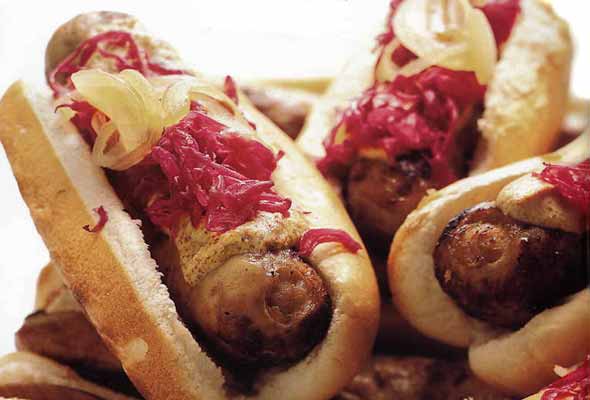 leitesculinaria.com
Fall-ff-the-Bone Beer Baby Back Ribs
A new twist on a barbecue classic, these are guaranteed to be a hit at your next gathering. Choose any beer that you would like (apricot would be delicious!) to make your guests line up for seconds. Get the recipe here.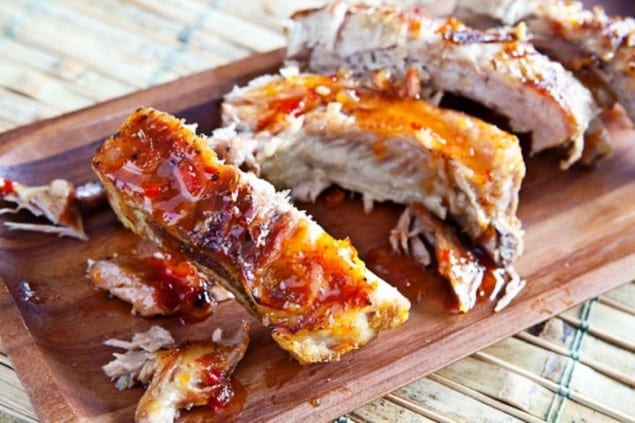 www.bestestrecipes.com
Beer Lime Grilled Chicken
Make sure to use light beer with this recipe to highlight the lime, cilantro and honey flavors. Healthy and not heavy, this dish is perfect for a summer lunch or dinner. Get the recipe here.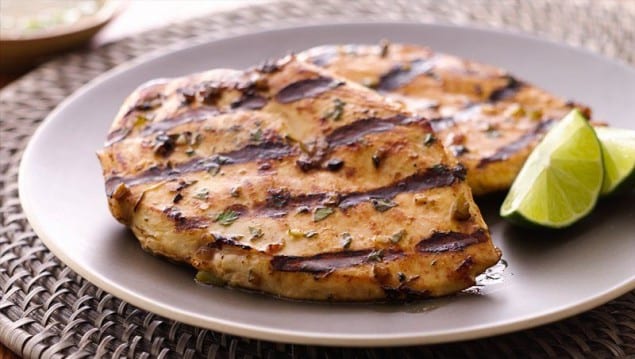 www.bettycrocker.com
Grilled Beer and Butter Shrimp
These savory bites are a perfect appetizer on a warm summer day. These taste even better with potatoes and are easy because you can use the beer sauce for both. Get the recipe here.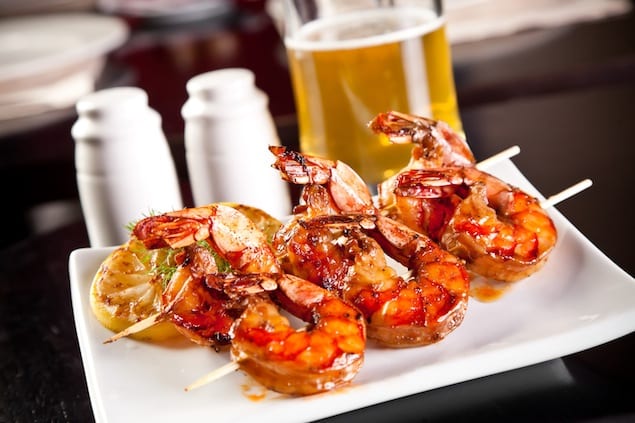 pumpsandpints.com
Beer-Marinated Vegetables
Beer doesn't only go with meat. Marinate summer vegetables in a lager with herbs such as rosemary and thyme. Just like with meat, the beer creates a tender, flavorful side dish. Get the recipe here.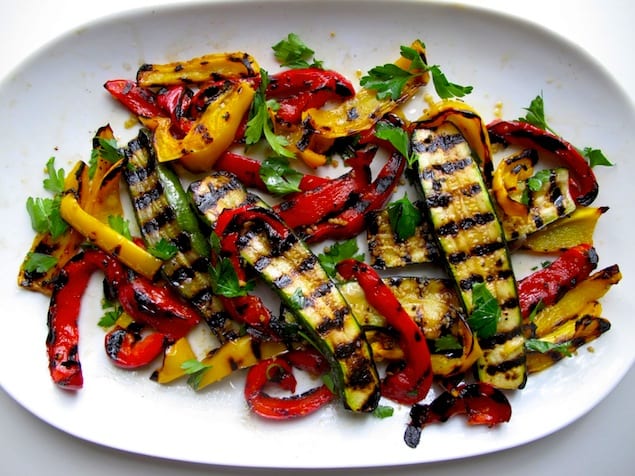 www.epicurus.com
Extra Tastiness! Stout and Sriracha Beer BBQ Sauce
This sauce is nothing short of flavorful and fun. All you need is a plain grilled piece of meat or vegetable, and voila! You have you new favorite sauce. Get the recipe here.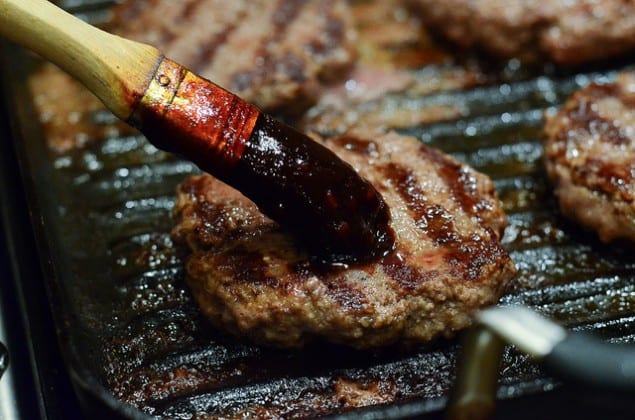 www.fromvalerieskitchen.com
Try out these beer ideas this grilling season. Beer is a companion to the griller so it's only natural they should combined with the food on the grill also. Happy Grilling!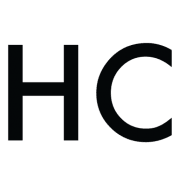 Mallory Davis
Mallory was born and raised in Monterey, California. She has a degree in Broadcast Journalism with an emphasis in sports broadcasting. Although baking and cooking were a favorite part of her childhood; a diagnosis of Celiac Disease is what really set off her passion for food. The diagnosis encouraged her to start cooking and experimenting a lot more. She enjoys making up new and unique recipes to fit her and others' diets (always making sure to include chocolate whenever possible).