PARTNER POST: Dive into the 120 days of summer with Santa Rita wines that pair perfectly with the foods of the season, straight off the grill.
Make summer seafood paella right on the grill with fresh vegetables and a bottle of Chilean Santa Rita wine.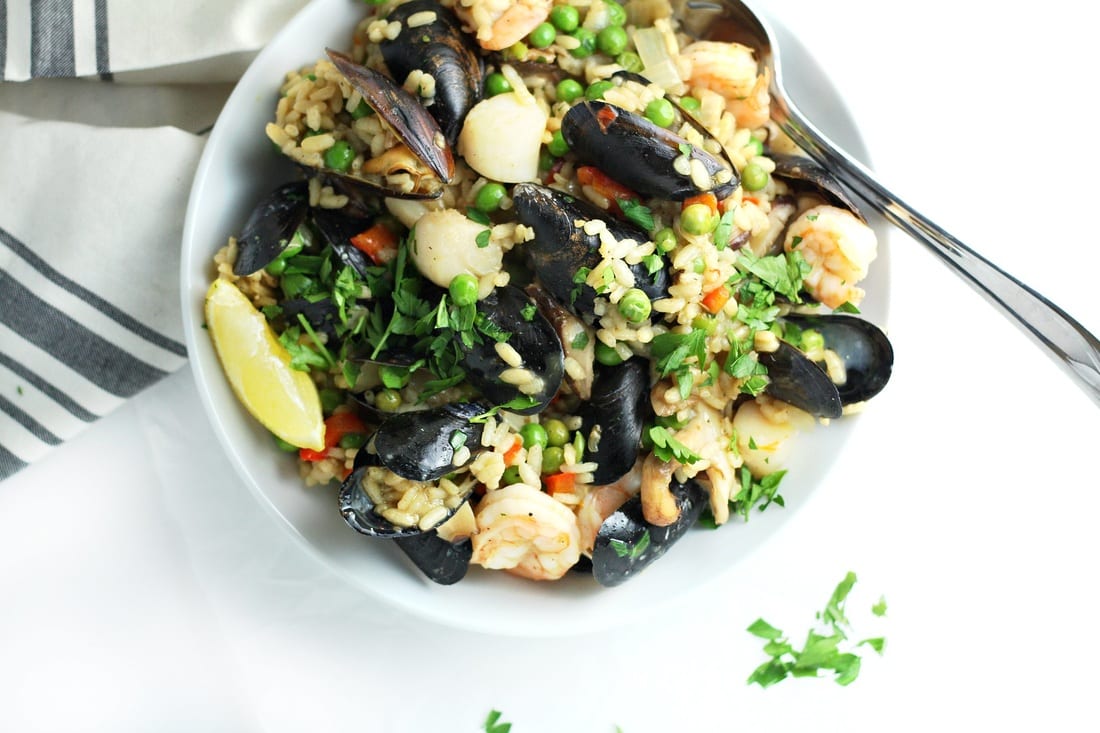 When Mike and I were in Madrid, we went on a quest for the best paella. It was truly a quest because a) we were on foot and b) it was raining and c) there was an actual paper map involved. Treasure hunting style.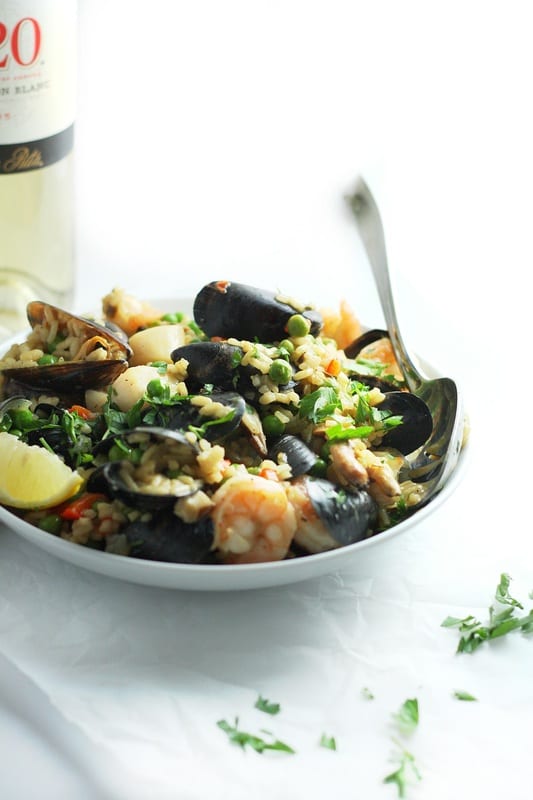 So we end up finding this spot recommended by a local and eating awesome paella (and bread dipped in some sort of sour cream mixture? Also awesome), and by the time we left we were both like, we MUST recreate this.
Skip forward a month and just look at us go!
I remember there was a time when I didn't like seafood. It was the texture, I think? Or maybe the way some fish are suuuuper fishy. It wasn't until I discovered "meaty" seafood that I started to change my mind about the whole thing. Now I love it all, and good thing because paella is meant to be seafooded.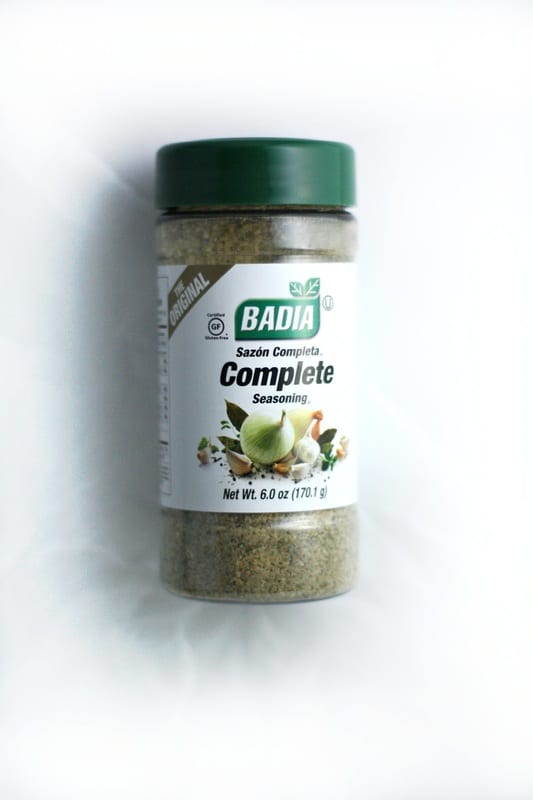 Here, we're doing a mix of shrimp, mussels and scallops (my favorite) and cooking them up with things like peas, mushrooms, saffron and this complete seasoning mix from Badia Spices. It's got onion, cumin, garlic and a few other herbs and works really well on seafood, meat and in sauces.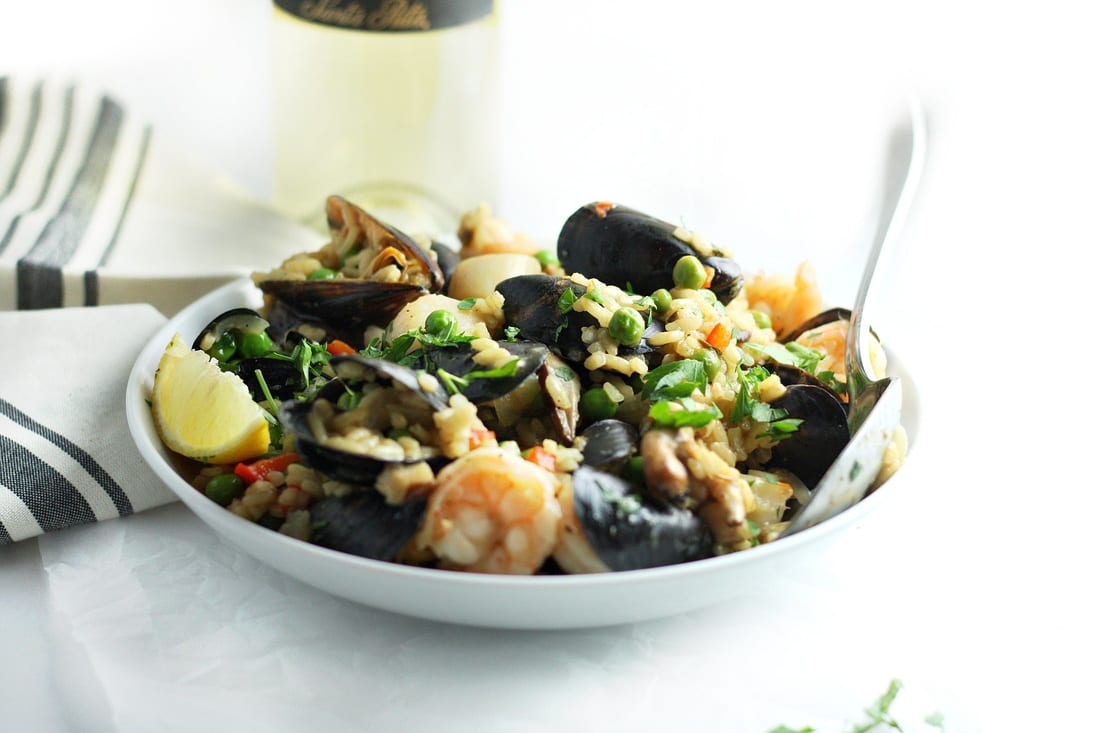 So I'll admit that Mike did most of the work here. Anything that involves a grill and I just smile and hand over the apron. And anyway, I'm better at pouring wine.
We've recently been drinking a ton of red, partially because of our Europe trip but also partially because I discovered red wine and chocolate. Yes yes. Ever since the holidays our wine collection as started turning dark, but of course I still keep some white around. You need it for times like these!
We're drinking Santa Rita 120 Sauvignon Blanc, which is the embodiment of a summer wine. It's light and fruity and what I like to think of as "everyday wine." Super easy to drink and perfect to have alongside some grilled seafood paella!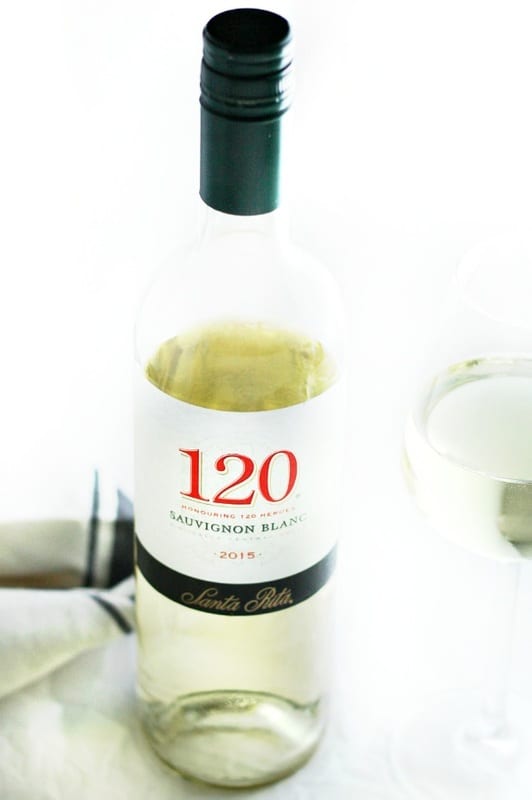 For more grilling inspiration with Santa Rita, check out this grilled Chilean chicken and pebre sauce.



d

Grilled Seafood Paella
Make summer seafood paella right on the grill with fresh vegetables and a bottle of Chilean Santa Rita wine.
Ingredients
¼ cup olive oil
½ pound large sea scallops
1 cup diced yellow onions
½ cup diced red bell pepper
1 tablespoon minced garlic
2 cups Arborio rice
1 cup white wine
1 cup clam juice
3-1/2 cups chicken stock
1 tablespoon Badia Complete Seasoning
1 teaspoon saffron
1 teaspoon sweet paprika
2 pounds mussels
½ pound shrimp
½ pound shiitake mushrooms
1 cup frozen peas
1 tablespoon chopped fresh flat-leaf parsley
2 tablespoons lemon juice
Salt and pepper, to taste
Lemon wedges, for serving
Santa Rita 120 Sauvignon Blanc, for serving
Instructions
Heat charcoal grill for 30 minutes before cooking. Charcoal should be in the center of the bottom of the grill and covered with grey ash to be sure they're hot enough. Our grill got to about 500F.
Place Dutch oven on the grill and preheat it for 10 minutes.
Add olive oil to the Dutch oven. Add the scallops; saute for 1 minute. Use a slotted spoon to transfer the scallops to a bowl and set aside. Add the onions, bell pepper and garlic. Saute for 1 minute, or until the onions are translucent. Add the rice, wine, clam juice, chicken stock, Badia Complete Seasoning, saffron and paprika; stir well. Place the lid on the Dutch oven and close the lid of the grill. Cook for 12 minutes or until the liquid is absorbed and the rice is cooked.
Add the mussels, shrimp and mushrooms. Cook until the mussels are open and the shrimp are opaque. Remove from the heat.
Stir in the scallops, peas and lemon juice. Discard any unopened mussels. Season with salt and pepper. Garnish with lemon wedge and serve with wine.
Notes
These directions are intended for a charcoal grill.