Make summer seafood paella right on the grill with fresh vegetables and a bottle of good wine.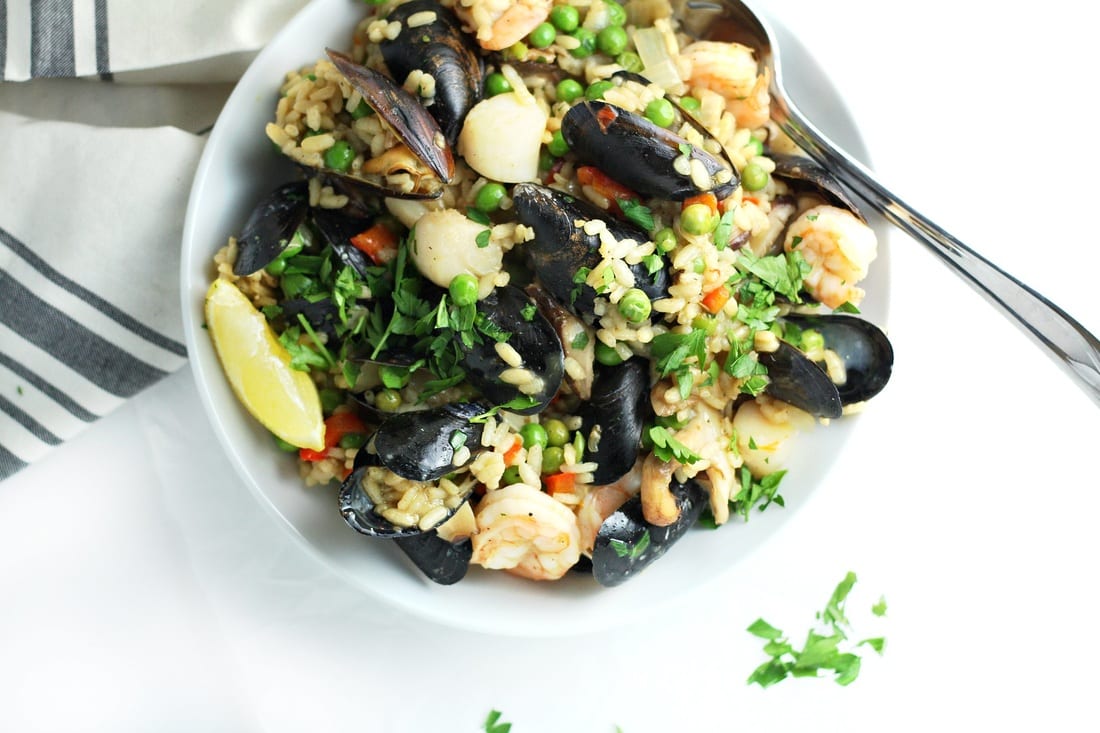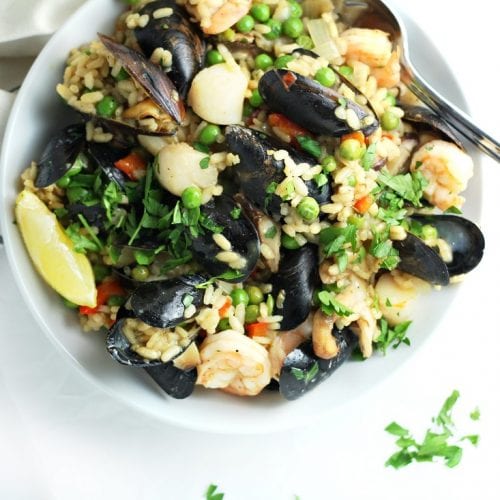 Sarah Mason
Ingredients
1/4

cup

olive oil

1/2

pound

large sea scallops

1

cup

diced yellow onions

1/2

cup

diced red bell pepper

1

tablespoon

minced garlic

2

cups

Arborio rice

1

cup

white wine

1

cup

clam juice

3-1/2

cups

chicken stock

1

tablespoon

Badia Complete Seasoning

1

teaspoon

saffron

1

teaspoon

sweet paprika

2

pounds

mussels

1/2

pound

shrimp

1/2

pound

shiitake mushrooms

1

cup

frozen peas

1

tablespoon

chopped fresh flat-leaf parsley

2

tablespoons

lemon juice

Salt and pepper

to taste

Lemon wedges

for serving

Santa Rita 120 Sauvignon Blanc

for serving
Instructions
Heat charcoal grill for 30 minutes before cooking. Charcoal should be in the center of the bottom of the grill and covered with grey ash to be sure they're hot enough. Our grill got to about 500F.

Place Dutch oven on the grill and preheat it for 10 minutes.

Add olive oil to the Dutch oven. Add the scallops; saute for 1 minute. Use a slotted spoon to transfer the scallops to a bowl and set aside. Add the onions, bell pepper and garlic. Saute for 1 minute, or until the onions are translucent. Add the rice, wine, clam juice, chicken stock, Badia Complete Seasoning, saffron and paprika; stir well. Place the lid on the Dutch oven and close the lid of the grill. Cook for 12 minutes or until the liquid is absorbed and the rice is cooked.

Add the mussels, shrimp and mushrooms. Cook until the mussels are open and the shrimp are opaque. Remove from the heat.

Stir in the scallops, peas and lemon juice. Discard any unopened mussels. Season with salt and pepper. Garnish with lemon wedge and serve with wine.
Notes
These directions are intended for a charcoal grill.