Fava is a Greek spread made with yellow split peas and caramelized onions. And this authentic recipe for Greek Fava dip is absolutely delicious and great for feeding a variety of eaters.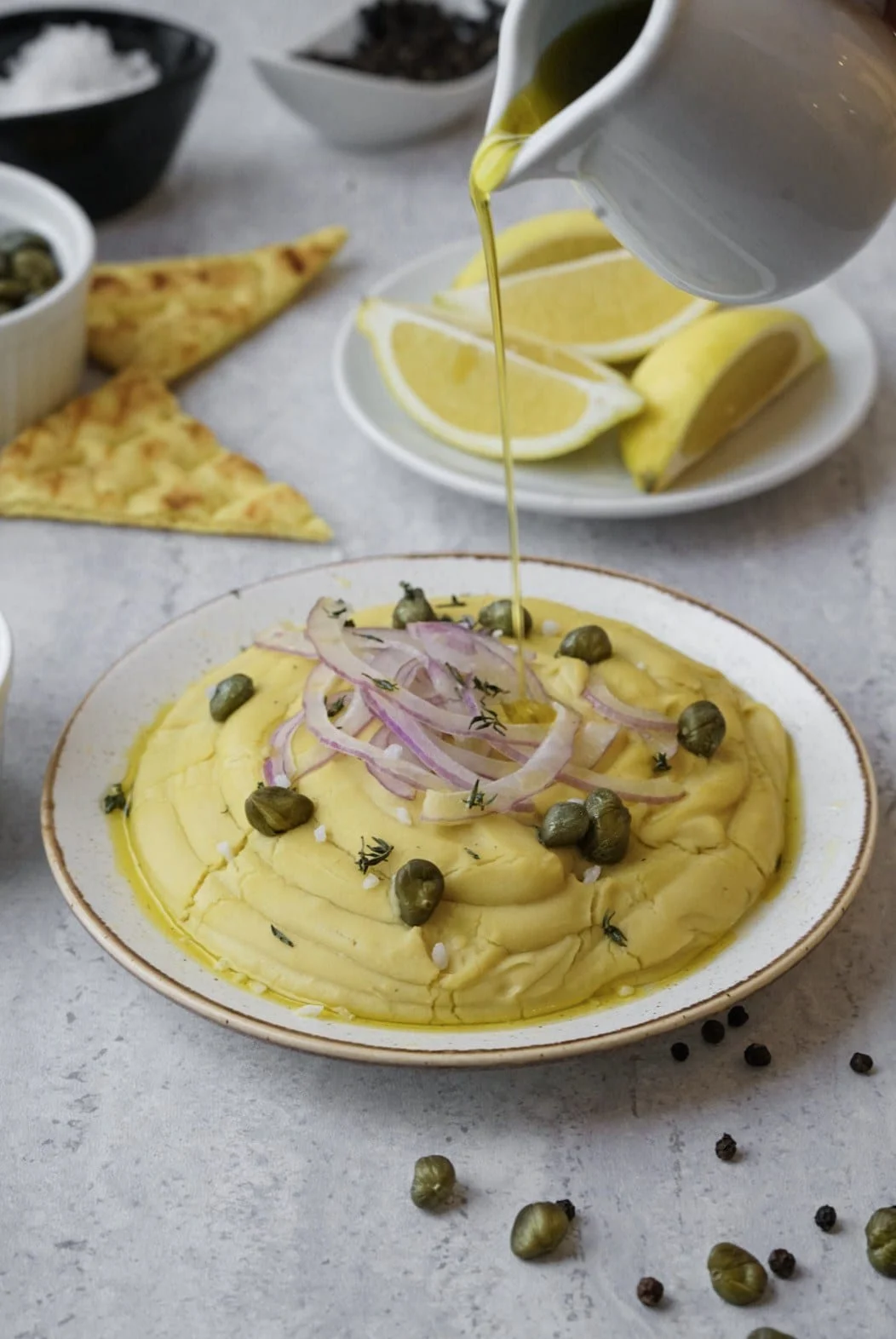 "How about we prepare a traditional Greek Fava dip?". I goggle and frown when I learn this is the plan Chef Eugenios Magoulas has in mind for my article on gluten free Greek food.
"A dip?", I think. "Did I really fly all the way to Santorini for a dip? And moreover, a dip I have never even heard of?"
I've just spent my flight to Greece daydreaming about casseroles of piping hot gluten free Spanakopita and trays of crispy gluten free Baklava… and now, my most buoyant gluten free fantasies clash with a rough reality.
"Greece is not open to gluten and dairy free food. At least not yet". Just like that, with plain and simple words, Chef Eugenios brutally downsizes my expectations: "The entire essence of Greek cuisine is based on milk products and phyllo dough, which are really hard to replace. And since the alternative ingredients one would need don't do justice to the original dishes, we don't even bother trying", he asserts.
Things like coconut yogurt or cassava flour still haven't picked up in the Aegean country. And after consulting for a bit with the chef, I realize that my best bet is to stick to Greek dishes that are originally prepared with no allergens. Things like rice stuffed vegetables or grape leaves (Dolmades)… or yes, even dips I know nothing about, but that as soon as I give it a try, quickly becomes a favorite.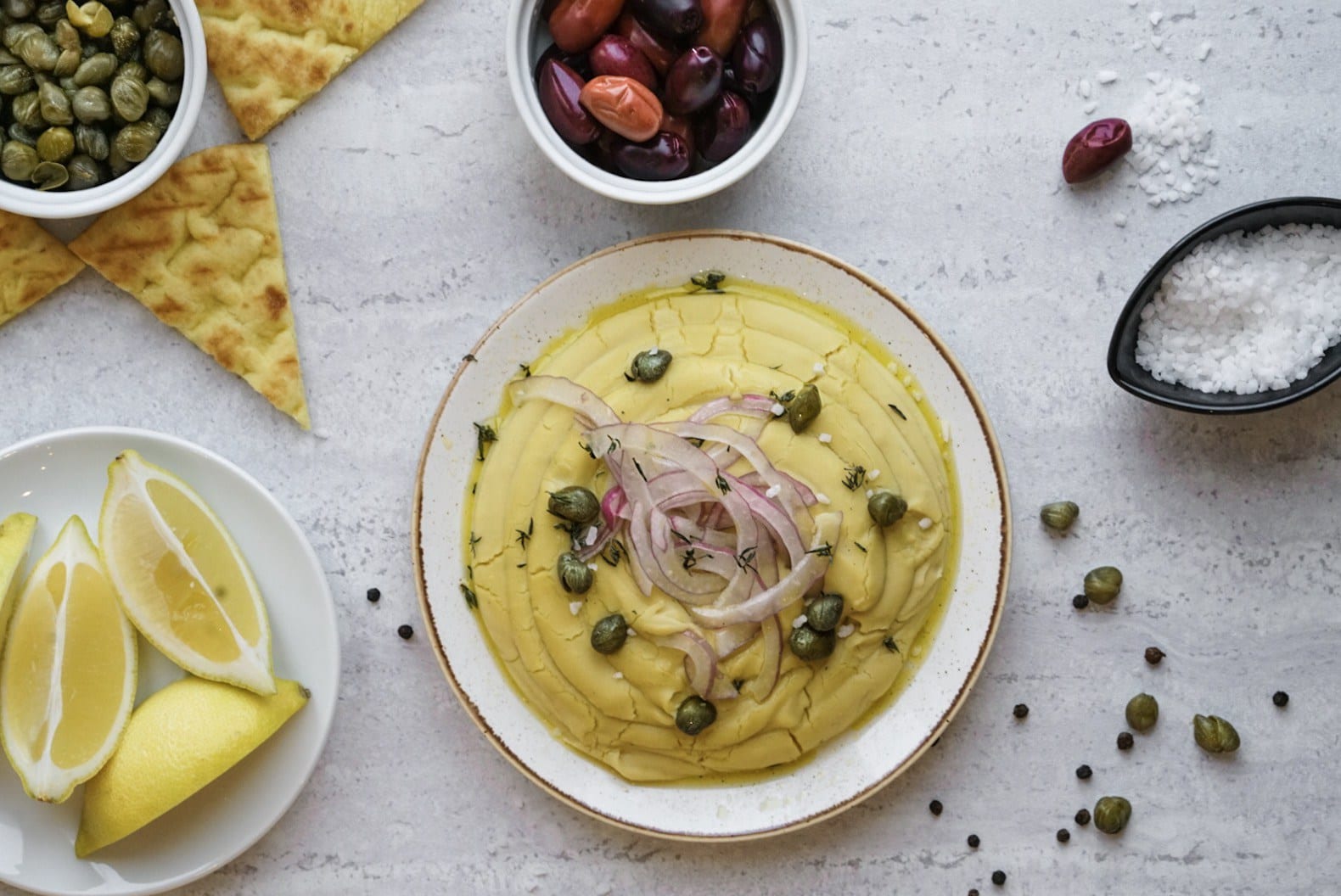 I definitely could not expect this Greek Fava dip to be this filling and delicious. And I certainly couldn't imagine a more breathtaking location to work and shoot from then Athina Luxury Suites, the beautiful property clung to the black rocks of the caldera of Santorini, where Eugenios works as the resident chef.
The owner, Mr. Panagiotis, gives me the warmest welcome in the stunning Athina Royal Suite. The French doors of the terrace overlook the titanic cruises moored in the Aegean Sea and offer a panoramic view of the picturesque town of Thira, bustling with life, stores and little cafes.
"Fava", he explains, "is a delicious savory spread, similar to hummus in texture, but made with yellow split peas instead or chickpeas, or fava beans like one would expect from its name". This dish is naturally gluten and dairy free, and, especially in Santorini, it's supposed to be particularly earthy and tasty due to the local variety of split peas, which boast a very distinct taste due to the volcanic soil in which they grow.
My reluctance is swept away at the first bite. Maybe it's the volcanic soil, maybe it's the copious amount of shaved onions and capers sprinkled on top, but this creamy dip is like nothing I've ever tried, and I end up ordering it every night during my time in Santorini.
In the past, Fava was regarded as the poor man's meat and one of the basic dishes to consume during the religious fasting of Lent, as it's rich in proteins and very satiating. And even if dipping some gluten free pita bread or breadsticks in it could definitely make this dish more indulgent, Fava is definitely perfectly satisfying eaten plain.
While I shoot this beautifully presented plate of Greek Fava dip, Chef Eugenios Magoulas gives me the inside scoop on his career. "I got into cooking by watching my family in the kitchen, especially my grandma. She used to make these special Greek meatballs that were the end of the world! And ever since I was little, I knew I wanted to become a chef".
After working as a cook in the army (which in Greece is mandatory), Eugenios moved to Athens at the age of 19 to attend cooking school. And once completed it, he decided to further his training in London, at Restaurant Gordon Ramsay, which boasts three Michelin Stars.
"The most important thing I learned from that experience – he recalls – is their dedication, passion and respect for each other. And, while most people nowadays focus on molecular gastronomy, they are one of the few restaurants that still practices classic cuisine and build new, exciting food from the basis of old fashion French style cooking, which is the same thing I want to do: take classic French techniques and apply them to Greek food".
Unlike many of the other chefs from around the world whom I interviewed for Chef's Corner, Chef Eugenios is not keen to use his profession to travel, but he's plenty happy to build a career in home country: "I like Greece. Greece is nice. Why would I want to leave?". Even in spite of economic crisis, low salaries and hard taxes, Greece seems like a great place to live to his people, and with its spectacular sceneries, millennial history and delectable food, it's not hard to understand why.
Some of the other gluten free Greek dishes I worked on with Chef Eugenios, like "Stuffed Zucchini with Avgolemono Sauce" or "Koufeto", a traditional wedding treat, can be found on my upcoming article on the magazine "Gluten Free Heaven". And I'll do my best to release more on the site too, so make sure to stay tuned and be subscribed!
Print

Greek Fava Dip from the Chef at Athina Suites, Santorini (Gluten & Dairy Free)
---
500

gr 17.5 oz Dried Yellow Split Peas

1.35

lt (5.6 cups Mineral Water)

1

large Onion (thinly sliced)

100

ml 0.4 cup Extra Virgin Olive Oil, divided

10

gr 0.3 oz Sea Salt
White Ground Pepper (to taste)
---
Instructions
Wash the split peas under cold tap water inside a large bowl. Rub them with your hands and drain. Repeat the process until the water is clear (it will be very cloudy the first few times).
Add the washed and drained yellow split peas and the mineral water in a large pot.
Bring to a boil and, once it starts boiling, turn the heat down to the minimum and cover with a lid.
Skim the foam that forms on the surface every 4 to 5 minutes for 20 minutes or until it stops getting foamy.
Cover and keep cooking at the lowest heat for about 1 and 1/2 hours, stirring every 10 minutes until the peas are cooked. It's important you keep the heat at the minimum in order not to burn your Fava.
In the meantime, add the sliced onions and 100 ml of olive oil in a frying pan and cook on medium heat. Add some salt and cook for about 8 minutes, until they caramelize (that's the secret for a delicious Greek Fava dip).
When the Fava looks thick enough, add in the caramelized onions, the rest of the olive oil, salt and white pepper. Stir well, turn off the heat and allow to rest for 5 minutes.
Once rested, pour the mixture in a blender and blend until it is smooth like a puree (if you have a small blender, just put the Fava in a little at the time and combine it all together later).
To serve your Greek Fava dip traditionally, top it with some capers, olives, olive oil, lemon and sliced onion and use it a garnish for your favorite meat or fish.
Enjoy!
[/vc_column_text][/vc_column][/vc_row]

I hope you guys loves the recipe for this Greek Fava dip as much as I did! Make sure to share it with your friends and family on Facebook and to save it on your favorite Pinterest board, and subscribe to my weekly newsletter so that you never miss a post!!

Lots of love from Santorini!
Ambra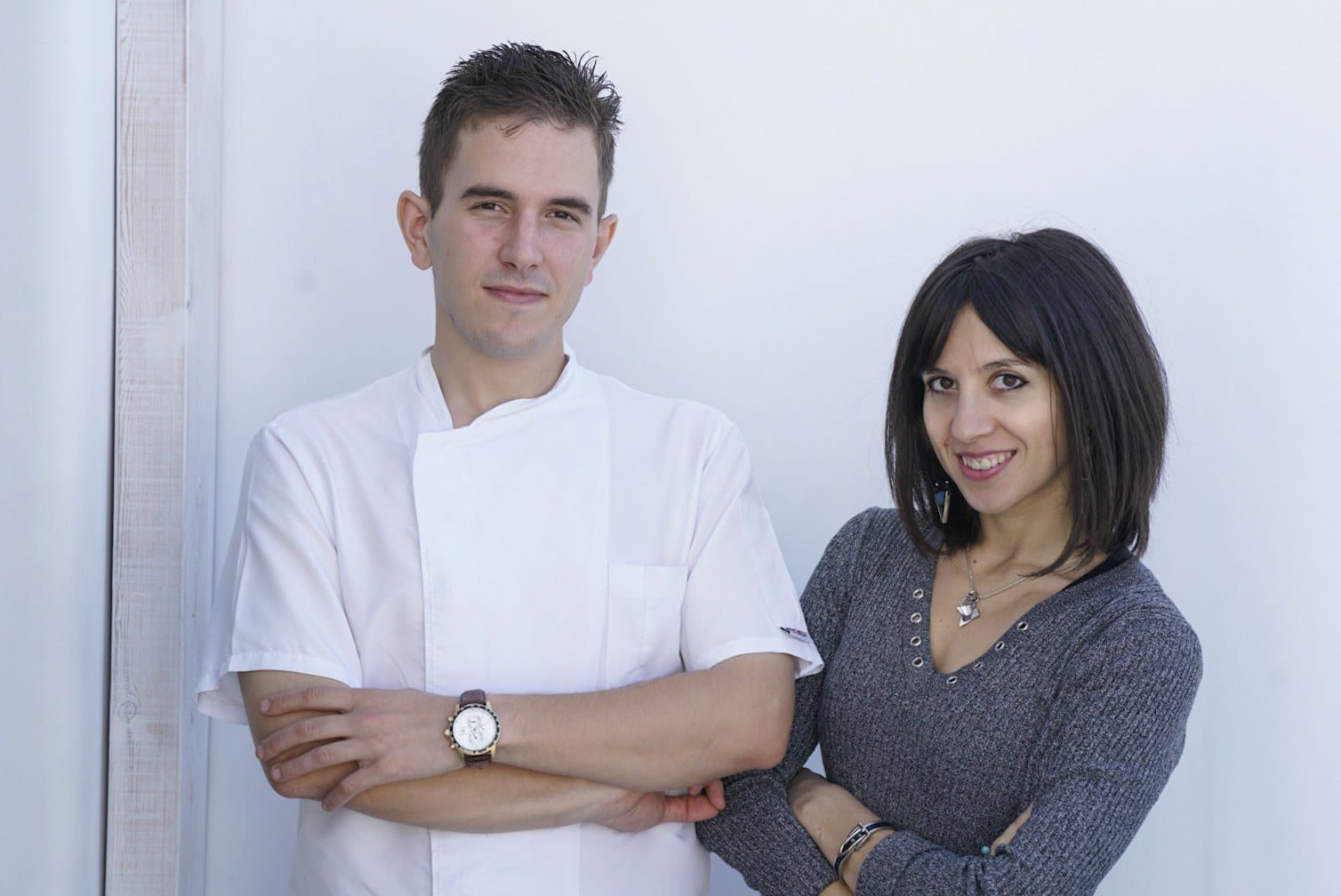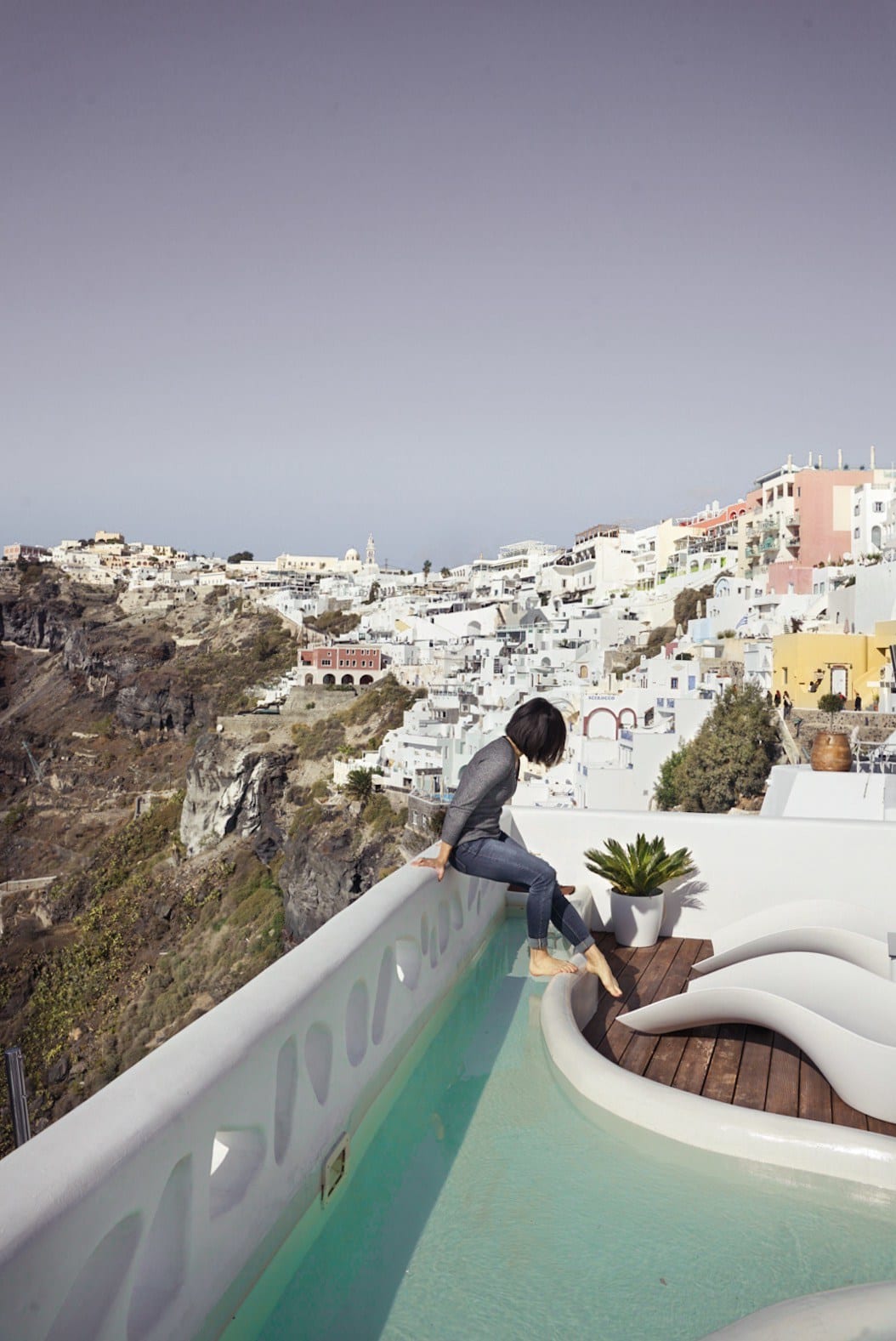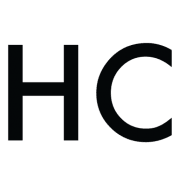 Ambra Torelli
Born and raised in Italy, Ambra is a healthy recipe developer, food and travel writer with a passion for healthy living and wellness. She is the founder of 'Little Bites of Beauty" and the author of the cookbooks "Healthy Italian Desserts Made Simple" and "The AIP Italian Cookbook". She shares her daily food & travel adventures on her Instagram @LittleBitesofBeauty