A simple bread with a great crumb that never fails to evoke warm memories of childhood through smell and taste.
By Mary Haymaker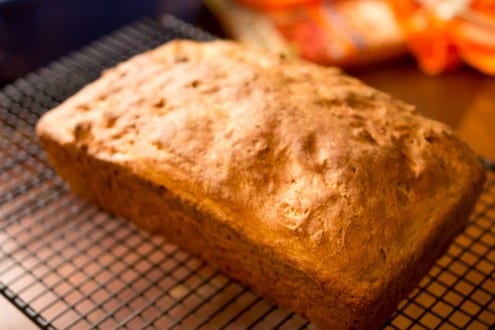 I've heard it said that the human olfactory memory is stronger than that of any other sense. In other words, a smell can evoke much stronger and more vivid memories than an image or a sound. In my experience, this is absolutely true. When my mom cooks a standing rib roast at Christmas, it brings back memories of my grandmother cooking the same for special occasions. Same for beef stew, chocolate chip cookies…you get the picture. This bread is one of my strongest scent memories. It reminds me of spending Saturday mornings at my great-grandmother's house, watching cartoons and drinking Country Time lemonade from the pastel-colored aluminum cups she kept in her glass-front cabinet. This was bread that she baked for my grandmother and for my dad, and I remember the stories about my dad and his sister arguing over who would get the end piece. I knew I got it from somewhere (my husband and I actually have to cut the end piece in half).
When my grandmother passed away, I was fourteen and too young to realize that I should ask my grandfather for some of her recipes. When he passed away seven years later, I was a little older and wiser and had started cooking for my then-boyfriend, whom I knew I would be marrying before too long. I found a book of magazine clippings and handwritten recipes, some written on steno pad paper and some scribbled on the back of envelopes, all yellowed with age and many falling apart at the creases. Many of the recipes I don't recognize, but some are unmistakeable. This is one of those, a recipe that I often make my dad as a gift. The original recipe calls for shortening but I've replaced it with butter, and I've replaced the white flour with white whole wheat. Oh, and sucanat instead of sugar (you could also use honey).  At the end, you can brush the top with butter….my grandmother's recipe actually says, "Brush the top with melted butter or shortening."  Yikesies!  I think I'll stick with butter.
See Also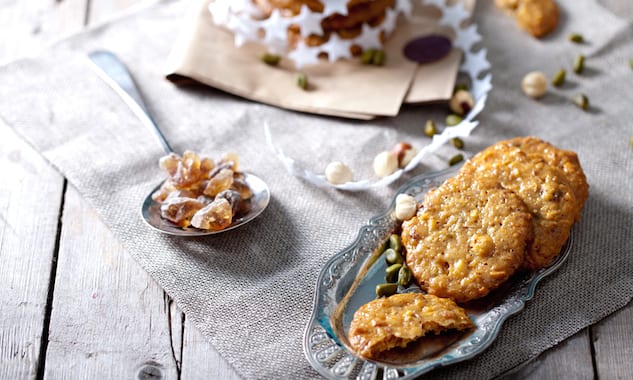 This bread is perfect on its own or spread with butter.  I also love it with jams, apple butter, or cheese.  In fact, I can't think of any way I wouldn't love this soft, delicious, crumb-y bread.  It's truly amazing.
This is a simple bread with a great crumb that never fails to evoke warm memories of my childhood through smell and taste!
Ingredients
1¼ cups warm water
2¼ teaspoon or one package yeast
2 tablespoons butter, softened
2 teaspoons salt
2 tablespoons sugar, honey, or sucanat
3 cups all-purpose or white whole wheat flour
Instructions
In the bowl of an electric mixer, dissolve the yeast in the warm water.
Add the sugar, honey, or sucanat, butter, and half of the flour. Beat for two minutes at medium speed or mix by hand with a wooden spoon 300 strokes.
Add remaining flour and mix in with a wooden spoon. If using whole wheat flour, you may need slightly less than the 3 cups listed.
Cover the bowl with a kitchen towel and let rise in a warm place until doubled, about 30 minutes.
Stir the batter down with a wooden spoon and spread evenly in a greased 9x5x3 loaf pan. You may need to put some flour on your hands to press the batter into the corners of the pan.
Cover the loaf pan and allow to rise again in a warm place until the batter reaches about ¼ inch from the top of the loaf pan, about 30 minutes.
Bake the bread at 375 degrees for 45-50 minutes or until golden brown. The loaf will sound hollow when tapped.
Remove the bread from the pan and allow to cool on a rack before cutting. If desired, brush the top with melted butter before serving.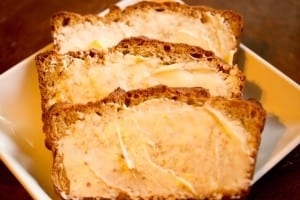 Mary Haymaker
Mary Haymaker is a teacher by day and a cook, food writer, and photographer by night. She has lived in the Chattanooga, Tennessee area her entire life and is dedicated to supporting the growing local food movement there. You can read more of Mary's writing at her blog, chattavore.com.