Tamara Novacoviç finds her Grandma's recipe notebook and decides to give a rustic fruit cake a try. It turns out to be utterly delicious.
Text And Photos By Tamara Novacoviç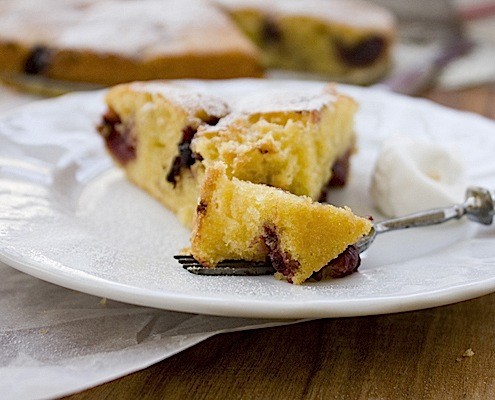 A few years ago, cakes like this one weren't common on my table. I was always the one to make creamy cakes with lots and lots of filling and/or only minimal sponge layers. Then, one day, I came across my grandma's old recipe notebook. I flipped inquisitively and zealously through its yellow pages and this cake caught my attention. There was, of course, no picture given along with the recipe, but there was something so familiar, simple and old school about it. And sometimes, I'm all about vintage and old school. I could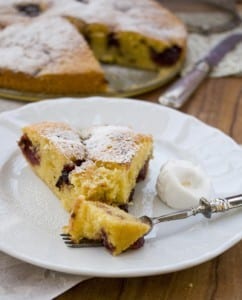 envision the nice flavor of this cake and decided to give it a go. I'm so glad I did because this is one of the rare specimens of sponge cakes that are still welcome in my kitchen. And one of the best I've tried so far.
This cake is moist, smells great, tastes even better. Everything I expected it to be, if not more. I dread dry sponge cakes and this one is the exact opposite. My grandma's recipe calls for sour cherries, I used them several times, but this time I used blackberries. I was surprised when I stumbled upon them the other day in my freezer. A bunch of frozen blackberries I kept from the previous summer. You can actually use some other fruit: raspberries, cherries, blueberries-use your imagination. The fruit will keep the cake moist and give it great flavor.
Grandma's Fruit Cake

3 cups (300 g) blackberries
1 tsp vanilla extract
1 tbsp rum
3/4 cup (175 g) butter, softened
3/4 cup (150 g) brown sugar
3 eggs
1 cup (110 g) all purpose flour
zest of 1/2 lemon
1 tsp baking powder
1. Mix butter with sugar until fluffy. Separate egg yolks from whites. Add yolks to the butter mixture, mix. Add lemon zest, vanilla, rum.
2. Combine flour with baking powder, sift and add to the previous batter.
3. Preheat your oven to 375°F (190°C).
See Also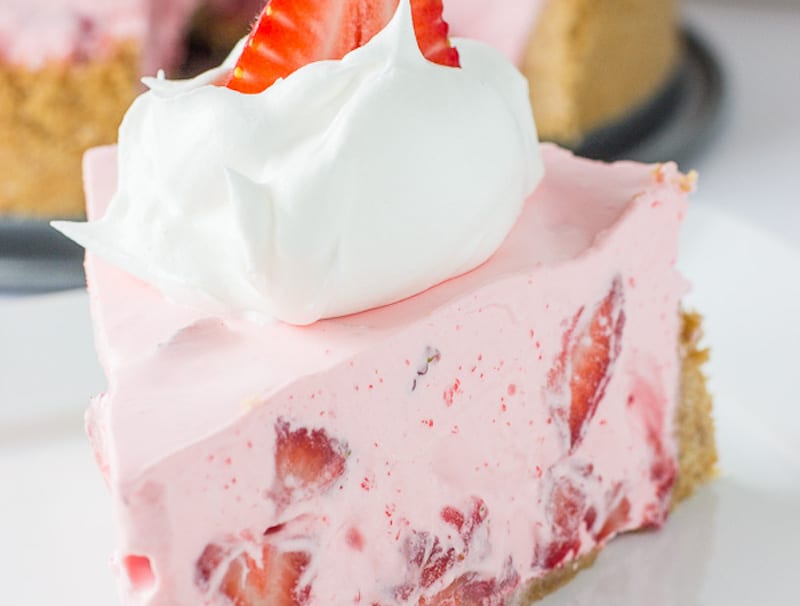 4. Whip egg whites until stiff peaks form and gently combine them with the cake batter. Lightly grease and flour (or line with parchment paper) 8 or 9 inch springform pan. Put the batter into the pan.
5. Thaw (if you're using frozen) your blackberries and arrange them on top of the cake batter. Bake for 40 minutes.
6. Let cool and sprinkle with powdered sugar before serving. You can serve it with some vanilla ice cream or whipped cream.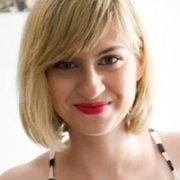 Tamara Novakoviç
Tamara Novakovic is a passionate self-taught cook, food blogger, freelance food writer and photographer behind bite-my-cake.blogspot.com. Her life journey has led her through Faculty of Humanities in Zagreb, Croatia to discovering passion for making cakes. She is currently a weekly food columnist for Croatian newspaper V magazine and food magazine Repete.