Rock Cornish Game Hen, Poussin or Spring Chicken? Same tasty bird, different names.
By Anne Sears Mooney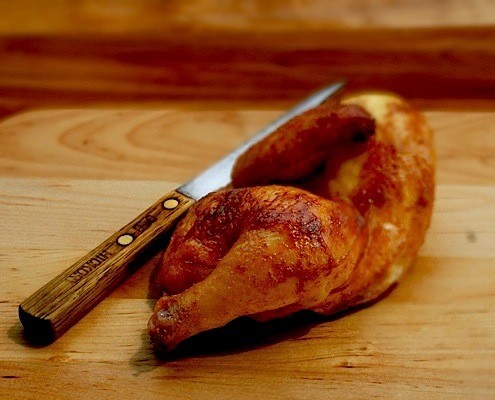 Someone asked me recently, what, exactly, is a Rock Cornish Game Hen?
I admit, I was stumped. (You mean, they don't come from the meat case at the market?)
The term hen traditionally refers to a female bird, but anyone can tell by looking that roughly half the Rock Cornish Game Hens in the meat case are not, in fact, hens in that sense. According to the University of Minnesota Agricultural Extension, commercial meat-type chicks are on a "straight-run" basis – that is, there is no distinction between male and female chicks. So, either gender can be called a "hen." (Sorry, fellas.)
Further, since the Rock Cornish Game Hen is marketed by Perdue and Tyson, among others, it's a safe bet that it's not game in the traditional sense. Can you get a visual of all those Perdue hunters, armed with red hats, camo vests and pellet guns, stalking Game Hens through the woods of rural Maryland? No? Me neither.
Turns out, what we know as a Rock Cornish Game Hen is what used to be called a "spring chicken." If you are not yet thoroughly confused, keep reading.
Back in the good ole days before factory farming, when chickens ran around the farm yard and slept in a chicken coop, chicken was a seasonal treat. Hens began laying their eggs when the weather turned warm. The first birds brought to market were young, slaughtered at about four weeks, weighing one and a half to two pounds. Given their arrival in April or May, these tender little birds were called spring chickens.
Our Rock Cornish Game Hen is what is known in France as a poussin, and what our American forebears called a spring chicken. It is a small, tender bird, with white or very light meat, that is slaughtered at about four weeks of age. The same bird, grown to seven to nine weeks of age, becomes a fryer, and at twelve weeks of age it becomes a roaster. The classification depends solely on the age of the bird.
The Rock and the Cornish refer to commercial strains of meat-producing birds derived from the Cornish, Plymouth Rock and New Hampshire breeds. The development of the Rock-Cornish cross is attributed to Jacques and Alphonsine Therese Makowsky of Connecticut.
A 2005 San Francisco Chronicle article, published on the occasion of her death, recounts the fascinating life of Mrs. Makowsky, known to as "Te." She and her husband Jacques lived in Paris until 1940, when they fled to New York after the Nazi invasion. The Makowskys lived In New York, where Jacques Makowsky was a printer. He retired from the printing business in 1946, and he and Te moved to a farm in northeastern Connecticut, which they called Idle Wild Farm. There, they raised African guinea hens and sold them to upscale New York restaurants. In 1949, their entire flock of guinea hens was lost to a fire.
A Saturday Evening Post article from 1955 credited Te Makowsky with the idea of cross-breeding the Cornish chicken, a small bird with short legs and a plump round breast, to a white Plymouth Rock chicken. The resulting Rock Cornish hen was meant to be a substitute until the Makowskys could rebuild their flock of guinea hens. The Makowskys' customers, including the prestigious 21 Club, immediately fell in love with the Cornish hen. The demand for Cornish hens was so great that the Makowskys abandoned the idea of raising guinea hens in favor of the Rock Cornish Game Hen.
At just under two pounds, today's Rock Cornish Game Hen is the perfect size for two servings. The birds can be roasted whole, with or without stuffing, and divided after they are cooked. They can just as easily be split before cooking, making them very handy for grilling. Because the birds are young, it is very easy to cut through bone and cartilage with a pair of poultry shears, if you have them. If not, ordinary kitchen shears work nearly as well.
To split an uncooked bird, rinse the bird thoroughly and place on a cutting board,  breast side down. With shears, cut up either side of the backbone to remove it, working from the tail to the neck. Open the bird to expose the inner side of the breast bone. Using a large chef's knife, cut through the breast bone. You will be surprised at how little pressure you need to exert.
Now you have two single portions that are perfect for either the oven or the grill. And, unlike a whole fryer or roaster, the Cornish Hen seems to cook evenly, with thigh and breast getting done at about the same time. Best of all, they are done in about 40 minutes, (when an instant-read thermometer in the thigh reads 160 degrees.)
You can do the following recipes either in a conventional oven or over indirect heat on your grill. These tender, juicy little birds do not need a lot of strong seasoning – they have a delicious flavor of their own. They emerge from the oven a lovely, burnished color – a visual as well as a taste treat for everyone at your table. Enjoy.
Honey Glazed Cornish Hens
This recipe yields four servings, and can be increased or decreased easily.
2 Cornish hens, halved
One stick, 1 / 4 lb, 113 g. butter, melted
1 / 4 cup / 60 ml. honey
1 teaspoon / 5 ml. ground cinnamon
1 teaspoon / 5 ml. ground cumin
1 / 2 teaspoon / 2 1/2 ml. ground turmeric
3 tablespoons / 15 ml. soy sauce
Method
See Also
1. Preheat oven to 400 degrees F. In a small saucepan over medium heat, whisk together butter, honey, soy sauce and spices. Brush on to hens.
2. Place hens on racks on sheet pans – one baking sheet should hold four servings easily – and place in lower half of oven. Roast hens for 30 to 40 minutes, basting frequently with honey mixture. Instant read thermometer inserted into thickest part of thigh should register 160 degrees F. Serve over couscous.
Orange Marinated Cornish Hens
This recipe is by Kevin Weeks and is reprinted with permission. Yields four servings.
2 Cornish hens, halved
2 cups / 480 ml. orange juice
1 / 3 cup / 80 ml. soy sauce
1 / 4 cup / 60 ml. dry sherry
3 tablespoons / 45 ml. toasted sesame oil
Juice from 1 / 2 lemon
2 teaspoons /10 ml. garlic, minced
3 teaspoons / 15 ml. fresh ginger, minced
1 / 2 teaspoon / 1 ½ ml. Chinese five-spice powder
2 scallions, cut into one-inch lengths
Method
1. Preheat oven to 400 degrees F.
2. Mix all ingredients except hens and scallions in small sauce pan. Bring to boil, then set aside and cool to room temperature. Pour marinade into large plastic bag. Add hens and scallions and refrigerate for eight hours or overnight, turning occasionally to evenly distribute marinade.
3. Before cooking, strain the marinade through a fine sieve into a small saucepan. Over medium high heat, bring the marinade to a boil and reduce by two-thirds. This will take about 15 minutes.
4. Arrange hens on rack on baking sheet and brush them with the reduced marinade. Roast for 30 to 40 minutes, basting every 10 minutes. Instant read thermometer in thigh should register 160 degrees. When they are done, remove from oven, tent with foil, and allow them to rest for 15 minutes. Drizzle with reduced marinade and serve over brown or wild rice.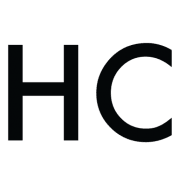 Anne Mooney
Anne Mooney is a personal chef in Winter Park, FL. She spends her days thinking about, talking about, reading about, writing about, planning, preparing, eating or traveling to find the next meal. Perhaps it's for a client – or maybe for Anne, her husband and their friends. Whatever's going on -- it's all about food.