Grand Central Market Los Angeles: Eggslut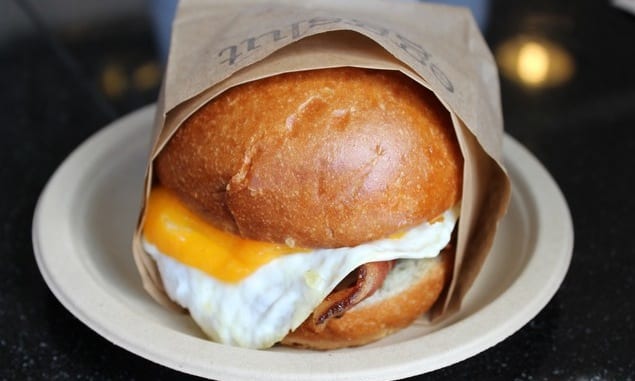 Alright, maybe it was the catchy name that got our attention. But the hardwood smoked bacon, a perfectly fried over medium egg, and warm cheddar all snug within a soft Portuguese bun with chipotle mayo will keep you coming back.
By Sheila McGrory-Klyza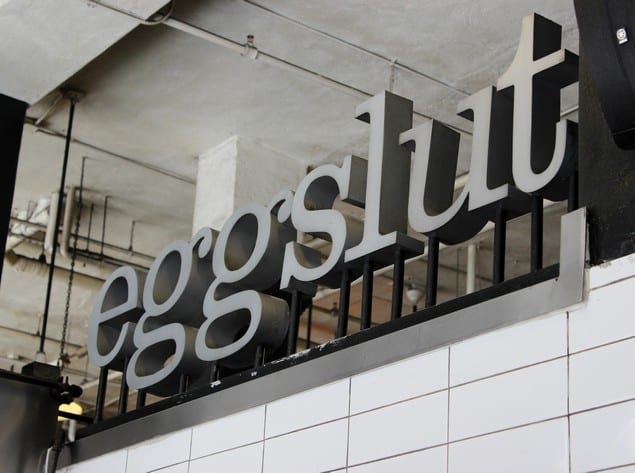 Alright, maybe it was the catchy name that got our attention. And maybe the name accounts just a bit for the long line of people who are willing to wait at this modest downtown LA spot located in the Grand Central Market. But the name is not what keeps bringing them back, us included.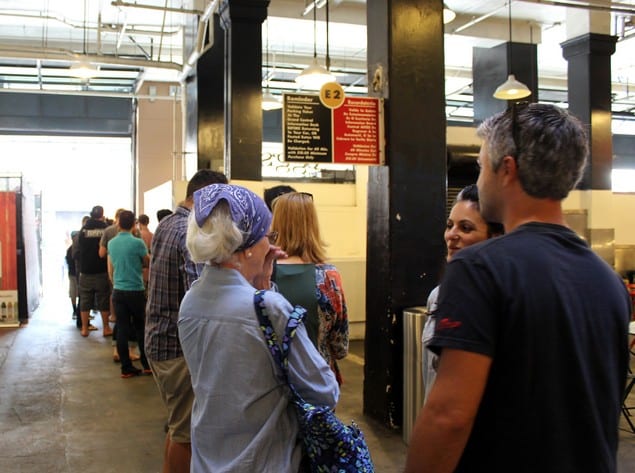 During a recent trip to LA, we ate breakfast at Eggslut three times, and probably would have even more if we had discovered it sooner. Grand Central Market is an historic food emporium that's been around since 1917, but a recent renovation has attracted what's been described in the New York Times as "30 of the best food vendors in the city." It's smack dab in the middle of downtown, which itself is shedding some of its grubbiness and undergoing a massive food revival.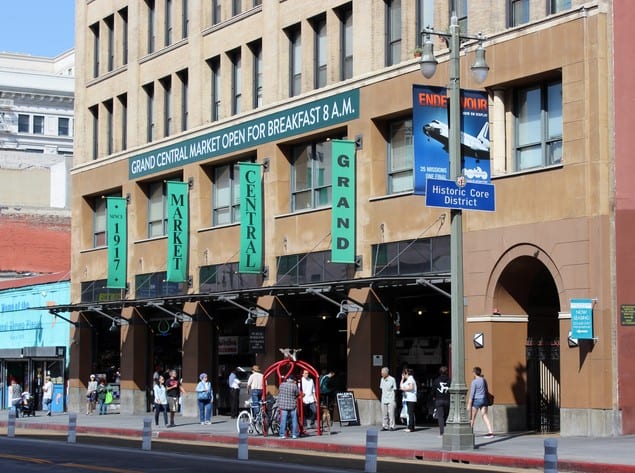 The Market is an eclectic mix of old-time vendors and new purveyors, with most displaying uber-cool vintage neon signs.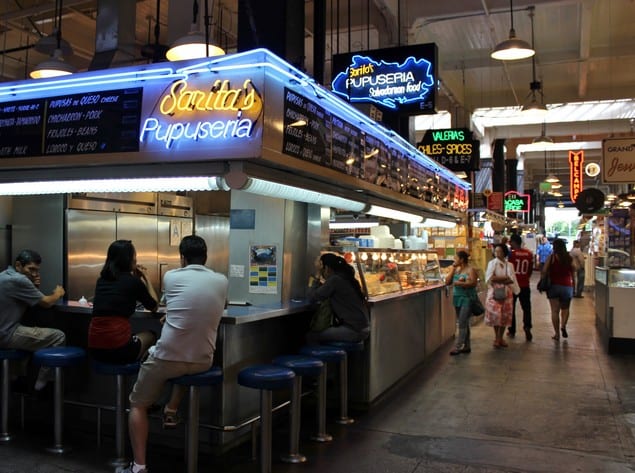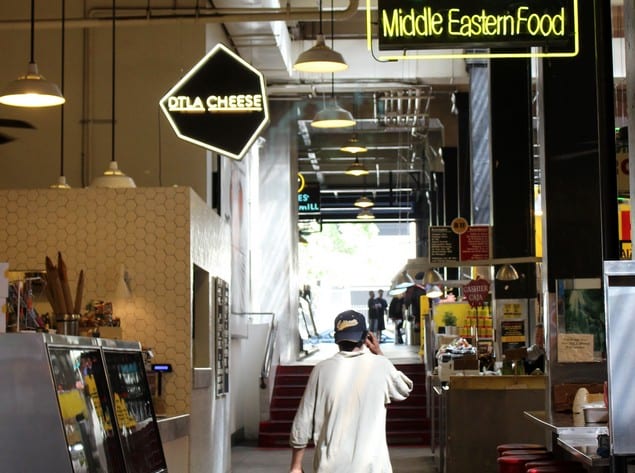 Eggslut jumped into this mix last November, and lines have been forming ever since. The times we were there the line moved fairly quickly, but we occupied ourselves by sharing a breakfast appetizer (twice) of a salted caramel croissant from Valerie, a bakery a few stalls away.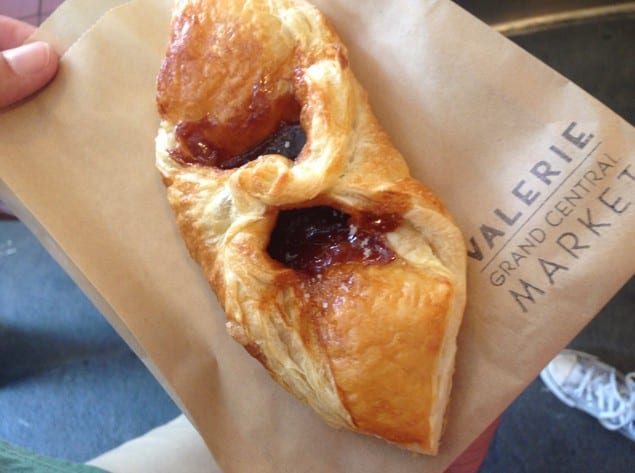 I've eaten my share of croissants and I have to say that this genius combination vies for the best I've had outside of France. The light, flaky pastry cradles perfectly gooey, dark caramel, with a just-right sprinkling of fleur de sel on top. Our appetites were piqued. And it was a good thing they were. Eggslut specializes in egg sandwiches, but these are not your average egg sandwich.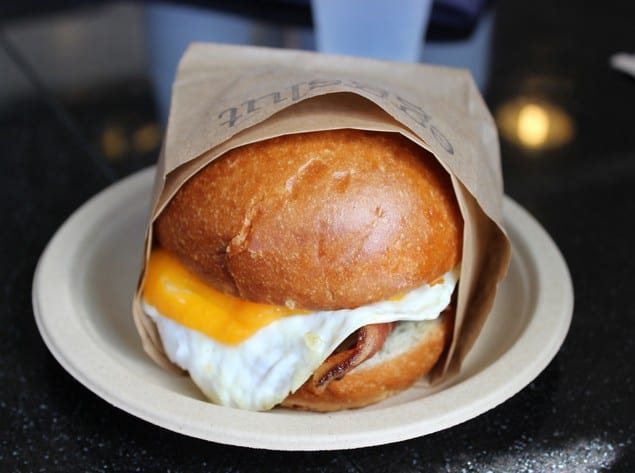 The Bacon, Egg, and Cheese is an ideal rendition of this classic combination. Most mornings, this was Chris's choice and alas, from here on out, it's what every run-of-the-mill egg sandwich will fall short of. Hardwood smoked bacon, a perfectly fried over medium egg, and warm cheddar all snug within a soft Portuguese bun (a purist, he forewent the chipotle ketchup).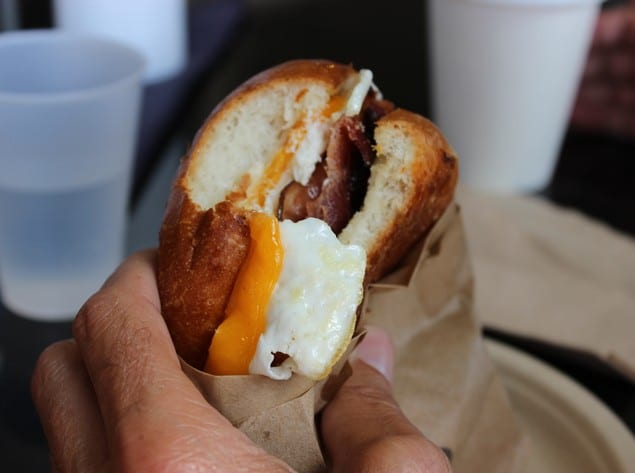 My favorite was the Fairfax, with a few modifications: scrambled eggs with snipped chives, cheddar, and caramelized onions. I omitted the sriracha mayo, added a house-made turkey sausage patty, and also for a slight upcharge opted for a freshly baked buttermilk biscuit instead of a bun.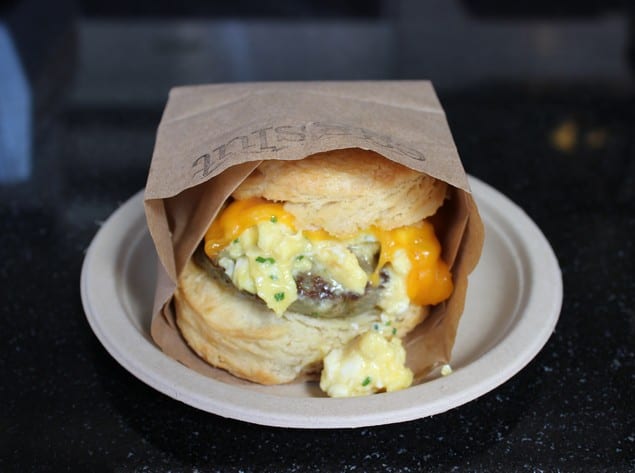 Having gone to college in North Carolina, I consider myself something of a biscuit aficionado and these Eggslut biscuits are the real deal. Good thing these sandwiches are served in a paper wrapper because this one was a mouthful of pure bliss. It was practically falling out of its wrapper. I'm not usually one to skip lunch, but this sammie kept me feeling satiated until late afternoon.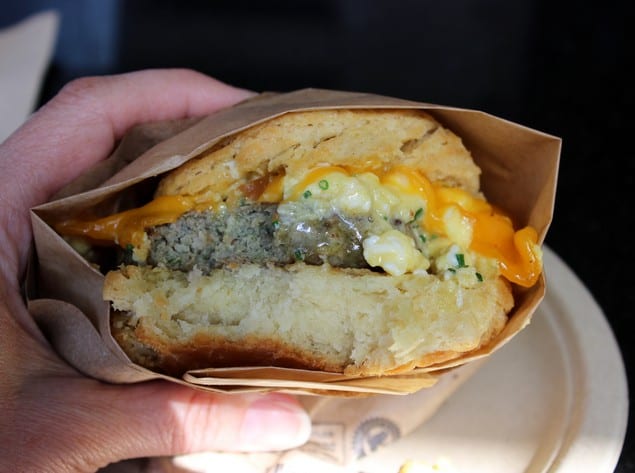 If Eggslut had a motto, it would have to be: Tastes so good but you feel so guilty afterwards. So one of the mornings, I decided to go light and just had a biscuit with a sausage patty and caramelized onions. Even minus the egg and cheese, it was still an oh-so–satisfying way to start the day. We washed it all down with coffee and fresh, raw OJ from Press Brothers Juicery, one stall over.
Being the traditionalists that we are, none of us tried the "Slut": a coddled egg on top of smooth potato purée, poached in a glass jar and served with toasty crostini. We saw them coddling away in their warm water bath and were tempted, but stuck with sandwiches.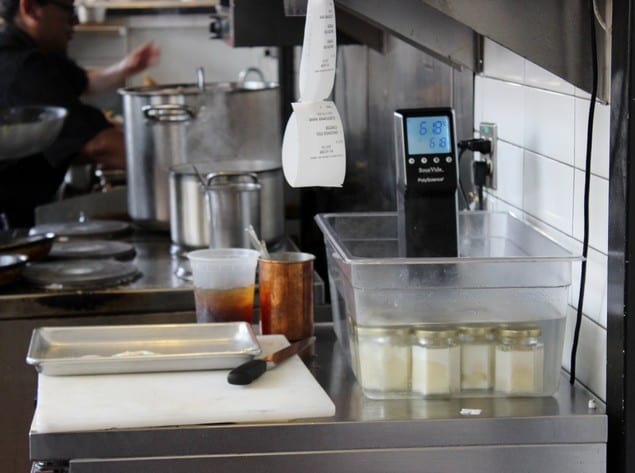 A young woman working behind the counter told us about Eggslut's history and how it started out as a popular Food Truck. We asked about the line, and she said that it's pretty steady all day, but starts to let up around 3 pm.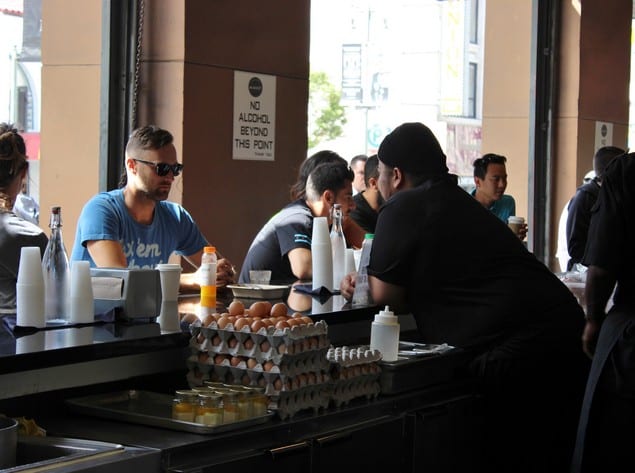 Once we were lucky to snag a spot at the counter, overlooking the small, busy kitchen. We watched one of the owners attentively baste a steak, demonstrating care and technique in his handling of the meat as he prepared it for the lunch hour.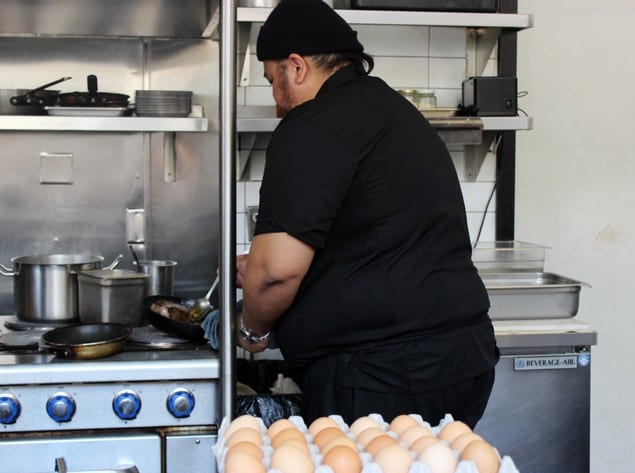 Regrettably we never went for lunch. That will have to wait until our next visit to the West Coast. We ate at many fine establishments during our stay in LA, but Eggslut was, hands down, the most memorable, and the most satisfying.
Sheila McGrory-Klyza
Sheila McGrory-Klyza is a writer who is interested in the intersection of food, culture, and conservation. She is mainly a self-taught cook, but has taken a class here and there. She lives in a small Vermont village and is inspired by the bounty of food producers and growers surrounding her. An avid Francophile, she has also lived in France at a few different times, most recently in Paris in 2010. She writes about her food adventures in Vermont and France, and other culinary travel, on her blog The Vermont Epicure.