Gooseberries are surprisingly tart and although they cook down into a juicy filling, this galette would be best served with a dollop of ice cream or creme fraiche.
By Sara Clevering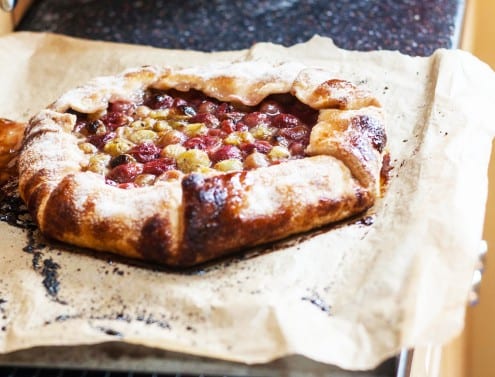 For me, gooseberries are one of those quintessentially British fruits, like damson plums or sloes, that I nonetheless never managed to try while I lived in London.
To rectify this, I've been on the lookout for them for the past several years, only to be disappointed. But this year's fruit crop in Massachusetts is proving to be amazing–tons of sour cherries have now given way to red, black, and even golden raspberries, along with red and black currants and yes, gooseberries.
The price, unfortunately, reflects the fact that these gooseberries are so hard to come by. So even though I splurged on two generously filled half pints at the farmer's market, I came home to find I didn't even have the four to five cups required for a pie. Fortunately, I had enough for pie's rustic French cousin, a galette.
While you thankfully don't have to chop gooseberries (which must be as tedious as cutting up grapes or cherry tomatoes for toddlers) they do require a bit of prep work–they need to be topped and tailed, which is really just removing the stem from one end and the blossom from the other. It's easy enough to do, but given how these tiny bits tend to stick to your fingers, and then rub off on the next gooseberry you reach for, you'll want to wash your berries after this process. Once done, the gooseberries look much like grapes, albeit rather veiny ones.
See Also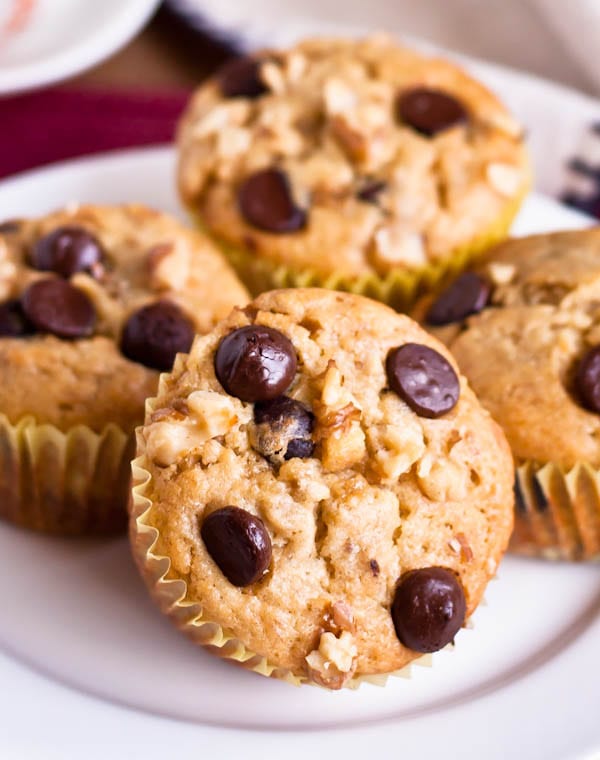 Then it's just a matter of assembly. It's easy to find helpers who will enjoy sprinkling the cinnamon sugar over the berries and the crust.
Gooseberries are surprisingly tart, and are said to taste a bit like strawberries–which is true, but not something I would have noticed had I not already been aware of the comparison. They cook down into a juicy filling, and have a surprising richness–making it easy to see why gooseberries complement savory dishes so nicely. For dessert, however, a tart yogurt ice cream or dollop of creme fraiche would nicely accompany this galette, with the fruit's juices swirling together with the melting cream.
Print
Gooseberry Tart
Gooseberries are surprisingly tart and although they cook down into a juicy filling, this galette would be best served with a dollop of ice cream or creme fraiche.
Author:

Sara Clevering, adapted from Lindsey Shere

Prep Time:

1 hour

Cook Time:

50 mins

Total Time:

1 hour 50 mins

Yield:

1

2

1

x
Category:

Dessert

Cuisine:

French
Pastry
1 cup

all-purpose flour

¼ teaspoon

salt

¼ teaspoon

sugar

6 tablespoons

cold unsalted butter, cut into

½

-inch dice
About

3 tablespoons

ice water
Filling
½ cup

plus 3 tablespoons sugar

¼ teaspoon

cinnamon

1 tablespoon

all-purpose flour

1 pint

gooseberries (about

3 cups

), stems and tails removed
Instructions
Make the crust.
In a large bowl, mix the flour, salt and sugar. Using a pastry blender (or two knives or forks) or your fingers, cut or rub in the butter until the mixture resembles a mix of coarse cornmeal with larger particles the size of peas. (I.e. you'll still have a fair amount of larger chunks of butter). Stir in the ice water with a fork. When the dough holds together, knead it a few times against the side of the bowl to smooth it out. (If the dough doesn't hold together, add a few more drops of ice water.) Pat the dough into a disk, and wrap and refrigerate for at least 30 minutes or overnight.
Preheat the oven to 400F. Flour a surface and roll out the dough into a round about 14 inches in diameter. (You may have to wait a few moments for the dough to soften). It need not be perfect around the edges as this gives it its rustic look. Lay it on a large baking sheet or pizza pan lined with parchment paper and refrigerate briefly while you prepare the filling (but no longer as the crust will get to hard to fold over the filling later).
Make the filling and assemble the tart
In a small bowl, mix together the sugar and cinnamon. Mix 1 tablespoon of the cinnamon-sugar with the flour and sprinkle this mixture over a 9-inch area of the pastry. Spread the prepared gooseberries on top. (I rolled out the dough before prepping the gooseberries; the dough chilled while I topped and tailed the berries). Reserve 1½ tablespoons of the cinnamon-sugar and sprinkle the remainder over the gooseberries. Fold the edges of the pastry up over the berries to form a 9-inch free-form tart, making pleats and pressing them together lightly. Brush the pastry with water and sprinkle with the reserved cinnamon-sugar.
Bake the tart in the center of the oven for 40 to 50 minutes, or until the gooseberries are bubbling and lightly browned and the pastry has caramelized in spots and is well browned on the bottom. Cut the tart into wedges with a sharp knife and serve.
Sara Clevering
Sara sees cooking and baking as a delicious way to connect with the past and travel the world from her kitchen. She is commited to preparing homemade, unprocessed meals for her family and is always looking for tricks to fit this into a busy schedule. Sara is currently in the Boston area after several years living in London, Spain, and the Czech Republic, and travelling extensively in Eastern and Western Europe, always making sure to experience local culture through food. She also blogs with her sisters at www.threecleversisters.com