The combination of sweet golden pears and creamy ricotta is absolutely heavenly, and the honey drizzled on top adds just the right amount of sweetness.
This Golden Pear and Honey Ricotta Tart is the perfect dessert for any occasion. The pears add a beautiful pop of color, and the ricotta and honey make it both creamy and sweet. Serve it with a scoop of vanilla ice cream on top for an extra special treat. Your guests will be begging for seconds.
About the cheese
Ricotta cheese is a great ingredient to use in this tart because it has a creamy, smooth texture that pairs well with the sweet and tender golden pears. It also helps to add richness and flavor to the tart filling.
Ricotta is a type of Italian cheese made from whey, which is a byproduct of cheese production. It is known for its mild, slightly sweet flavor and soft, creamy texture. This makes it a versatile ingredient that can be used in both sweet and savory dishes.
In this tart, the ricotta provides a delicious base for the pear slices, and the honey and cinnamon enhance its flavor even further. The result is a rich and satisfying filling that complements the sweet pears perfectly. Plus, the ricotta is a good source of protein and calcium, making this dessert a slightly healthier option compared to some other sweets.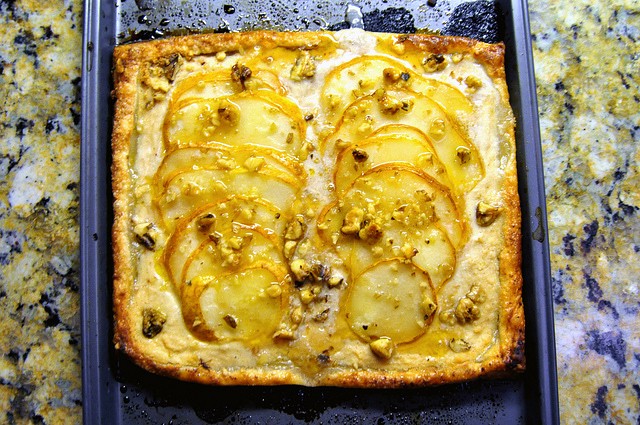 About golden pears
Golden pears, also known as Bartlett pears, are a type of pear that is known for their sweet, juicy flesh and yellow-green skin. They are one of the most popular varieties of pears, and are often used in cooking and baking because of their versatility and delicious flavor.
One of the things that makes golden pears special is their delicate, sweet flavor. They have a smooth, tender texture that makes them perfect for eating raw, or for using in recipes where you want the pear flavor to shine through. They are also very juicy, which makes them great for adding moisture and tenderness to dishes.
In addition to their flavor, golden pears are also prized for their appearance. Their yellow-green skin gives them a vibrant, golden color that makes them a beautiful addition to any dish. This makes them a great choice for using in desserts like this tart, where their color can add visual appeal to the finished dish.
Beginning with preparation time to cooking time, this tart is a no-stress crowd pleaser that tastes wonderful and is visually stunning.
Pear & Honey Ricotta Tart with Walnuts
This pear tart serves as a great option for a deliciously rustic dessert that utilizes seasonal and local ingredients.
Ingredients
1 lemon
1 Cup (229.5 g) ricotta cheese
1 tsp ground cinnamon
1 tsp granulated sugar, plus more for dusting
3 tsp honey
2 pears
1 puff pastry sheet
1 tbsp butter
½ Cup (57.96) Walnuts (more if needed)
Instructions
Preheat the oven to 400?F.
Zest about 1 teaspoon from the lemon and set it aside.
Next, juice about 1 teaspoon of the lemon juice and also set aside.
Mix together the lemon juice, ricotta, cinnamon, sugar, and 2 tsp of the honey together in a medium bowl and set aside.
Cut each pear into thin slices- about a ¼ inch. Avoid and discard the stems and seeds. Coat the pears with the lemon juice to prevent them from browning.
Cut a standard puff pastry sheet in half lengthwise (you should have two 10"x5" sheets). Then, score each half puff-pastry sheet with a ½" border, being careful not to cut all the way through!
Divide and spread the ricotta mix between the two puff pastry sheets.
After doing so, layer the slices of pear on top of the ricotta.
And finally, dot with dabs of butter.
Gently wet the borders of each tart with your fingers and generously coat the borders with a dusting of granulated sugar.
Bake the tarts for about 10 minutes, and remove and sprinkle the ½ C of walnuts over the tart.
Bake for another 10-15 minutes until the pastry is golden and puffed.
Heat up the remaining 1 tsp of honey and pour over the pears.
Finish the tarts with reserved lemon zest.
Makes 2 tarts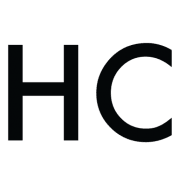 Liz Barclay
Liz Barclay currently lives in Brooklyn, NY working as a photographer and photojournalist for Village Voice and is a contributing photographer to a variety of publications including NY Times, Bon Appetit, and others. She is an active explorer of the culinary arts, food culture, blogging, gathering, and food styling. Liz has a professional and personal blog www.lizbarclay.tumblr.com, that she uses to document and share her culinary & photography adventures.