Golden Pear and Honey Ricotta Tart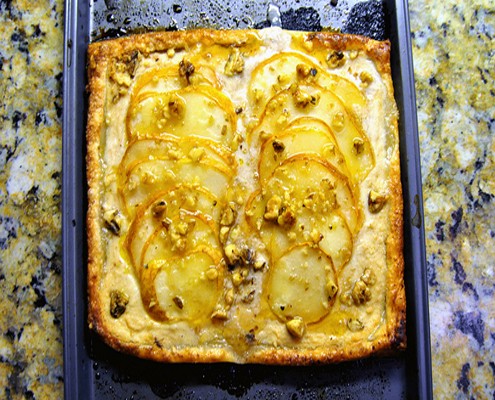 This pear tart serves as a great option for a simplistic, rustic dessert that utilizes seasonal and local ingredients.
By Liz Barclay
Pears contain a variety of health benefits including fiber, Vitamin A, B, C, E, and promote digestive health. Paired with the ricotta, the pears provide a nice contrast between a savory and sweet against the ricotta. Local honey is used in the recipe as well. Beginning with preparation time to cooking time, this tart is a no-stress crowd pleaser that tastes wonderful and is visually stunning.

Pear & Honey Ricotta Tart with Walnuts
This pear tart serves as a great option for a simplistic, rustic dessert that utilizes seasonal and local ingredients.
Ingredients
1 lemon
1 Cup (229.5 g) ricotta cheese
1 tsp ground cinnamon
1 tsp granulated sugar, plus more for dusting
3 tsp honey
2 pears
1 puff pastry sheet
1 tbsp butter
½ Cup (57.96) Walnuts (more if needed)
Instructions
Preheat the oven to 400?F.
Zest about 1 teaspoon from the lemon and set it aside.
Next, juice about 1 teaspoon of the lemon juice and also set aside.
Mix together the lemon juice, ricotta, cinnamon, sugar, and 2 tsp of the honey together in a medium bowl and set aside.
Cut each pear into thin slices- about a ¼ inch. Avoid and discard the stems and seeds. Coat the pears with the lemon juice to prevent them from browning.
Cut a standard puff pastry sheet in half lengthwise (you should have two 10"x5" sheets). Then, score each half puff-pastry sheet with a ½" border, being careful not to cut all the way through!
Divide and spread the ricotta mix between the two puff pastry sheets.
After doing so, layer the slices of pear on top of the ricotta.
And finally, dot with dabs of butter.
Gently wet the borders of each tart with your fingers and generously coat the borders with a dusting of granulated sugar.
Bake the tarts for about 10 minutes, and remove and sprinkle the ½ C of walnuts over the tart.
Bake for another 10-15 minutes until the pastry is golden and puffed.
Heat up the remaining 1 tsp of honey and pour over the pears.
Finish the tarts with reserved lemon zest.
Makes 2 tarts
Liz Barclay
Liz Barclay currently lives in Brooklyn, NY working as a photographer and photojournalist for Village Voice and is a contributing photographer to a variety of publications including NY Times, Bon Appetit, and others. She is an active explorer of the culinary arts, food culture, blogging, gathering, and food styling. Liz has a professional and personal blog www.lizbarclay.tumblr.com, that she uses to document and share her culinary & photography adventures.