This dish is the reason why I live to eat pork.  This recipe is by far the best-ever Char Siu (Cantonese BBQ Pork Belly) I've tried and tested.  So, what are you waiting for? Go put some pork on your fork now. 
By Josephine Chan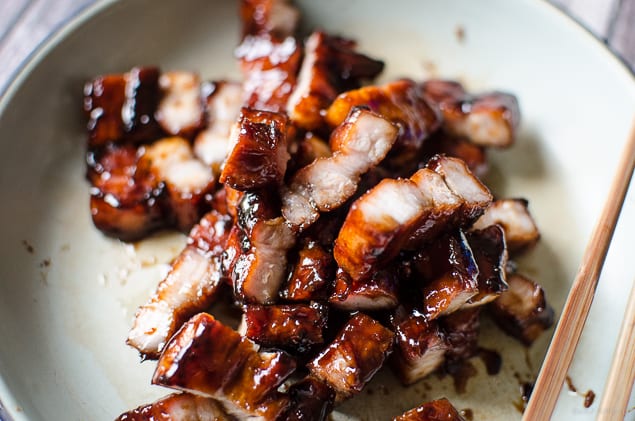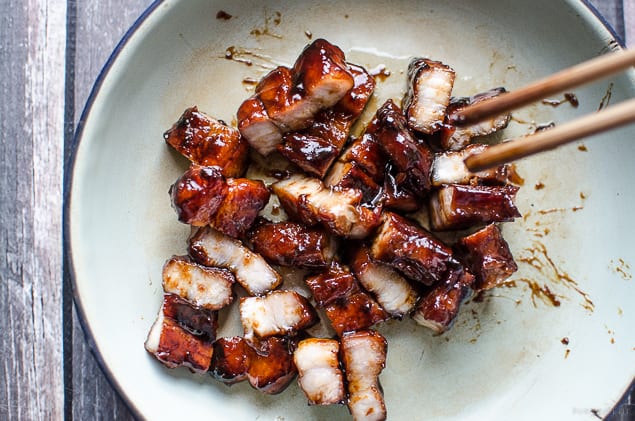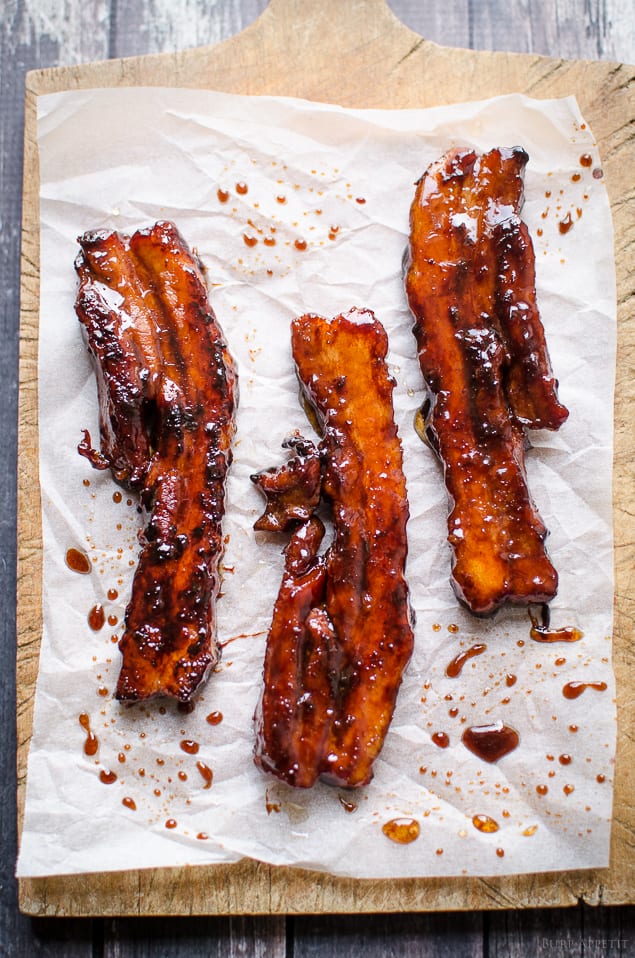 One dish … This one dish is the reason why I love pork so much.  It represents all the best quality of how a pork should taste:
Succulent
Juicy
Fatty
Charred
Sweet
Sticky
Traditionally paired with chicken rice, wan tan noodles or just plain steamed rice, char siu (Cantonese BBQ Pork Belly) IS one of the most yummy pork dish ever.  Hands down!  And you know what?  If you've been going to Chinatown to get those char siu take away – well, forget that. It is unbelievably easy to make this at home from scratch and you'll be shocked and pleased as to how easy that is.
See Also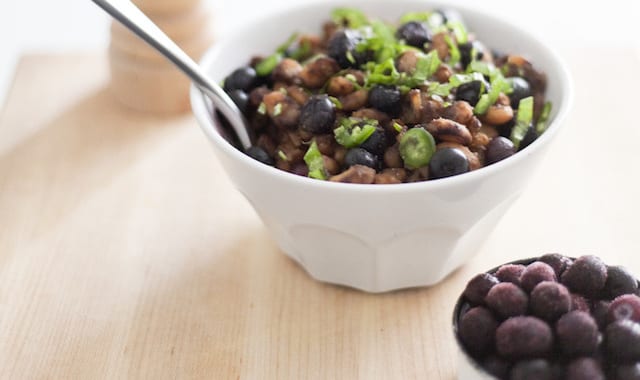 "I closed my eyes and savour the succulent, juicy, sweet char siu pork belly.  So good! So good! I was transported back to Asia, for real."
Recipe is adapted from blogger The Food Canon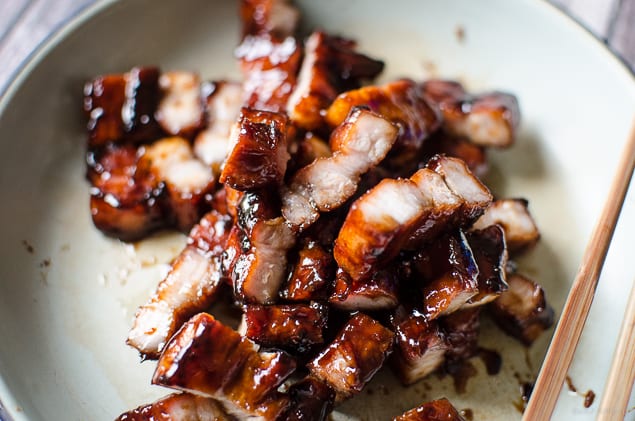 Best-ever Cantonese BBQ Pork Belly
Josephine Chan
This recipe will be the best Char Siu, Cantonese BBQ Pork Belly, you will ever make at home.  What are you waiting for? Get some pork on your fork.
Ingredients
500

g

fatty pork belly strips

boneless & skin off

1

tsp

salt

1

tsp

white pepper

1

tsp

five spice powder

1

tsp

dark soy sauce

1

tsp

bi-carb soda

1

tbsp

chinese wine

2

tbsp

honey

plus extra for glazing

2

tbsp

sugar

2

tbsp

hoisin sauce

2

tbsp

vegetable oil

2

cups

water
Instructions
Heat a wok on medium heat. When the wok is hot enough, pour 2 tbsp vegetable oil into the wok.

Place the pork belly strips into the wok and gently brown both sides for about 3-4 minutes. Add the rest of the sauce ingredients into the wok. Stir and ensure the pork belly strips are coated well with the sauce.

Turn the heat to low and gently simmer for 40 minutes or until pork belly is tender. Turn the pork belly every 10 minutes to ensure both sides are evenly cooked.

By 30 minutes, the sauce will be reduced by half and start turning sticky. Once the pork belly is tender to touch, remove from the wok. Then pour the sauce into a clean bowl and reserve that to dress your steamed rice. Leave a tbsp of sauce/oil in the wok.

Heat the wok on medium heat and return the pork belly back into the wok. Sear the meat on both sides for about 2-3 minutes each side until they are charred to your liking.

Remove and glaze with honey. Then, slice the pork belly. Serve with warm steamed rice, noodles or bao.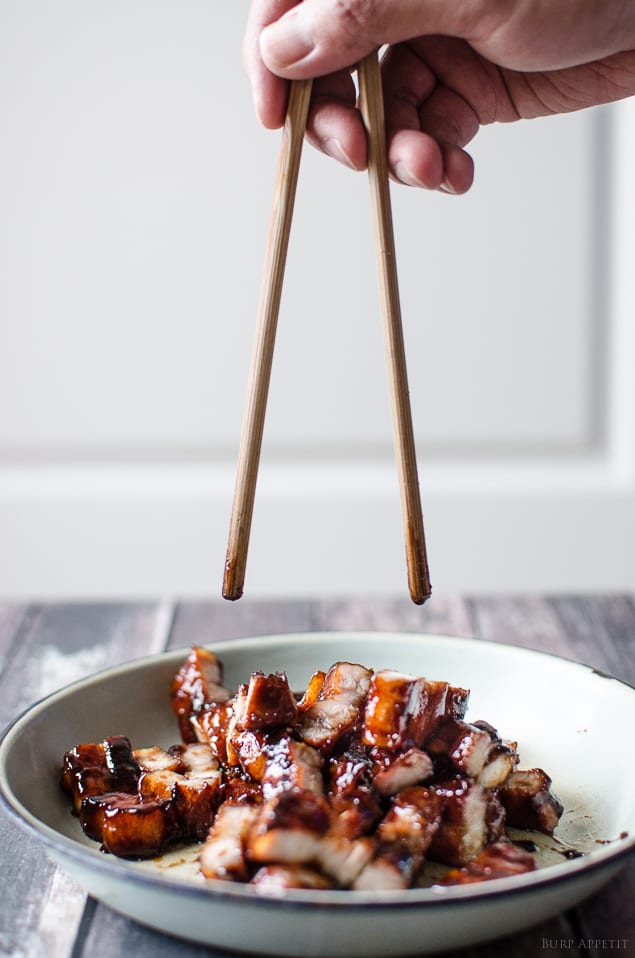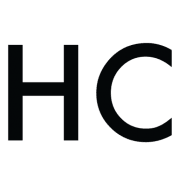 Josephine Chan
Josephine is a Melbourne-based food blogger with a passion for food and photography. She loves to cook recipes that remind her of her childhood and ignite the classic flavours she has loved from her home in Malaysia. Follow her journey through her blog, Burp! Appetit where she explores and experiment with home-style cooking from Malaysia, Asia and rest of the world.