These golden fried lamb and chickpea nuggets from Amrita Chowdhury are as easy as they are addictive.
By Amrita Chowdhury
Two words. Lamb fritters.
They're new to me but I can assure you that I will be keeping them around for a long time.
I have so far been slavishly devoted, as much as one can be, to lamb. Especially lamb curry. They conjure up memories of my childhood and of my grandmother who could easily make your toes curl with her version of lamb curry. And after a spell in the kitchen she used to smell of talcum powder, books and turmeric. She was a bespectacled professor of Organic Chemistry, a lover of all things chocolate and she used to cook lamb curry for me.
I never really learnt to regret anything. Feel free to blame it on my laziness. Unfortunately for me, my grandmother passed away only a couple of years before I even wanted to learn how to cook. I would have liked to learn about lamb curry from her. I think she would have liked that too.
But far from despair, I'm pleased to tell you that she taught it to my mother sometime after my parents got married. And that curry has shown up on my mother's dining table every holiday and special occasion since. I feel silly saying this, but along with a priceless gold neck-piece and  a silver powder case, the recipe is almost an heirloom. It would be brutal of me not to share it would you.
Not today though. Don't look at me like that…I promise to do so very soon in the near future. But I have here with me some golden fried lamb and chickpea fritters, which with a little effort could easily give lamb curry a run for its money.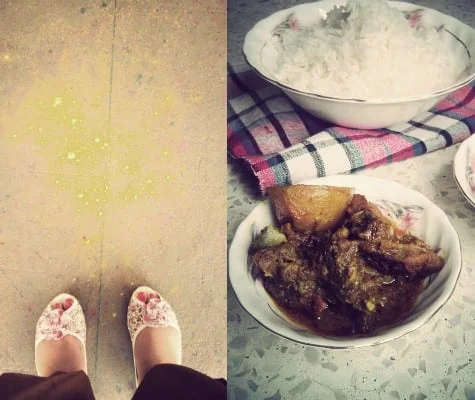 I'm writing to you after recovering from a colour-soaked Holi, one of India's many festivals in which the goal is to end up looking like the entire PANTONE colour library threw up on you. But it always ends with a feast, which, I don't think you'd deny, is the best part. We showered and tried to scrub ourselves back to normal. And then we sat down to peas pilaf, a South Indian egg curry and crispy golden-on-the-outside-meaty-on-the-inside lamb fritters. They're like nuggets really, that are shallow fried till golden. And they do very well when dunked in a sweet mint sauce.
Ideally they make fantastic starters, just something your friends can nibble on over swigs of beer and I discovered yesterday that they never actually last on the platter for more than 15 minutes. But these fritters are not normal everyday snacks. They display special powers one day later when you can just add them to a dal or a chana masala and they quickly turn into a gorgeous lunch. Their crispy coats soak up all the gravy and gives away under your teeth to reveal soft moist centres. It's the kind of lunch you want to have after an especially tedious morning of chores that leave you hot and bothered. Be warned though, when mixed with curried lentils in gravy and an ever-rising humidity, the fritters can become potent sleep-inducers. You might just want to spent the rest of the afternoon lying spread-eagle on your back.
And while I was doing exactly that on the floor of my bedroom, I had visions of my grandmother – of both of us – pottering about in the kitchen exchanging notes on perfect lamb curry and shallow-frying skills. I'm pretty sure she would have downed a large portion of these nuggets and asked for more.
Print
Golden Fried Lamb & Chickpea Nuggets
---
Author:

Amrita Chowdhury

Total Time:

30 minutes

Yield:

20

nuggets

1

x
Description
Golden Fried Lamb and Chickpea Nuggets. Easy, addictive and definitely a keeper.
---
300

gm of chickpeas (about

10 oz

), soaked in water overnight

500

gm of minced lamb or mutton (about

1/2

lb)

2

medium-sized green chilies

1 tbsp

ginger paste

1 tbsp

minced garlic

1

onion, chopped finely
Salt, to taste
Sunflower oil, to fry
---
Instructions
Drain the chickpeas and discard the water.
Blitz the chickpeas along with the lamb and chilies in a food processor till you have a coarse mixture that clumps together. You don't want the chickpeas to turn into a paste.
Put the ginger paste in a strainer and squeeze the juices out into the chickpea-lamb mixture. Discard the ginger pulp.
Add garlic, onion and salt to the mixture.
Use your hands to knead the mixture till everything is well-combined.
Form into balls or nuggets.
Heat oil in a non-stick skillet. The oil should come 2-inches up the walls of the skillet. To check if the oil is hot enough drop a pinch of the lamb mixture in and if it sizzles with a lot of noise then the oil is ready.
Drop in the patties in batches and fry till golden brown. This takes about 6-8 minutes.
Fish them out of the oil and onto a plate lined with paper napkins.
Serve piping hot with dip. Dips with coriander or mint in them would go well with these fritters.
Notes
You might be tempted, but I would strongly advise you against using cooked/canned chickpeas for this one. Using cooked chickpeas would only make the fritters soggy. Sunflower, canola, peanut/groundnut oil have higher smoking points than olive oil, and hence ideal for shallow or deep-frying. When heating the oil make sure it doesn't start smoking though. If it does, then turn off the heat, wait till the smoke clears from the top of the skillet and turn the heat on again. Start frying immediately.
Prep Time:

15 mins

Cook Time:

15 mins
Amrita Chowdhury
Amrita Chowdhury is a self-confessed chocoholic, a compulsive picture taker and a food-obsessed British-Indian. She loves to travel and her food is a manifestation of every city she has lived in. An architect by profession, Amrita is the author behind the food blog The Subjectivist. She loves to write, enjoys oak-matured Scotch and is inexplicably addicted to collecting stationery.