Gluten Free Pear and Ginger Flatbread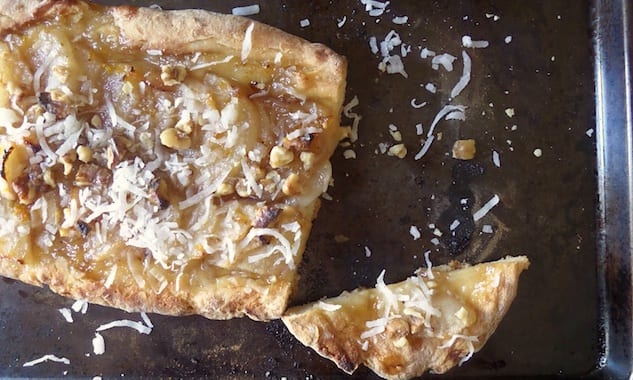 Pear and ginger flatbread with a hint of cinnamon and the fresh, light touch of orange flavors. Use the gluten free bread as a vessel for a variety of flavors.
By Rita Anastasiou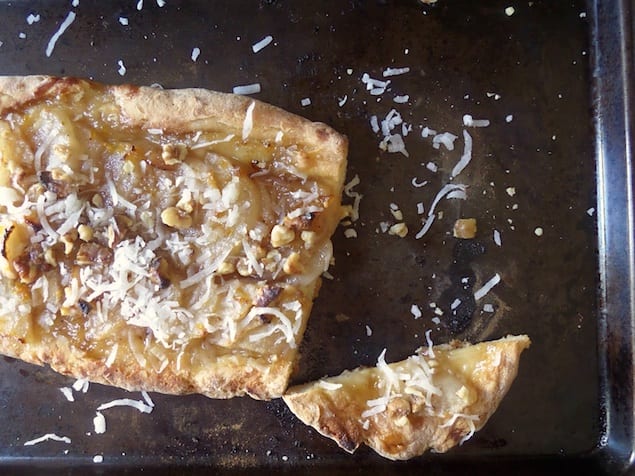 Pear and ginger flatbread with a hint of cinnamon and the fresh, light touch of orange. A perfect combination. The gluten-free flatbread is a great vessel for a variety of flavors.

Gluten Free Pear and Ginger Flatbread
Pear and ginger flatbread with a hint of cinnamon and a light touch of orange flavors. Use the gluten free bread as a vessel for a variety of flavors.
Recipe Type:
Side, Baking
Ingredients
For the flatbread dough:
2 cups (256 grams/9 oz) brown rice flour
2 cups (256 grams/9oz) white rice flour
2 cups (256 grams/9oz) tapioca flour
1 cup (128 grams/4.5 oz) cornmeal
2 tablespoons granulated yeast
1.5 tablespoon kosher salt
2 tablespoon xantham gum
3¼ cups (775 ml/26.20 oz) lukewarm water
½ cup (120 ml/ 4 oz) olive oil
2 large eggs
2 tablespoons honey
For the topping:
6 Bosc pears
⅔ cup (146 grams/ 5.16 oz)packed brown sugar
1 teaspoon fresh ginger,grated
zest of one orange
For the garnish:
Shredded coconut
chopped walnuts
2 teaspoons of orange marmalade
Instructions
Whisk together the flours,cornmeal,yeast,salt and xanthate gum in a 5-quart( 5 liter) bowl or lidded food container.
Combine the liquid ingredients with the honey and add the mixture to the dry ingredients,in a heavy duty stand mixer with a paddle attachment,mix well until the dry ingredients are well incorporated.
Cover and let it in a room temperature,until it rises for approximately 2 hours.
You can use the dough immediately or you can divide it in thirds and refrigerate it in a lidded (not airtight) food container and use it over the next 5 days,or freeze it over the next two weeks.Though is better to handle when is cold. If using immediately,put some rice flour on a clean countertop and knead until is formed into a ball.
Preheat the oven at 425 F (220 C).
Take each third of the dough and try to make an oblong shape With your hands.
Peel the pears,remove the pits and slice them.
In a medium bowl,put the pears,the sugar,the ginger and the orange zest. mix it with a spoon and let it for couple of minutes for the flavors to blend together. Place them nicely over the flatbread,and bake for 20-25 minutes until the crust is nicely brown.
When you remove from the oven, add the coconut,the walnuts and the remained liquid from the pears and brown sugar,mix it with the orange marmalade and drizzle it on top.
Rita Anastasiou
A Greek foodie and dessert-aholic, Rita lives in the crazy rhythms of Las Vegas with her daughter and husband. A graduate of the Academy of Tourism and Culinary Arts of Greece, she has worked as a cook for five years, but she hasn't stop there. At her blog, Gluten Free Home Bakery, she shares gluten free recipes from Greece and beyond.