Quinoa and Cilantro Lime Tempeh Bowl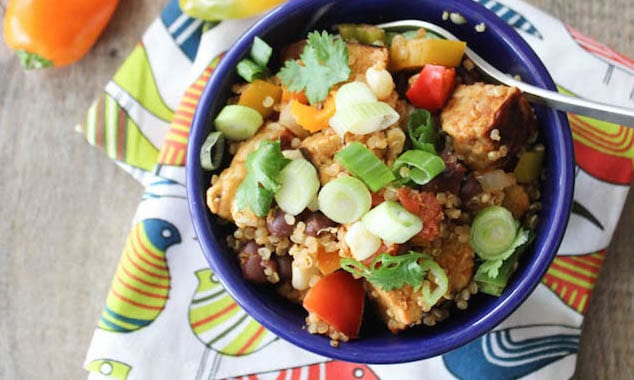 Super easy and flavorful, this vegan recipe brings tempeh to the next level. Be sure to use quality, not bitter tempeh and enjoy the spiced twist of quinoa.
By Robin Runner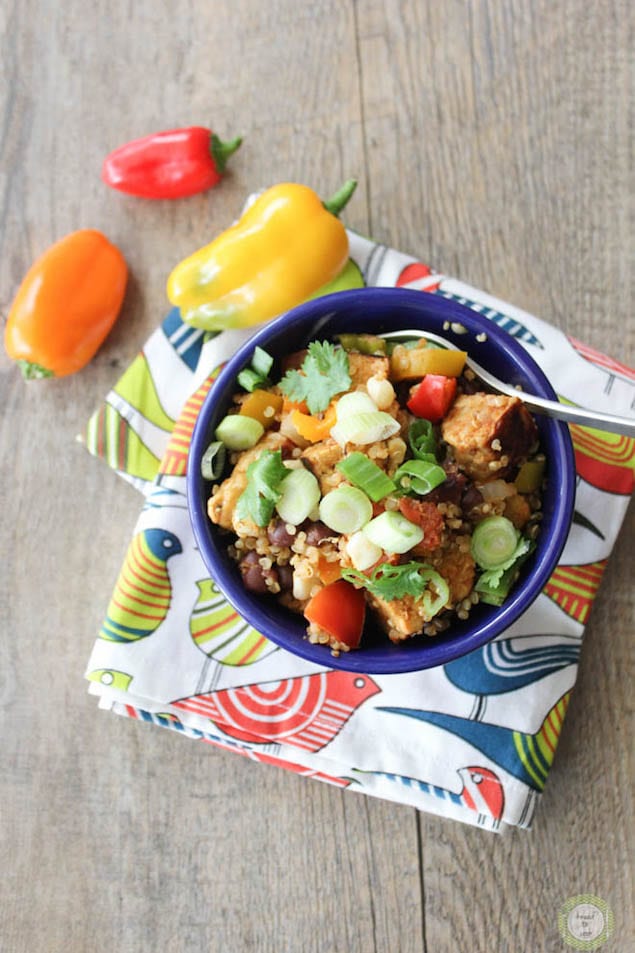 Since becoming a vegan 10 months ago, I've really found a love for tempeh (temp – pay). I love marinating, grilling, broiling or pan frying it in coconut oil. I opted not to marinate this first dish because I really wanted to taste the actual tempeh. This recipe is super easy and I was so impressed with the flavor!

Quinoa and Cilantro Lime Tempeh Bowl
Super easy and flavorful, this vegan recipe brings tempeh to the next level. Be sure to use quality, not bitter tempeh and enjoy the spiced twist of quinoa.
Ingredients
One block of Tempeh (I used Smiling Hara brand)
Coconut or Olive oil
1 cup of cooked quinoa
2 medium sized tomatoes
8 mini peppers or you can use one large bell pepper – diced
¼ of a large yellow onion diced
Olive oil
4 green onions, diced
⅓ cup of black beans, rinsed and drained
Juice from 2 limes
2 teaspoons of ground cumin
1 teaspoon of smoked paprika
Salt and pepper
2 tablespoons of Bragg's Apple Cider Vinegar
Smoked chipotle Tabasco sauce – use as much as you prefer but it gives the dish a nice smoky flavor
1 handful cilantro leaves, washed
Instructions
I pan fried my tempeh in some coconut oil until lightly browned on each side – about 2 minutes per side. Then slice into 8 cubes.
Into a large pan, add your olive oil and heat until hot. Add your onions and cook until translucent. Then add your tomatoes, peppers, black beans, juice, cumin, paprika, salt and pepper and the apple cider vinegar. Cook until heated through.
Then add your Tabasco sauce (as much as you like), cilantro leaves, tempeh and quinoa. Give a good stir – taste and adjust seasonings. Top with green onions to garnish and serve in bowls.
Robin Runner
Robin Runner is the blogger behind www.kneadtocook.com. She grew up around two of her greatest inspirations, her Italian grandmother and her aunt. Both believed in farm to table foods, purity in nature and love as the main ingredient for anything on their menu. Today, Robin is a strong advocate of farming and buying local ingredients, as well as composting to help repurpose food scraps into rich soil for our garden.