Glazed Dulce de Leche Banana Bread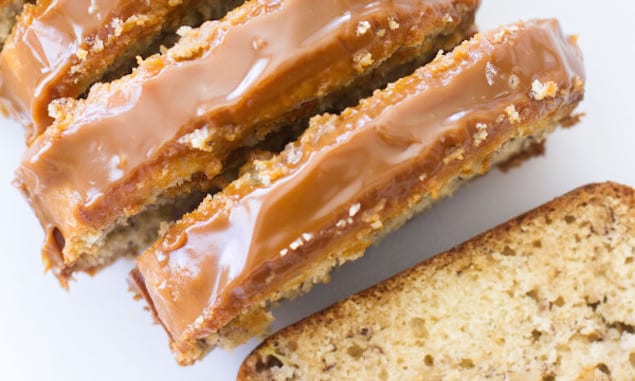 Sweet, soft banana bread is loaded with the flavor you already love and topped with a new, rich dulce de leche glaze that you won't be able to get enough of.
By Michelle Verkade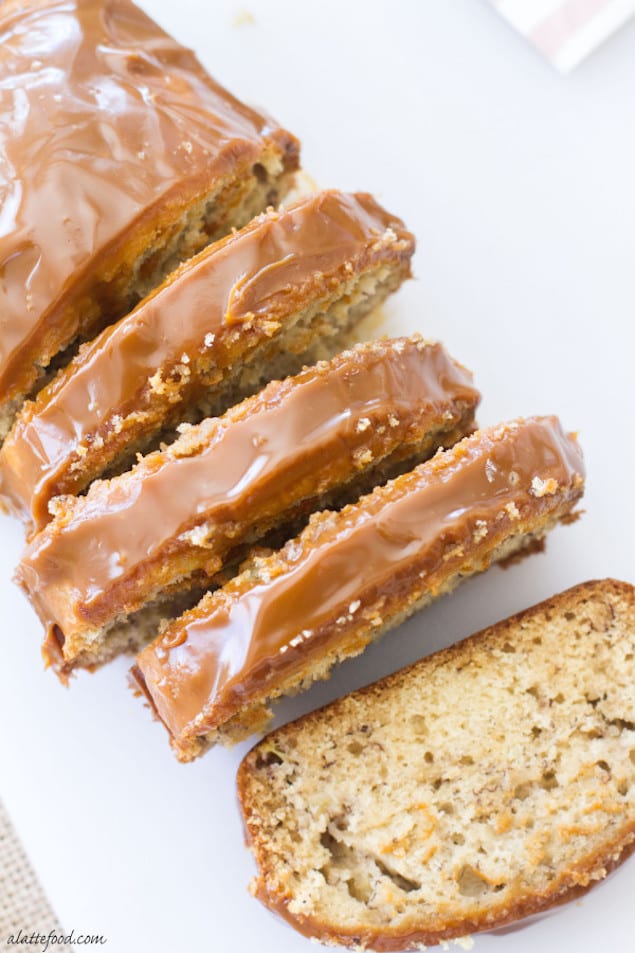 This is what breakfast, snack, and dessert all rolled into one glorious quick bread looks like.
It's basically a crime not to make this, because, wait for it–
Drum roll please…
The glaze is made of dulce de leche.
If I hated banana bread, I would eat this just for the glaze. But I don't hate banana bread. And I
don't hate dulce de leche.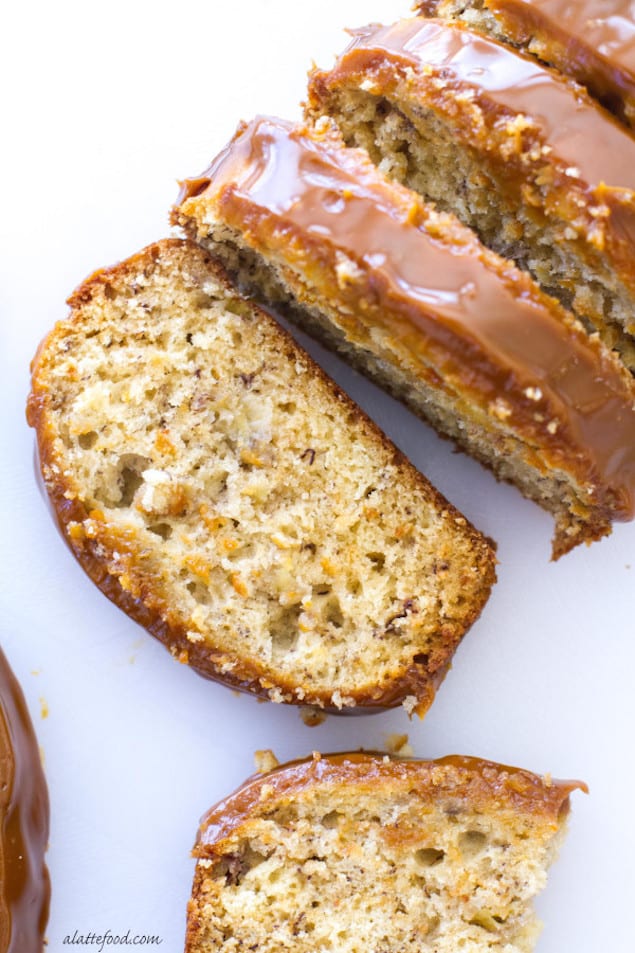 Love banana bread? Try this chocolate chip banana bread with a peanut butter icing.

Glazed Dulce de Leche Banana Bread
Sweet, soft banana bread is loaded with the flavor you already love and topped with a new, rich dulce de leche glaze that you won't be able to get enough of.
Recipe Type:
Dessert, Baking, Cake
Serves:
about 12 to 15 slices
Ingredients
Bread
3-4 medium or large bananas
2 Tbsp brown sugar
1½ tsp vanilla extract
½ tsp ground cinnamon
½ cup butter, softened
1 cup sugar
2 eggs
2 cup all-purpose flour
1 tsp baking soda
¼ tsp salt
Glaze
Instructions
Preheat the oven to 350F. Grease one 9x5 pan or two 8x4 pans.
In a small bowl, mash bananas, brown sugar, vanilla extract, and ground cinnamon.
In a large bowl, cream butter and sugar together until light and fluffy.
Add in eggs and beat until mixed.
To the wet ingredients, sift in flour, baking soda, and salt.
Stir until just combined.
Pour in mashed bananas, and mix until combined.
Bake at 350 for 35-40 minutes (for two 8x4 pans) or until cake tester comes out
clean with just a few moist crumbs stuck to it. If using one 9x5 pan, bake at 350 for
minutes; then lower the temp to 325 and bake for 15-20 or until cake tester
comes out clean with just a few moist crumbs stuck to it.
Allow to cool for 10 minutes. Move to a wire cooling rack.
Glaze
In a microwave safe bowl, heat dulce de leche in 10 second increments, until it has
begun to melt and is easier to work with. Pour dulce de leche over your banana
bread.**
Allow glaze to set and enjoy!
Notes
**Because the dulce de leche glaze is a bit messy, I usually place a silicone mat (paper
towels would work a
Michelle Verkade
Michelle is the creator and recipe developer at A Latte Food, a site dedicated to all things sugar and spice. And coffee. There you will find a variety of delicious desserts and classic comfort foods that are easy to whip up and even easier to eat! For more on Michelle, feel free to visit her blog and connect with her on Twitter, Pinterest, and Facebook.