PARTNER POST – #GarnachaDay is September 18th, join in the celebration of one of the world's oldest grapes with deliciously paired recipes and enter to win a special tasting.
Perfect for game day, these classy rosemary-infused turkey sliders are topped with red wine caramelized onions, crumbled goat cheese, and arugula. A perfect pair with a bottle of Garnacha wine.
By Sarah Fennel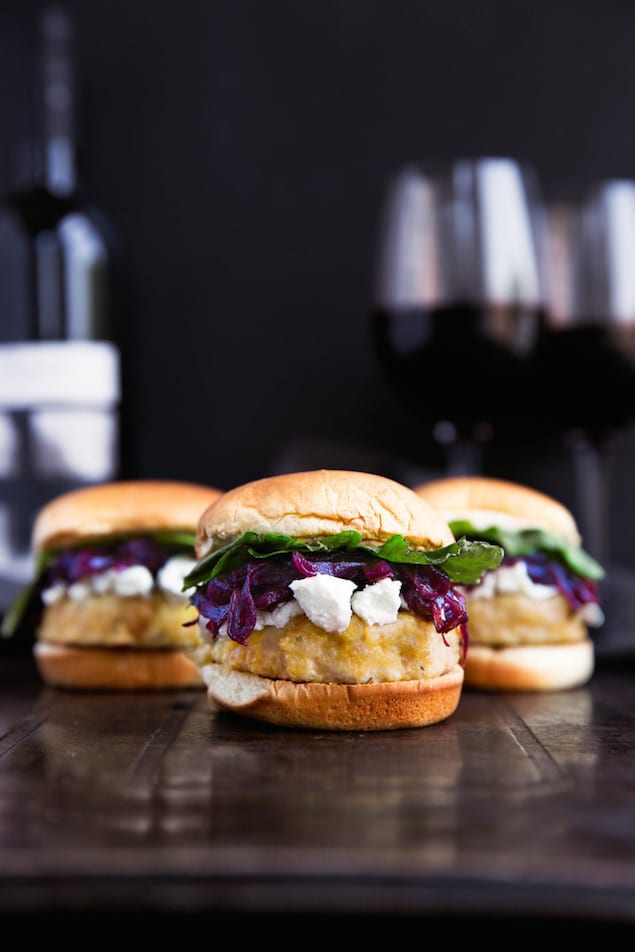 One of the many random tasks I had at my old job was to host Wine Wednesday every week at our market. This meant choosing 2-3 wines to taste out to customers (and myself). When I started, I had no experience in tasting wine.
After weeks and weeks of tasting wines from all over the world, my palate began to recognize different notes and subtleties. I could distinguish a California Cab Sauv from a Bordeaux. I learned that I preferred herbaceous Sauv Blancs to dry, fruity Pinot Grigios. And I could taste a wine and give it a pretty good flavor profiling.

One of my go-to red wines became Garnacha, a Spanish varietal that grows all over the world. What I like most about Garnacha is its adaptability. It is generally low in acidity and blends rich red fruitiness with a kick of spice. As with many other Spanish wines, it's meant to be enjoyed casually with others.
It's also a reasonably priced wine, ranging between $10-$20 a bottle. I mean, helloooo people. A great wine for under $20? Yes please and thank you.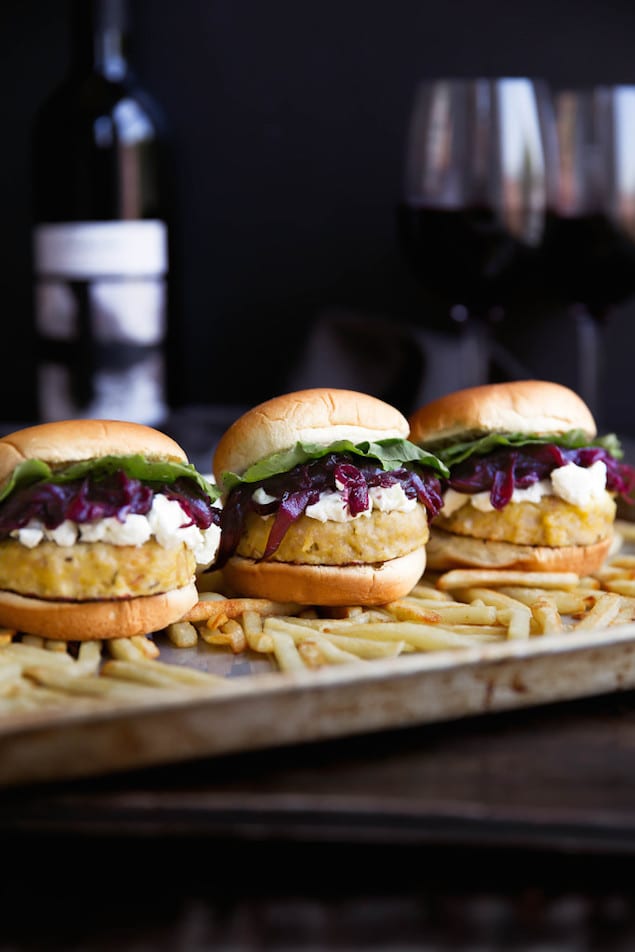 So in celebration of the imminent #GarnachaDay on September 18th, I've created these mouthwatering turkey sliders with caramelized red onions and goat cheese. The burger is flavored with rosemary, which perfectly compliments the grassy goat cheese and sweet caramelized onions.
But the red wine caramelized onions is the big star here: adding Garnacha wine gives the onions an amazing richness and depth that you can't get with caramelization alone.
Click the image below to enter to win a Mediterranean feast for four in your hometown, paired with the best of Garnacha wines.
Garnacha Day— Turkey Sliders with Goat Cheese and Red Wine Onions
Great on game day, classy rosemary-infused turkey sliders are topped with red wine onions, goat cheese, and arugula. A perfect pair with a Garnacha wine.
Ingredients
For the caramelized onions
2 tablespoons olive oil
3 large sweet onions, sliced into thin strips
½ teaspoon salt
1½ cups Garnacha wine
For the turkey burgers
2 slices soft bread, crusts cut off
⅓ cup whole milk
1 pound ground turkey breasts
1 large egg, room temperature
¾ teaspoon salt
½ teaspoon garlic powder
½ teaspoon dried rosemary
8 slider buns, toasted
8 ounces goat cheese crumbles
arugula, for topping
Instructions
Caramelize the onions
In a large pan (caste iron preferred), heat the oil on medium heat until sizzling, then add in the onions. Sprinkle with salt and turn heat to low. Stir the onions every 5-10 minutes for 1 hour 30 minutes. Once the onions get light golden brown and sticky, it's time to pour in the wine. This time could vary based on different stovetops, so go by the color of the onions over the actual time. Pour in ½ cup of wine every 5 minutes until you've poured in 1½ cups, stirring in between each addition. The onions should develop a beautiful magenta-red color that gets more intense the longer it cooks. Cook for an additional 10-15 minutes, then remove from heat. You can store the onions up to 4 days in the fridge.
Make the burgers
Combine the bread and milk in a small bowl, allowing the bread to soak up the milk. Mix it around a little with your fingers so it forms a wet paste.
In a large bowl, combine the rest of the ingredients with the soaked bread and milk, mixing thoroughly. Form into 2 ounce patties roughly ¾" thick (tip: to get even burgers each time, divide the mixture in half, then each half in half, then those halves in half for 8 equal pieces). Allow to sit for 15 minutes so that everything can marinade together.
Heat a large flat-bottomed pan on medium heat. Cook the sliders for roughly 2 minutes on each side, until fully cooked through.
To assemble, place a patty on a toasted slider bun. Top with 1 ounce goat cheese, 1-2 tablespoons of the red wine caramelized onions, and arugula. I also slathered on some dijon mustard, which added an awesome kick!
if (!window.AdButler){(function(){var s = document.createElement("script"); s.async = true; s.type = "text/javascript";s.src = 'http://ab166318.adbutler-tauon.com/app.js';var n = document.getElementsByTagName("script")[0]; n.parentNode.insertBefore(s, n);}());}
var AdButler = AdButler || {}; AdButler.ads = AdButler.ads || [];
var abkw = window.abkw || ";
var plc189471 = window.plc189471 || 0;
document.write(");
AdButler.ads.push({handler: function(opt){ AdButler.register(166318, 189471, [600,300], 'placement_189471_'+opt.place, opt); }, opt: { place: plc189471++, keywords: abkw, domain: 'ab166318.adbutler-tauon.com' }});