Tahini Dressed Sweet Potatoes and Carrots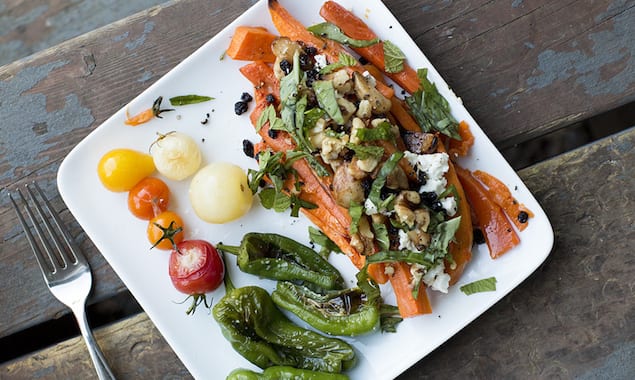 Sweet potatoes and carrots are tossed in tahini dressing before being roasted and served with figs, walnuts, feta, and fresh mint and basil. A beautiful vegetarian side dish.
By Rebekah Hubbard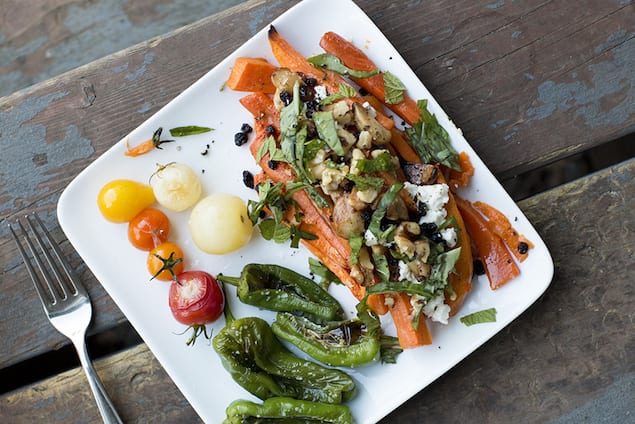 Ok, so this dish is made of sweet potatoes and carrots, but the name doesn't really encompass it all. It should be Tahini Dressed Sweet Potatoes and Carrots with Figs, Walnuts, Feta, Mint and Basil.
Also, I'm obsessed with the fresh herbs in my garden this year. I actually only have two right now, but I'm convinced they are the ones that matter most: basil and mint. I walk out to the garden to grab basil every day, for more than one meal usually, but I use the basil and mint together way more than I thought I would. They're a perfect match.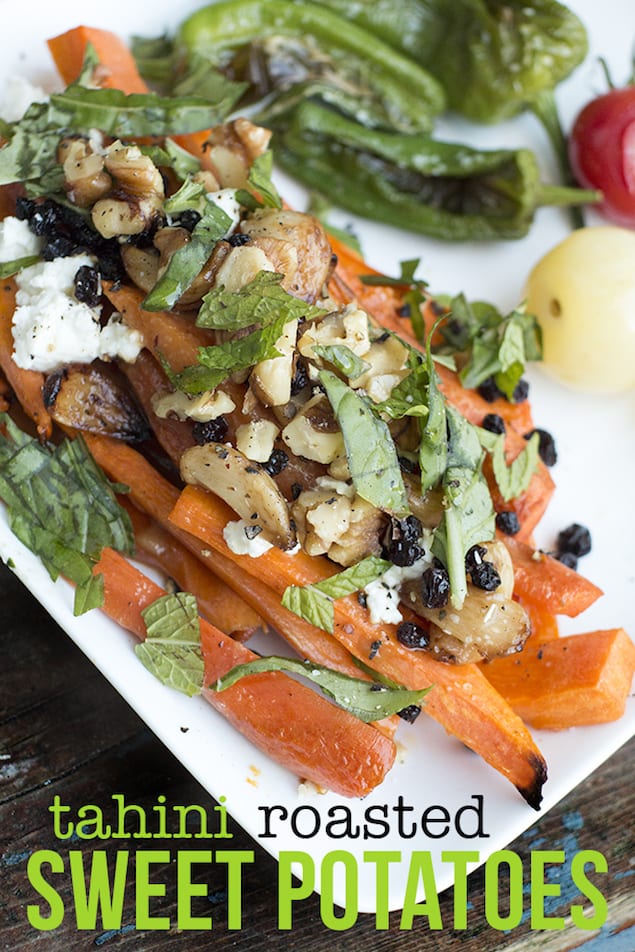 Tahini Dressed Sweet Potatoes and Carrots
Sweet potatoes and carrots in tahini dressing are roasted and served with figs, walnuts, feta, and fresh mint and basil. A beautiful vegetarian side dish.
Ingredients
1 sweet potato, cut into planks
4-5 large carrots, cut into planks
2 Tbsp. canola oil
Heavy pinches of salt
2 Tbsp. currants
2 Tbsp. freshly chopped mint
2 Tbsp. freshly chopped basil
2 Tbsp. chopped walnuts
2 oz. (about 2 square inches) crumbled feta
Dressing:
¼ cup tahini
2 Tbsp. cup canola oil
2 Tbsp. sugar
2 Tbsp. rice vinegar
¼ cup soy sauce
¼ tsp red pepper flakes
Instructions
Preheat the oven to 450 degrees. Toss the sweet potatoes and carrots in canola oil and sprinkle liberally with kosher salt. Roast for 25 minutes or until the edges are browned.
While the veggies cook, whisk together the tahini, canola, sugar, vinegar, soy sauce and red pepper flakes.
When the veggies are fork-tender, pile onto plates and dress with a couple of tablespoons of the tahini dressing. Divide the walnuts, herbs, currants and feta between servings and drizzle with a little bit of your best oil. Season liberally with salt and pepper.
Rebekah Hubbard
I'm the writer and photographer at PDXfoodlove.com. I love living in Portland, Oregon and the lifestyle in the beautiful Pacific Northwest.