Succulent spring-time fare of herb marinated lamb chops from Master French Chef Harribey of Gaby Sofitel NYC.
By Michelle M. Winner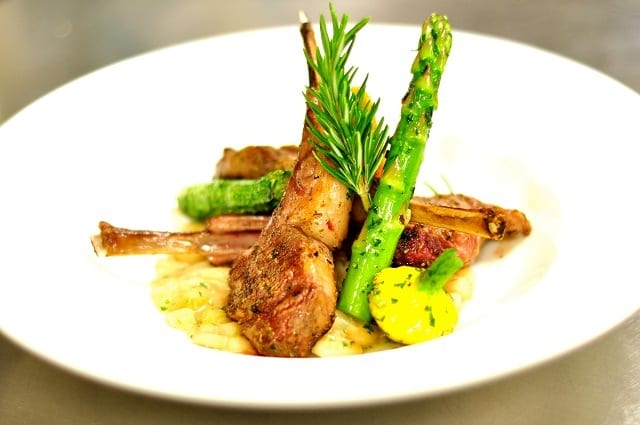 French Master Chef  Sylvain  Harribey, executive chef at Sofitel New York City, sends his recipe for  Cotes D' Agneau, an herb-marinated lamb chop, to you for spring. Chef  Harribey is newly presented with the prestigious title "French Master Chef" presented with honor by the French culinary association MaÎtres Cuisiniers de France to those chefs who have given of themselves  to teaching, judging, helping other chefs further their training, educating, promoting their French culture and French cuisine. 
CÔTES D'AGNEAU
Chef Harribey's CÔTES D'AGNEAU are herb-marinated lamb chops served with flageolet beans and roasted baby vegetables.
Author:
Gaby Brasserie Francaise Executive Chef Sylvain Harribey
Ingredients
1 pound Flageolet beans, can substitute with Navy beans pre- soaked for two hours drained
4 tablespoons olive oil
2 garlic cloves minced
1 teaspoon of Provençale herbs
2 fresh thyme leaves, lightly crushed
4 fresh rosemary leaves
1 teaspoon salt
1 teaspoon black pepper
1 medium carrot diced
1 yellow onion chopped
4 baby zucchinis blanched
4 baby yellow sunburst squash blanched
4 baby carrots with tops blanched
4 stalks of asparagus blanched
12 french cut lamb chops ( Australian or from Colorado)
Instructions
Toss lamb chops with two tablespoons olive oil, salt, pepper, and Provençale herbs and marinate for one hour.
Heat large skillet over medium heat with remaining olive oil.
Sauté onions and diced carrots with one garlic clove until soft.
Add beans and cover with water 3" deep and simmer.
Season well with salt and pepper.
Lower heat and simmer until beans are cooked through for about 45 minutes to 1 hour.
Roast vegetables in a preheated oven at 375 degrees
Remove lamb chops from marinade and discard the marinade.
Grill lamb chops over medium flame for three minutes per side to medium.
Drain beans and vegetables and place on plate.
Arrange three lamb chops per plate with one of each baby vegetable and garnish with a rosemary sprig.
Michelle M. Winner
Michelle was born with a fork in her hand. As a culinary travel writer and confirmed foodophile she delights in the world-wide discovery of new flavor profiles, spices, salts and herbs. Based in one of the world's foodie meccas; Portland, Oregon, not far from "Pinot Noir Heaven" Michelle shares culinary travel and chef's recipes. Her photography has appeared in Saveur Magazine and she has contributed culinary travel articles to Forbes online, WSJ online, Business Insider, Condé Nast Digital Media, Islands magazine and many others. A confirmed globetrotter, she still keeps her bags packed and fork in hand (well . . . except through airport security.)