Sylvie Shirazi often enjoys radishes with just a little salt and butter, but she also has a suggestion on how to make these lovely radish tartines.
By Sylvie Shirazi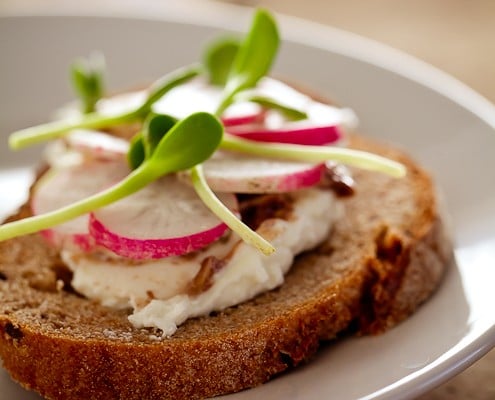 I've had a long-held love for all radishes, but the one variety that really has my heart is the French Breakfast radish.  This long, slender variety — with its elegant, delicate white tips tied into pretty, little bunches at the base of their delicate, leafy green stems — is hard to pass up when I spot them at the market.
With a crisp texture and a mild, spicy, sweet flavor, the beautiful French Breakfast radish has an elongated shape with a deep pink skin at the top that gradually fades to white at the bottom.  The earlier these radishes are harvested in the growing season, the smaller the size and the more delicate the flavor. Although a little less spicy than other varieties, the French Breakfast radish still has "bite". They are truly one of the simplest pleasures of the new spring season that is arriving.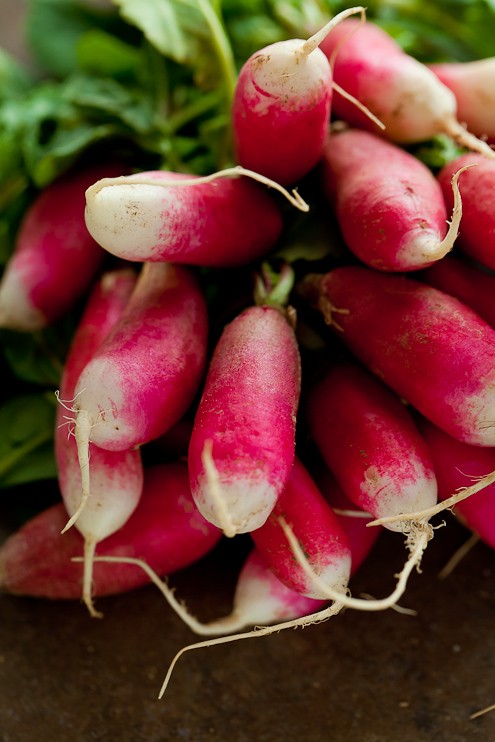 There may be no simpler way to enjoy this slender spring vegetable than in the classic French manner: raw, with butter and salt.  Despite their name, they aren't typically eaten for breakfast.  Instead, they are eaten as a snack or an appetizer.  In my family, they would always be served as an hors d'oeuvre, a pre-dinner snack.
The radish leaves were carefully trimmed to remove all but a small part of the green stem that would serve as the handle.  Then the root tip was cut off, and the body of the radish cut with an "x" at the bottom so that the stem remained attached, but the radish itself opened and flowered outwards.  This created the perfect pocket in which to place a generous dollop of nicely softened, salted butter, usually from Noirmoutier (an area of France known for its sea salt marshes that are rich in minerals).  Then, the butter-filled radish would be delicately sprinkled with just a smidge more fleur de sel (yes, more salt — this has never seemed to concern the French).
But sometimes a bit more sustenance is needed, and a "tartine" is just the thing.  The verb "tartiner" means "to spread with," so a "tartine" is simply the name for a slice of bread spread with toppings; very similar to what the Italians call crostini.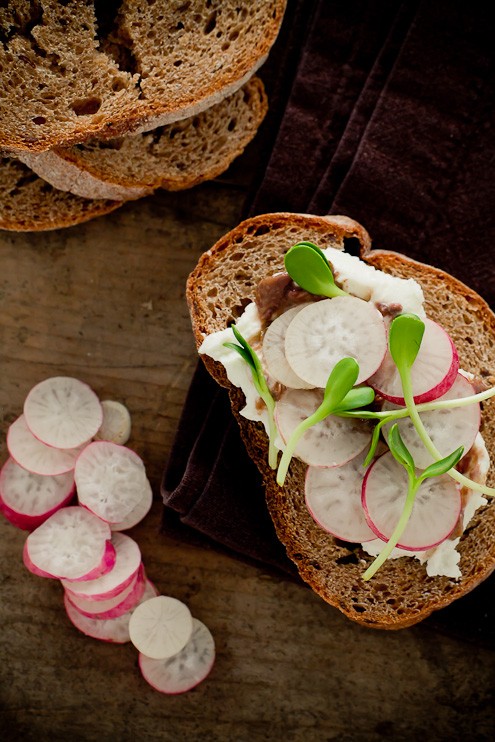 It's usually quite basic, just a slice of bread with a thin layer of toppings.  "Tartines" can be eaten sweet (for example, with butter and jam for breakfast) or salty (with cheese and vegetables for a light meal).  The essence of a "tartine" is the use of good bread accented by a few choice toppings.
A traditional radish "tartine" would involve a thin layer of butter on baguette topped with sliced radishes and sea salt, but butter is not the radish's only friend.  The creaminess of goat cheese also pairs beautifully with the spicy, crunchy French Breakfast radish.   For my "tartines" I first spread a layer of creamy goat cheese speckled with bits of chopped black olives and then shingle another layer of thinly sliced radishes.  To add a little green, I sprinkle a few mild and crisp sunflower sprouts on top and finish them with a drizzle of peppery, extra virgin olive oil and, yes, of course, a little pinch of sea salt.  Crunchy, creamy, peppery, fresh and very satisfying, that is the beauty of the "tartine" — its ability to unite and elevate a handful of simple ingredients into a proper meal.
French Breakfast Radish and Sunflower Sprout Tartines
Ingredients
1 small loaf of Whole Grain bread, cut into (1/4-inch thick) slices or 1 French Baguette halved lengthwise and each half cut crosswise into 4 pieces
One 8 oz (227g) log of mild fresh (not aged) goat cheese, at room temperature
2  TB (30ml) of milk (any kind), or more as needed
1/2 cup (50g) black Kalamata olives, pitted and finely chopped
1 bunch of French Breakfast Radishes, washed, trimmed and thinly sliced
A small bunch of sunflower sprouts, washed and dried
Extra virgin olive oil for drizzling
Fleur de sel
Preparation
1. Preheat oven to 400° F (200° C).
2. Arrange the bread slices on a baking sheet and bake for about 5 minutes or until just lightly golden at the edges but still slightly soft on the interior of the slice.
4. Meanwhile, mix together the goat cheese and 2 Tablespoons of milk, adding more milk if necessary until a creamy spreadable consistency has been achieved, then add in the finely chopped black olives.
5.  Spread the goat cheese and olive mixture thinly on 1 side of each warmed bread slice.  Layer the radishes on top of the cheese mixture in a slightly overlapping pattern followed by the sunflower sprouts.  Drizzle lightly with extra olive oil, and finish the tartines with a pinch of fleur de sel.
Yield: about 8 servings as an appetizer or 4 as a light meal.
Sylvie Shirazi
Sylvie Shirazi is a freelance food photographer and food writer, who pursues life with a camera in one hand and a fork in the other. On her food photography blog, Gourmande in the Kitchen, she celebrates the simple joy that food brings to our lives every day by filling our plates with wholesome food to nourish the body, along with some sweet stuff to satisfy the soul.