If you want to make your man love truffles, add beer. Tamara Novacoviç with a tip that gives satisfaction across the gender gap.
By Tamara Novacoviç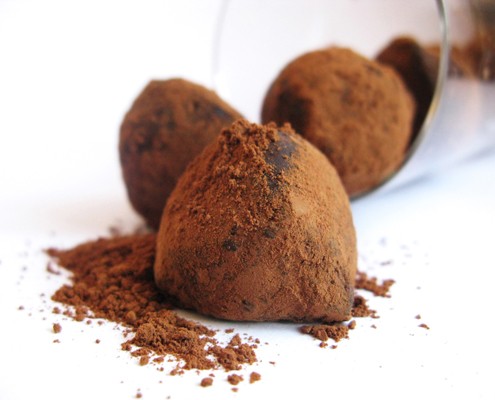 Your eyes are not mistaken, these truffles contain beer. And it works pretty great with dark chocolate.
There's something about men and beer. Eternal bond. Let us not be mistaken, I know a lot of women who consume beer, but I know even more men who consume (read: love) it.  Here in Croatia, beer is the heart of almost every (barbecue) party and football match. If you live here, you can never go wrong with beer. I live in a small town Karlovac where we have our (quite renowned) brewery which is over 150 years old. We even have a beer festival called simply "Beer days", which is visited by 150 000 people every year. It's quite a huge number for a small town like Karlovac.
Beer acts like a social lubricant in societies and is probably the most popular alcoholic drink in the world. Why do men love it so much? Probably a question asked by many and the one that goes a long way back into the history of human societies and relations. Beer is more often associated with sporting events and pub games, all of which (still) tend to be the province of men. Back in the old days, I believe more men than women were playing sports and gambling, while women stayed at home to cook the meals and take care of the children. In this way, beer became part of men's social lives. And we all know old habits die hard. Commercials definitely fuel this passion and men generally like things that are competitive, dangerous, rough. Well, most of them do. Also, beer has a calming effect and is probably a good antidote for stressful lifestile. Add social interactions that go with it and you get a whole beer drinking culture,  well spread throughout the world.
Here I'm giving you a recipe probably equally loved by men and women-chocolate beer truffles. I once tried adding a bit of chilli to them and it worked well, however, you can omit this step. I personally like these kind of flavor combinations and believe that beer works very well with dark chocolate. There is a small amount of it in these truffles so it gives them a nice, subtle flavor.
Beer Chocolate Truffles
Add beer to your next batch of chocolate truffles with this simple and delicious recipe.
Ingredients
½ cup (120 ml) heavy cream
3 tbsp dark beer
9 oz (255 g) dark chocolate
½ vanilla bean
1½ oz (40 g) cocoa powder
Optional: ¼ tsp chili powder
Instructions
Combine heavy cream with vanilla seeds (scrape them from vanilla bean) and put on low heat. When it almost boils, remove from heat, add chopped chocolate and stir well until it combines. Leave to cool on room temperature.
Slowly add beer to the previous mixture and pour it into a square baking pan. Cover with plastic wrap and leave to cool for 3 hours in the fridge. The mixture should be firm enough to shape truffles.
Take 1 tsp of the mixture and shape uneven balls (truffles). Coat them with cocoa powder and serve. You can mix cocoa powder with a bit of chili powder.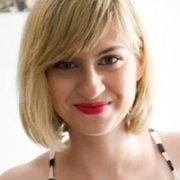 Tamara Novakoviç
Tamara Novakovic is a passionate self-taught cook, food blogger, freelance food writer and photographer behind bite-my-cake.blogspot.com. Her life journey has led her through Faculty of Humanities in Zagreb, Croatia to discovering passion for making cakes. She is currently a weekly food columnist for Croatian newspaper V magazine and food magazine Repete.