Flax Seed Granola Bars with Pistachios and Goji Berries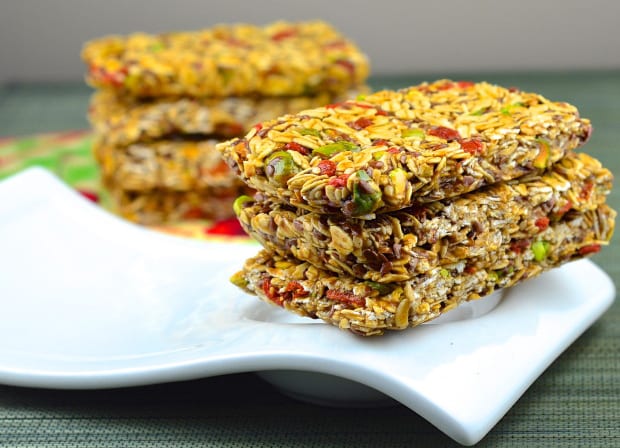 These granola bars are completely customizable — try different nuts and dried fruits or even dark chocolate chips to create your ideal snack.
By Vicky Cohen and Ruth Fox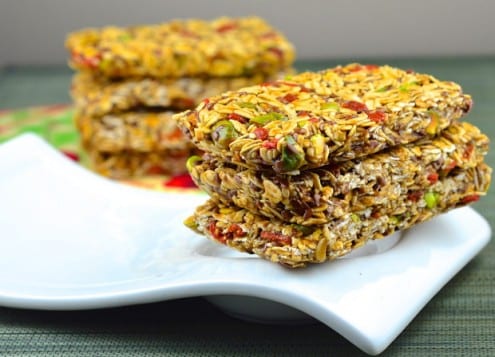 Flax Seed Granola Bars with Pistachios and Goji Berries
These granola bars are completely customizable -- try different nuts and dried fruits or even dark chocolate chips to create your ideal snack.
Author:
Vicky Cohen and Ruth Fox
Ingredients
2 cups oats
¼ cup shelled salted pistachios, chopped
3 tbsp flax seeds
⅓ cup honey organic or agave nectar (here we used Wholesome Sweeteners)
2 tsp pure vanilla extract
2 tbsp coconut oil
2½ tbsp almond butter
¼ cup dried Goji berries (here we used Navitas)
Instructions
Preheat oven to 350F. Line a large baking sheet with parchment paper. Arrange oats in a single layer and bake for 10 to 15 minutes, keeping an eye so they don't burn. Set aside to cool
Transfer oats to a large bowl. Add chopped pistachios and flax seeds and toss well
In a small sauce pan, combine honey or agave with vanilla extract and coconut oil. Cook over medium low hear, stirring constantly until the coconut oil has melted. Whisk in almond butter and and continue cooking for 1 to 2 minutes until well incorporated.
Remove from heat and add Goji berries. Pour mixture over oats and mix well with a wooden spoon, making sure they are well coated
Coat a 11inx7in non stick baking pan with cooking spray. Transfer oat mixture evenly, pressing it well into the pan (the more you press it, the better the bars will stick together!). Refrigerate until firm (at least 2 hours), remove from pan and cut into bars. Makes about 12 bars (depending on the size you want them). Keep the bars refrigerated
Also check out
this
recipe for chewy granola bars.
Vicky Cohen and Ruth Fox
We are two sisters born and raised in Barcelona, Spain, with Sephardic and Middle Eastern roots. We grew up eating the best, most flavorful, comforting home-cooked meals prepared by our mom, who taught us everything we know about cooking. When we moved here to the U.S. we felt it was really important to keep our traditions and background alive, and we've done so by sharing it with everyone we've met throughout the years. After all, what better way to make new friends and share our love and culture than through food, right? Our friends have come to enjoy our food and gatherings so much that are always asking us for our recipes. That inspired us to start a cooking blog called "May I have that recipe" where we share recipes we've created inspired by our multicultural background.