PARTNER POST- Create the perfect holiday cheese board spread with Castello's selection of expertly crafted cheeses. It's sure to bring extra joy to this wonderful time of the year. Find inspiration here.
Creating the perfect cheese board for holiday entertaining is so simple when you follow these five steps.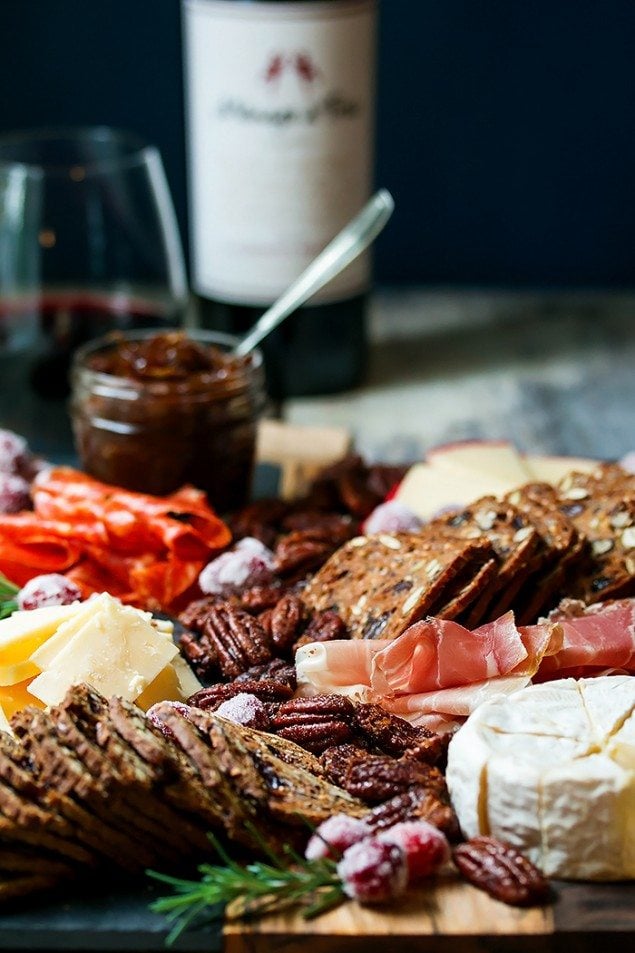 Everyone loves a good cheese platter. Delicious cheeses paired with sliced meats, crackers and other yummy accompaniments! Its the best kind of appetizer grazing there is. In our opinion anyways… Creating a beautiful cheese board can be kind of intimidating. There are SO many options! It can get overwhelming when deciding what goes with what. Fortunately we have a few simple tips to break it down for you and make it totally do able for any host.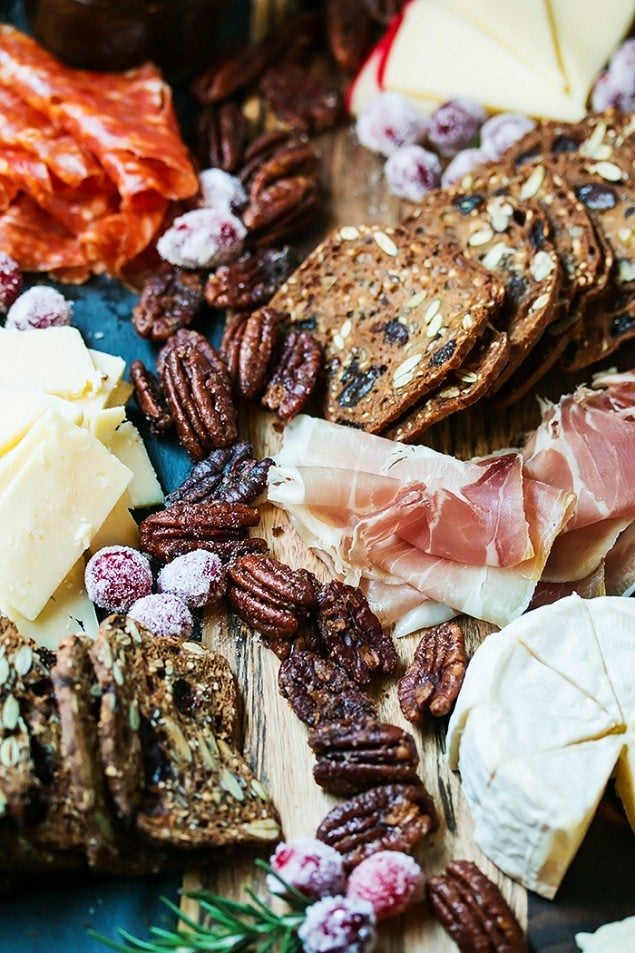 5 Secrets to Creating the Perfect Cheese Platter
1. Use a few different kinds of cheese, but no more than 4 kinds.
Choose different flavors and textures (hard, soft, or blue) and/or made with different milks (cows, goat…). I have heard of this rhyme for choosing cheese for a cheese board: "Something old, something new, something goat, and something blue." It works!
4 oz per person
We used Castello Cheese:  Tikler Old White Cheddar, Fontina, creamy Brie
2. Choose 2 or 3 complimenting flavors for accompaniments. Sweet, savory, and different textures are good too.
Try pickles, jams, spreads, honey, olives, nuts
If you need help deciding what goes with what, you can stick to the what grows together, goes together rule – example: french cheese, french meat. It doesn't always work, but its a great starting rule of thumb.
We used: Onion and Fig Jam, Maple Roasted Pecans, Sugared Ginger Cranberries (recipe below)
3. Include a couple options of sliced meat
2 oz per person is a good rule
Choose different flavors: salty, spicy, smoked
2 different kinds is enough
4. Crackers
Choose a mild flavored cracker if you want it to go with everything.
But your crackers don't have to go with every cheese. Choose something interesting if that's what you like.
We chose a hearty delicious cracker – Lesley Stowe's Rainforest Crisps
We chose 2 kinds (it was too hard to pick just one): Oat and Cranberry, Rosemary Raisin Pecan (so good!)
5. Wine – choosing a wine to go with your cheese can seem daunting but if you follow these simple tips from the Serious Eats cheese and wine pairing cheat sheet, its not so overwhelming. Go read the article on Serious Eats for more detailed information. Its great!
Tannic red wines are terrific with rich, aged cheeses
Sweet wines pair really well with salty cheese
Rich, creamy cheeses blend seamlessly with buttery, oaky white wines
Fresh and soft cheeses love crisp whites, dry rosés, sparkling wines, dry aperitif wines, and light-bodied reds with low tannins.
Stinky cheeses call for light-bodied wines
Harder cheeses love full-bodied whites and tannic reds.
We paired our board with Menagie et Trois from Follie au Deux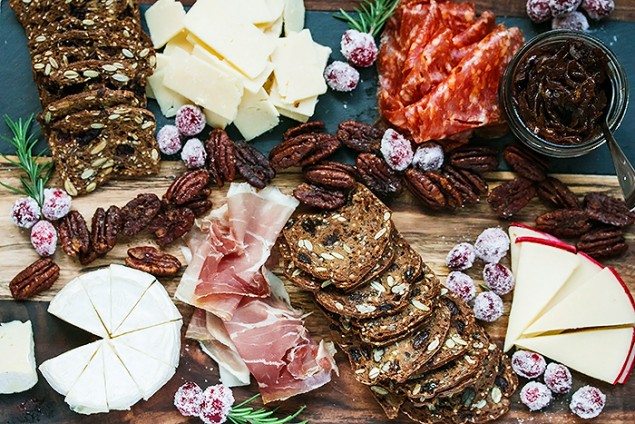 Set out your cheese board 1 hour before you are going to dig in. Room temp cheese is better.
Cut or slice your cheese before you serve it! This means way less mess and your guest won't have to struggle to get the piece of cheese they want – wedges or strips – no cubes!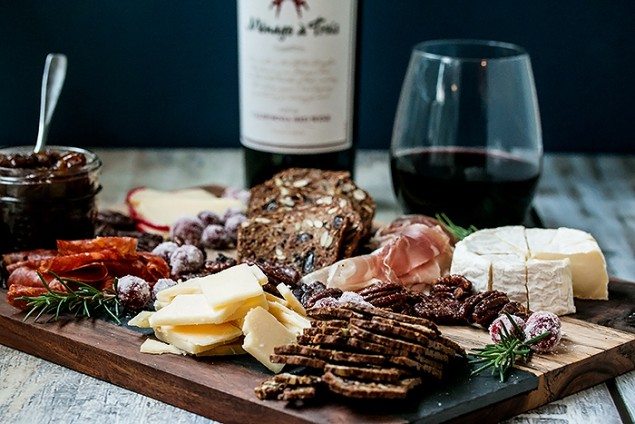 It was pretty simple and we loved eating it! Our favorite cheese was the Cheddar. I love old cheddar that crumbles and has little tiny crystals in it that sort of have a bite to them. This cheddar is going on my list of favorites. The onion and fig jam is both savory and sweet, a perfect accompaniment to the Brie. The maple roasted pecans we made are sweet, spicy, salty. Totally addicting and also very pretty. The sugared ginger cranberries are not just for looks. They taste so good, especially when paired with the Fontina. I couldn't stop popping them in my mouth!
Looking for more cheese board spreads and inspiration? Try this butternut squash and cranberry recipe. It's perfect on a crostini with blue cheese!
Print
Category:

Appetizer, Cheese Board
1½ cups

sugar

1½ cups

water

2 cups

cranberries

2 tbsp

sliced ginger – sliced in big chunks
Instructions
In a small sauce pot, combine the sugar, water, and ginger. Bring it to a boil and let the mixture simmer for about 5 min. Remove from heat and let the syrup cool for a bit.
Test the mixture to see if it has cooled enough by dropping a cranberry into the syrup mixture. If the cranberry pops open, its still too hot.
When the syrup is cooled, add the cranberries to the syrup mixture and stir to coat. Let the cranberries sit in the syrup until they get soft. At least a few hours or overnight.
When they are ready, remove the cranberries from the syrup and toss them in sugar. Set them on a wire rack to dry.
Notes
Keep the syrup and use it to make a cranberry ginger cocktail!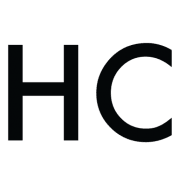 Julie Kinch & Debbie Fraser
Were a mother daughter duo that love food and love to cook. We also enjoy a good cocktail, especially when we are cooking together. We believe health, nutrition and fitness are so important so we make healthy dishes made with real, whole food, but we also like to indulge a little here and there.